The Best Hotels in Oaxaca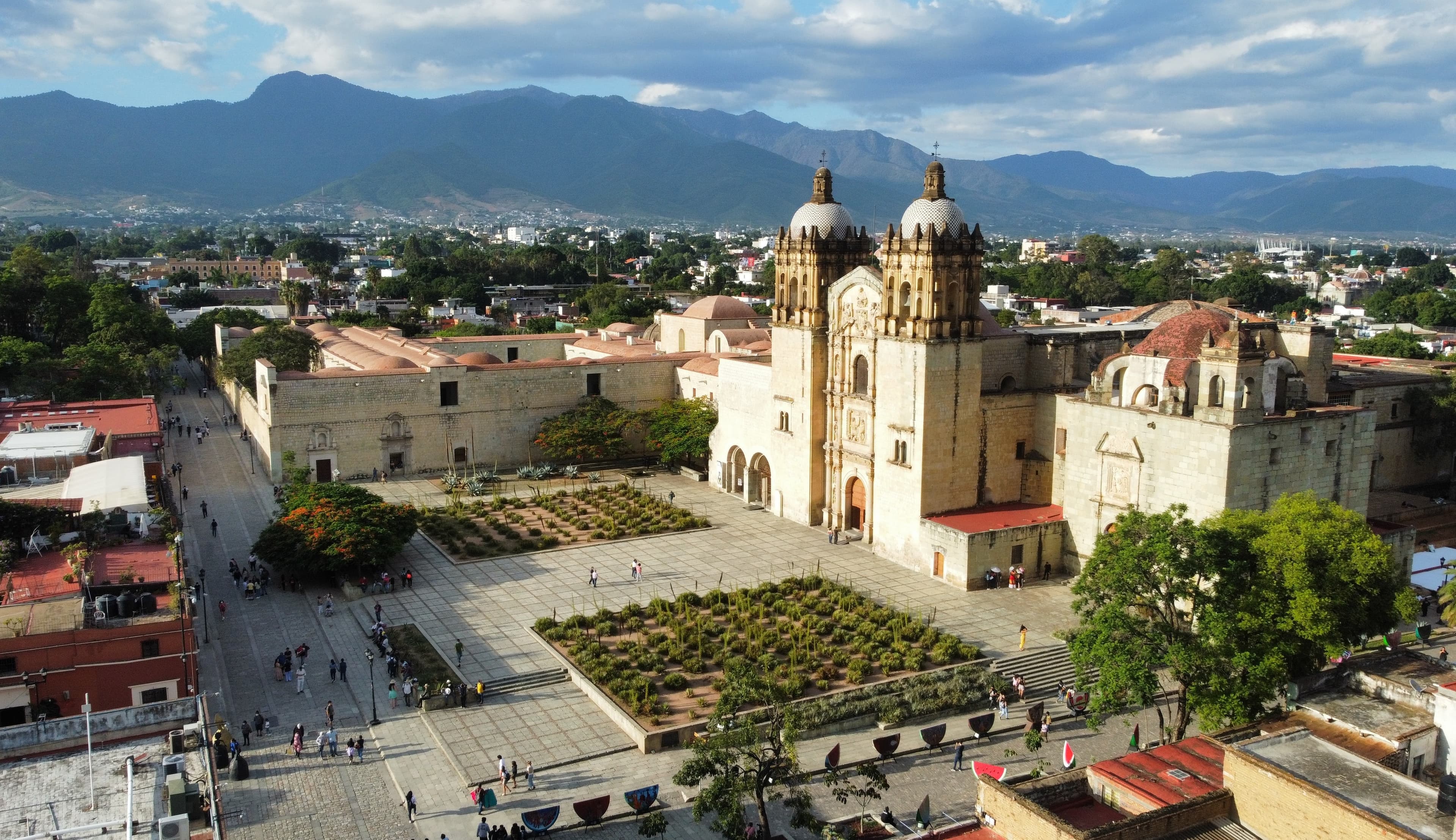 Oaxaca, Mexico is a colonial city perfect for those seeking authenticity and sophistication with a focus on celebrating local traditions and crafts. During a visit to Oaxaca, we recommend checking out these neighborhoods: Jalatlaco is a picturesque neighborhood known for its narrow, cobblestone streets, brightly colored houses, and rich history; Reforma is a popular residential area with tree-lined avenues, busy markets, and the beautiful Parque El Llano; Xochimilco, an extension of the city's historic center, is characterized by its traditional Oaxacan architecture, peaceful atmosphere, and artisanal markets; and Centro Historico, the heart of Oaxaca, is celebrated for its stunning colonial architecture, vibrant Zocalo square, and significant cultural landmarks.
The Best Hotels in Oaxaca
Combining contemporary design and traditional Oaxacan aesthetic, this hotel has 21 guest rooms, each featuring local artifacts, handcrafted furnishings, and curated artwork. The property is conveniently located with easy access to key attractions such as Santo Domingo Church and the artisan markets.
An on-site rooftop terrace serves cocktails with views of the city skyline, the in-house art gallery offers an array of local Oaxacan art, and the hotel's restaurant showcases creative regional specialties. Travelers can also visit the spa or partake in the hotel's cultural events and cooking classes.
This 18th-century colonial mansion, located in the heart of Oaxaca, offers guests close proximity to the city's central attractions, including the Zócalo and the Oaxaca Art Museum. The property's 17 guest rooms feature charming Oaxacan furnishings and modern amenities, and the on-site restaurant serves authentic, locally-sourced cuisine.
Guests will find plants and water features in the courtyard, a relaxing outdoor pool, and a variety of spa services on offer, including Oaxacan massages or healing temazcal ceremonies.
Housed within a restored 16th-century convent, this property features green courtyards, hallways decorated with traditional frescoes, and quaint fountains, and is located within walking distance of the city's most prominent attractions.
Each of the 91 rooms and suites features traditional Oaxacan décor, hand-painted tiles, and carved headboards, along with climate control, Wi-Fi, and flat-screen TVs. The outdoor pool is surrounded by indigenous plants and ancient stone walls, and the hotel's restaurant serves authentic Oaxacan dishes using locally-sourced ingredients.
With a stunning backdrop of the Sierra Madre Mountains, this property features 23 guest rooms spread across a landscaped 18th-century hacienda. Guests can unwind at the on-site spa, offering treatments like the temazcal, a pre-Hispanic steam bath, or partake in various other cultural, culinary, and outdoor excursions.
The hotel's dining scene features an array of traditional dishes made with high-quality ingredients, and also offers hands-on cooking classes and demonstrations to guests.
Just six rooms are available at this guest house, each decorated with custom furnishings and designed by a local artist, reflecting Oaxacan history and culture. This retreat also features a peaceful courtyard and a cozy rooftop terrace.
The hotel's prime location allows guests to experience Oaxaca's rich culture, as it is just steps away from local landmarks and street food markets. The hotel's own restaurant offers creative, elevated Oaxacan cuisine.
This 5-star hotel offers spaces designed to reflect the region's traditional architecture paired with amenities such as an outdoor pool, a spa, and a fitness center. Additionally, art galleries, historical sites, and artisan markets are all within walking distance.
At the on-site restaurant, flavors of Oaxacan cuisine are elevated by modern techniques and locally-sourced ingredients. A curated wine list complements each dish, while signature cocktails are available at the chic rooftop bar which features panoramic views.
At this charming boutique hotel, guests will be surrounded by vibrant textiles, contemporary artworks, and lush gardens. The hotel's prime location grants easy access to the city's historic center with churches, artisan markets, and museums, while also being within walking distance of restaurants and nightlife spots.
Each of the 16 rooms features rain showers, deluxe bedding, artisanal bath products, and private outdoor spaces. Additional amenities include a swimming pool, a versatile event space, and an on-site restaurant showcasing the region's flavors and ingredients.
Each of this hotel's 15 rooms is uniquely designed with distinctive Oaxacan art, and the hotel's rooftop terrace offers panoramic views of the city. The property is just a few blocks from the downtown area which is home to museums, historical sites, and the local culinary scene.
Each morning guests can enjoy a complimentary breakfast with a variety of local specialties, fruits, and freshly baked bread. At the end of the day, the neighboring eatery offers authentic Oaxacan dishes and mezcal-based cocktails.
Combining modernity with traditional Oaxacan design, this property features 14 suites with private terraces or balconies overlooking the city streets. Each room features custom-crafted furnishings and artwork from local artisans, while on-site amenities include a rooftop pool, sun terrace, and a landscaped garden.
A complimentary gourmet Mexican breakfast is served daily, and the property's acclaimed restaurant showcases contemporary Oaxacan cuisine using sustainably-sourced ingredients.
This 18th-century former convent features 21 guest rooms and suites, with amenities such as rainfall showers, plush bedding, and complimentary Wi-Fi. Its prime location places it within walking distance of the city's markets, art galleries, and architectural wonders.
Within the hotel's courtyard, guests can enjoy the outdoor pool or unwind in the ambiance of the on-site spa, which offers personalized treatments. For a taste of traditional Oaxacan cuisine, the hotel's restaurant offers contemporary local dishes using fresh ingredients.
Along the stunning coast of Oaxaca, this beachfront property offers 16 bungalows, each featuring a private plunge pool, an outdoor terrace with a hammock, and direct beach access. Guests can participate in numerous activities, such as surfing, yoga, horseback riding, or exploring the local culture and cuisine.
An on-site restaurant serves locally-sourced meals highlighting the flavors of Oaxacan cuisine, and the laid-back bar offers refreshing cocktails and views of the Pacific Ocean.
Situated in Oaxaca's historic center, this boutique hotel is housed in a restored 18th-century palatial building. The property houses nine guest rooms, each with refined furnishings, luxe fabrics, and local artwork. Amenities include a rooftop terrace with a plunge pool and views of the surrounding city and mountains.
The on-site restaurant features traditional Oaxacan flavors and contemporary cuisine, and the rooftop bar offers a selection of signature cocktails and fine wines. Just steps from the hotel are Oaxaca's vibrant markets, renowned museums, and stunning Baroque architecture.
In its six guest rooms, this hotel merges traditional architecture with contemporary design. The property features a rooftop bar and pool and an on-site restaurant serving innovative Oaxacan cuisine with high-quality local ingredients and mezcal cocktails crafted by skilled mixologists.
Featuring six suites, each with its own private balcony, this property also offers a leafy courtyard and a prime location just a short walk away from Oaxaca's historical center, museums, markets, and food scene.
Each suite features luxe furnishings, local artwork, and unique design elements that reflect the Oaxacan spirit. The hotel offers a daily gourmet breakfast, catering to dietary restrictions if needed, as well as curated cultural experiences and culinary tours.
Sign up for Safara
Want 10% back towards all future hotel bookings?
Sign Up