The 57 Best Hotels in Budapest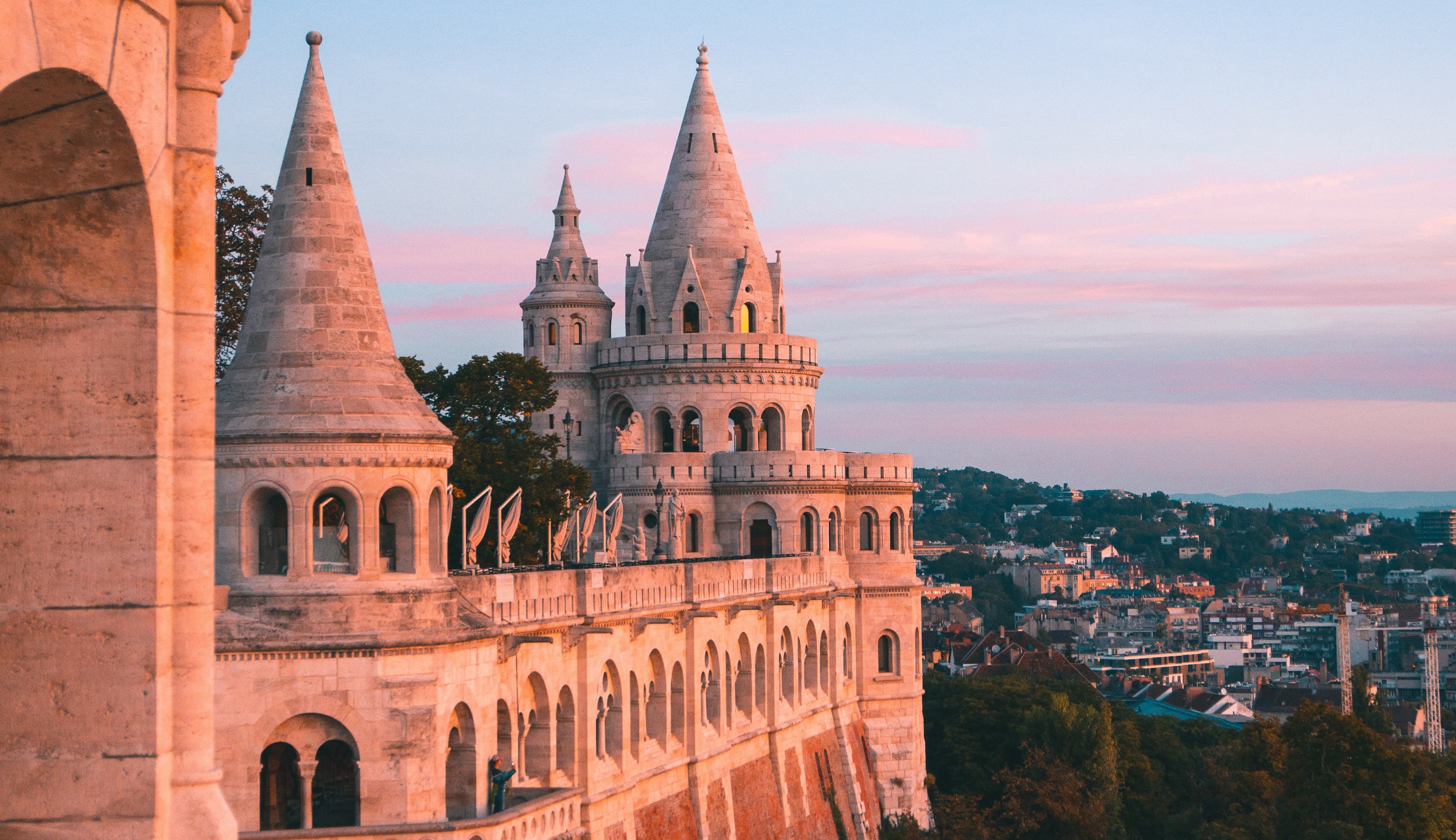 Budapest, known as the "Paris of the East," is a vibrant destination that offers a unique blend of history, culture, and nightlife. For those who want to explore the city's trendiest neighborhoods, they should check out the Jewish Quarter, a historic, vibrant neighborhood known for its rich cultural heritage and nightlife; the Palace District, a bohemian-chic area boasting grand architecture and artsy coffeehouses; Ferencváros, an up-and-coming district with a mix of traditional charm and modern development; and Újlipótváros, a popular, bustling neighborhood with tree-lined streets and a variety of dining options. Budapest is also known for its thermal baths, which we recommend visiting for relaxing and rejuvenating after a day of exploring the city.
Situated in the heart of Budapest, this five-star hotel is set within a restored 19th-century palace just steps away from several cultural attractions, restaurants, and shopping centers. With its stunning architecture, décor, and amenities, guests can expect a memorable experience while staying at this destination.
The hotel has 185 rooms and suites featuring meticulously-crafted furnishings, marble bathrooms, and cozy textiles, many with views of the cityscape. The on-site restaurant offers a blend of international cuisine and Hungarian flavors. To unwind, guests can head to the elegant spa and wellness area, where they can be treated to a range of signature services, surrounded by relaxation lounges and treatment rooms.
Located in the city's historic Castle District, this property features a mix of vintage and modern designs, and its 11 rooms and suites contain bespoke furniture, local artwork, and the latest technology. This hotel provides the ideal starting point for exploring the city, whether it's a stroll to explore the Buda Castle and Fisherman's Bastion, or a quick tram ride to reach the River Danube and the Parliament Building.
The hotel also houses an exceptional grill bistro with an open kitchen concept laid out behind a floor-to-ceiling glass divide that allows guests to watch the chefs prepare their Hungarian-inspired dishes. Complementing the dining experience, the hotel's expert sommelier also curates a selection of regional wines.
Within the historic walls of the iconic Buda Castle district, a UNESCO World Heritage Site, this hotel features ornate Baroque details, restored original features, and rich fabrics. Guests can easily explore the nearby attractions of Budapest while enjoying tailored service and an extensive list of amenities, including an onsite spa, fitness center, and meeting facilities.
Operated by a Hungarian chef, the restaurant's menu reflects the rich local culture and traditions, featuring dishes composed of the finest seasonal ingredients sourced from the region. With an outdoor terrace, the restaurant also offers an enchanting space to take in views of Budapest while enjoying a selection of Hungarian and international wines.
This 4-star boutique hotel features 272 sophisticated rooms and suites where guests can enjoy a rooftop garden with an outdoor pool, a wellness area, and a fitness center. The hotel is also known for its sustainable green policies and initiatives, ensuring that guests' visits are leaving a positive impact on the environment.
Visitors can indulge in the gastronomy experience offered by the hotel's fine dining restaurant, which showcases Hungarian and international flavors. The bistro brings Hungary's culinary traditions to life, while the lobby bar offers light bites and signature cocktails.
Corinthia Budapest dates back to the late 19th century and features 437 refined rooms and suites. Notable highlights of the property include a stunning glass-domed atrium, a spa inspired by ancient Roman and Greek baths, and a wide array of dining and entertainment options.
The hotel features several exceptional dining venues, including a brasserie serving Hungarian and international dishes, a sushi and sake bar, and a cocktail lounge that serves inventive concoctions in a vintage-inspired setting. The hotel's prime location also puts guests within easy reach of iconic landmarks.
Located at the foot of the Chain Bridge, with an unparalleled position on the shores of the Danube River, this Art Nouveau landmark features an infinity-edge pool, a fitness center, and a spa. Discover dining experiences at the on-site restaurant, which specializes in contemporary international cuisine with a Hungarian twist.
The accommodations showcase timeless European elegance, complemented by views of the city's skyline, Danube River, or inner courtyards. Each guest room and suite features handcrafted furniture, plush bedding, and marble bathrooms, as well as advanced technology, including high-speed Wi-Fi, smart televisions, and a dedicated app for controlling your room's environment.
This adults-only hotel offers spectacular views of the Danube River and a convenient location adjacent to the Chain Bridge, providing easy access to nearby attractions. The hotel has spacious rooms and suites, complete with modern amenities and technology. The hotel also features a rooftop bar and restaurant where guests can enjoy world-class cuisine while taking in the stunning view. For relaxation and revitalization, the spa and fitness center provide treatments with an emphasis on holistic wellness.
Hotel Moments Budapest is a 5-star boutique hotel located within the historic Andrassy Avenue district. The property offers a total of 99 rooms and suites where guests can enjoy luxurious amenities such as rainfall showers, Nespresso machines, and complimentary Wi-Fi. One of the highlights of this hotel is its wellness area, featuring a Finnish sauna, a Turkish steam room, a fitness center, and an inviting relaxation area with heated loungers. Guests can also unwind with a glass of Hungarian wine at the cozy wine bar or indulge in the flavors of local and international cuisines at the on-site bistro.
Set in the heart of Budapest's vibrant downtown, InterContinental Budapest features a prime location combined with world-class amenities and exceptional service. The rooms and suites at this property offer stunning views of the city and the river, as well as comforts and conveniences like plush bedding, well-appointed bathrooms, and modern technology. Guests can also enjoy 24-hour room service, a dedicated concierge team, a fitness center, and a luxurious spa featuring a range of relaxing treatments. The hotel's dining options include an award-winning brasserie and a lounge offering views of the Danube.
This five-star hotel features 351 rooms and suites, each with panoramic views of the city and amenities that include modern technology, complimentary Wi-Fi, and marble bathrooms. This hotel's dining options include two Michelin-starred restaurants, a lobby bar, and a seasonal terrace for alfresco dining.
Guests can unwind with a dip in the indoor pool, visit the fitness center, or indulge in rejuvenating treatments at the spa. The hotel's event spaces include 10 meeting rooms and a grand ballroom. With popular attractions just a short stroll away, this property is an idyllic base from which to explore the city.
Set along the Danube River, this historic hotel has 130 elegantly-appointed guest rooms, including 21 suites and a palatial Royal Residence. The hotel offers a diverse range of culinary venues, while its prime location ensures easy access to the city's most famous landmarks.
Enter a world of rejuvenation at the hotel's expansive wellness area, offering signature treatments, an indoor pool, a well-equipped fitness center, and a traditional Turkish bath. This property also features meeting facilities and a historical ballroom, perfect for hosting events.
Known for its commitment to well-being, this property is ideal for those seeking relaxation, rejuvenation, or a health-centered getaway. With 37 rooms and suites, the hotel's amenities include pillow menus, blackout curtains, and high-quality bedding, as well as individual climate control, free high-speed WiFi, multifunctional work desks, and smart televisions for a seamless stay. Complimentary daily breakfast, an on-site doctor, and wellness services like personalized nutritional counseling are also available.
The on-site bar and lounge area feature an adjacent winter garden, while the hotel's rooftop garden provides views of the nearby landmarks. Guests also have discounted access to nearby thermal baths and the convenience of nearby metro and bus stations.
Prestige Hotel Budapest features 85 luxury guest rooms, including spacious suites designed by the award-winning Ybl Miklós. Guests can experience culinary delights at the on-site, Michelin-starred restaurant specializing in artfully-crafted interpretations of classic Hungarian cuisine, with an emphasis on utilizing fresh, locally-sourced ingredients
Unwind in the hotel's wellness center, complete with a pool, gym, and spa offering rejuvenating treatments, or simply relax in the common areas, which blend a modern sensibility with the building's historic 19th-century charm.
Take in views of the iconic Chain Bridge and the picturesque Danube River at this five-star property. The French-influenced hotel features 357 elegant rooms and suites, each adorned with contemporary décor, marble bathrooms, and thoughtful in-room amenities. Guests can access the hotel's on-site spa and wellness center, a heated indoor pool, and a well-equipped fitness center.
The hotel's gourmet restaurant and bar serve international and local Hungarian cuisine, as well as an extensive selection of wines and cocktails. The hotel also offers a 24-hour business center and meeting rooms.
This five-star property combines old-world glamour and contemporary comforts in a beautiful 20th-century heritage building. The hotel features a state-of-the-art spa, an indoor pool, and a well-equipped fitness center. The hotel's selection of fine dining options ranges from an international restaurant to a lounge that specializes in innovative cocktails and small bites. An elegant tearoom offers an afternoon tea experience complete with dainty sandwiches, artful pastries, and curated teas.
Sign up for Safara
Want 10% back towards all future hotel bookings?
Sign Up