The 15 Best Hotels in Chiang Mai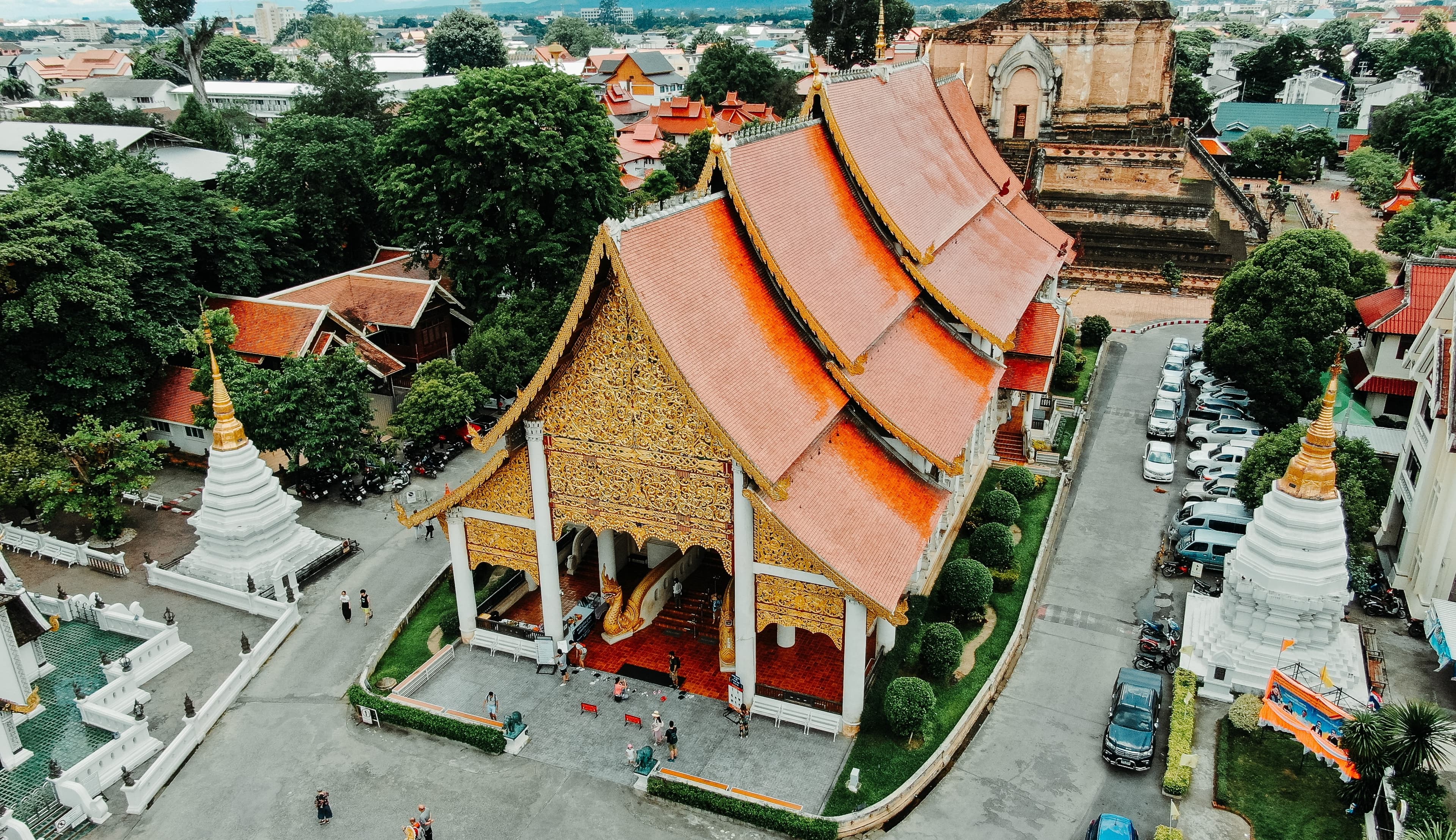 Chiang Mai, located in the northern region of Thailand, offers a quieter experience compared to the country's urban centers. For travelers who seek a taste of local culture and design, we recommend exploring the neighborhoods of Nimmanhaemin, Santitham, Wat Ket, and Chang Phueak. These areas offer a mix of cafes, art galleries, fashion boutiques, and contemporary architecture that cater to the city's young and creative crowd. Visitors can also immerse themselves in the city's rich history through visits to Buddhist temples and traditional markets.
Featuring 30 suites and a private courtyard complete with an outdoor bathtub and a plunge pool, the hotel's location in the Nimmanhaemin district provides visitors with easy access to the city's cultural scene, nightlife, and restaurants.
Amenities include a rooftop bar and restaurant that offers panoramic views of the city's landscape and mountains, in addition to Italian and Asian fusion cuisine. There is also a spa and a rooftop infinity pool.
Perched on the bank of the Mae Ping River, this resort boasts a mix of contemporary design and traditional Thai architecture, as well as gardens and a private courtyard. The guest rooms and suites feature king-sized beds, rainwater showers, and spacious balconies with daybeds. Additionally, there is an on-site spa and swimming pool.
Dining options range from Asian-inspired cuisine to Italian dishes, all served with panoramic views of the surrounding areas. The resort also offers both an indoor and outdoor cocktail bar, as well as leisure activities, access to nearby cultural attractions and natural wonders, and a dedicated staff.
This boutique hotel is located in the Nimmanhaemin district and features works by local contemporary artists. Each floor of the hotel is dedicated to a specific artist, with individual rooms decorated to mirror their distinct styles. The hotel offers modern amenities, including a rooftop pool, fitness center, and on-site spa.
The hotel's restaurant serves a mix of Thai and international cuisines, while outside the hotel, guests will find numerous cafes, art galleries, and shopping options. The ancient city and temples of Chiang Mai are also within easy reach.
Located in the historic district, this eco-friendly resort offers 39 rooms inspired by traditional Lanna style with contemporary elements. The rooms feature handcrafted décor, comfortable beds, and organic bath amenities. Guests can also easily explore nearby cultural attractions, such as the Thapae Gate.
The on-site restaurant specializes in creative vegan dishes influenced by both local and international flavors, using fresh and organic ingredients sourced from nearby markets. The resort also provides wellness-based activities, including yoga, mindful meditation, and wellness workshops.
Combining contemporary design with traditional Lanna-Thai architectural elements, this property is located near landmarks and markets, and features spacious guest rooms and suites equipped with modern amenities and hand-selected artwork. The on-site restaurant serves dishes made with fresh, seasonal ingredients. Guests can also enjoy a traditional Thai massage at the hotel's spa.
Featuring a riverside location and a collection of 19 rooms, each room in this hotel is complete with handcrafted teak furnishings and private balconies. The on-site spa offers a range of treatments that combine ancient Thai therapeutic techniques with modern wellness practices.
Other amenities include an on-site restaurant serving authentic Northern Thai cuisine made with fresh, locally sourced ingredients, a complimentary tuk-tuk shuttle service that makes it easy for guests to discover ancient temples, markets, and museums, a riverfront pool, and craft cocktails at the bar.
Located in Chiang Mai's Old Town, Rachamankha Hotel features 25 rooms and suites spread across landscaped grounds. Amenities include an alfresco restaurant, a library, a spa, and a swimming pool.
The hotel is housed within a restored and preserved 15th-century temple. Each room is individually furnished with detailed artwork and textiles that reflect Thai craftsmanship, as well as modern comforts such as air conditioning, Wi-Fi, and fine linens.
Offering 35 guest rooms, this resort provides views of either the Ping River or tropical gardens. Facilities include a rooftop infinity pool, fully-equipped fitness center, and an on-site wellness center that offers a wide variety of treatments and spa experiences, as well as daily yoga and aqua aerobics classes.
The resort's healthy and nutritious dining options emphasize fresh, locally sourced ingredients. Breakfast offerings include an assortment of international and Thai cuisine, while the on-site restaurant serves lunch and dinner. The resort's location offers easy access to cultural attractions and local markets. Complimentary bicycles and shuttle services are also available.
Consisting of 16 guest rooms, including suites and riverfront rooms with private terraces, this boutique property offers a convenient location with easy access to Chiang Mai's city center, popular attractions, and local dining scene.
The hotel features shared spaces, including the rooftop pool area with panoramic views. Its two dining outlets serve a mix of local flavors and innovative global cuisine, complemented by sunset views. Other amenities include complimentary Wi-Fi, bicycle rentals, and a dedicated concierge team.
Shangri-La Chiang Mai offers rooms and suites featuring modern Thai-Lanna design elements and floor-to-ceiling windows that provide views of the city, pool, or garden. The hotel's 1.4-acre landscaped garden includes an outdoor swimming pool and a tropical setting.
The all-day dining venue serves both international and northern Thai specialties, while the lounge offers unique cocktails and traditional afternoon tea. The hotel's central location provides easy access to major attractions such as temples, night markets, and various shopping options. The property also features a spa and wellness facilities, including a fitness center, a yoga pavilion, and a tennis court.
Tucked in Chiang Mai's Old Town, surrounded by gardens and tamarind trees, this boutique property is near to temples and the Night Bazaar. Along with 45 guest rooms and suites, the property features a range of modern amenities, including a swimming pool, spa, and on-site cultural programs.
The village-style layout of the premises includes courtyards, gardens, a restaurant, and traditional Thai architecture. The hotel also offers cultural programs, such as traditional Thai dance performances, and tailored excursions.
Perched on the banks of the Ping River, this boutique hotel offers spacious accommodations in a garden setting. The property features six individually designed suites equipped with modern amenities, custom textiles, and original artwork. Facilities and experiences include a saltwater pool and sundeck, a gym, and tailored excursions to nearby sites of interest.
There is also an in-house restaurant that combines traditional Thai flavors with international flair, using fresh, locally sourced ingredients. Activities such as guided cooking classes and spa services are available as well.
Surrounded by rice fields, ponds, and tropical gardens, this 60-acre resort features 123 suites and villas, several dining options, a spa, and various cultural and recreational activities.
The resort incorporates ornate teakwood buildings, hand-carved sculptures, and intricate artwork, paying homage to the rich heritage of the region. Its convenient location also allows for easy access to the city's historic temples, night markets, and mountain landscapes.
Tucked within the ancient walled city, this hotel is in close proximity to Tha Pae Gate, historic temples, markets, and eateries. Committed to eco-friendly practices, the hotel features 41 rooms and suites with private terraces, outdoor rainwater showers, and modern amenities.
On-site facilities include a spa, a fully-equipped gym, a rooftop pool with views of the surrounding cityscape, and a bistro serves a fusion of traditional Thai cuisine and modern international fare. The hotel offers complimentary cultural experiences, such as Lanna-style tea tasting or explorations of nearby attractions.
Villa Mahabhirom features 14 restored traditional Thai teakwood houses, a pool, a spa, and an on-site restaurant offering a variety of authentic Thai and international dishes. Each private suite offers high ceilings, intricately carved wooden details, and silk fabrics, as well as Nespresso machines, high-quality linens, and custom-made toiletries. The city's historical sites, markets, and nightlife are all conveniently located nearby.