The 11 Best Hotels in Edinburgh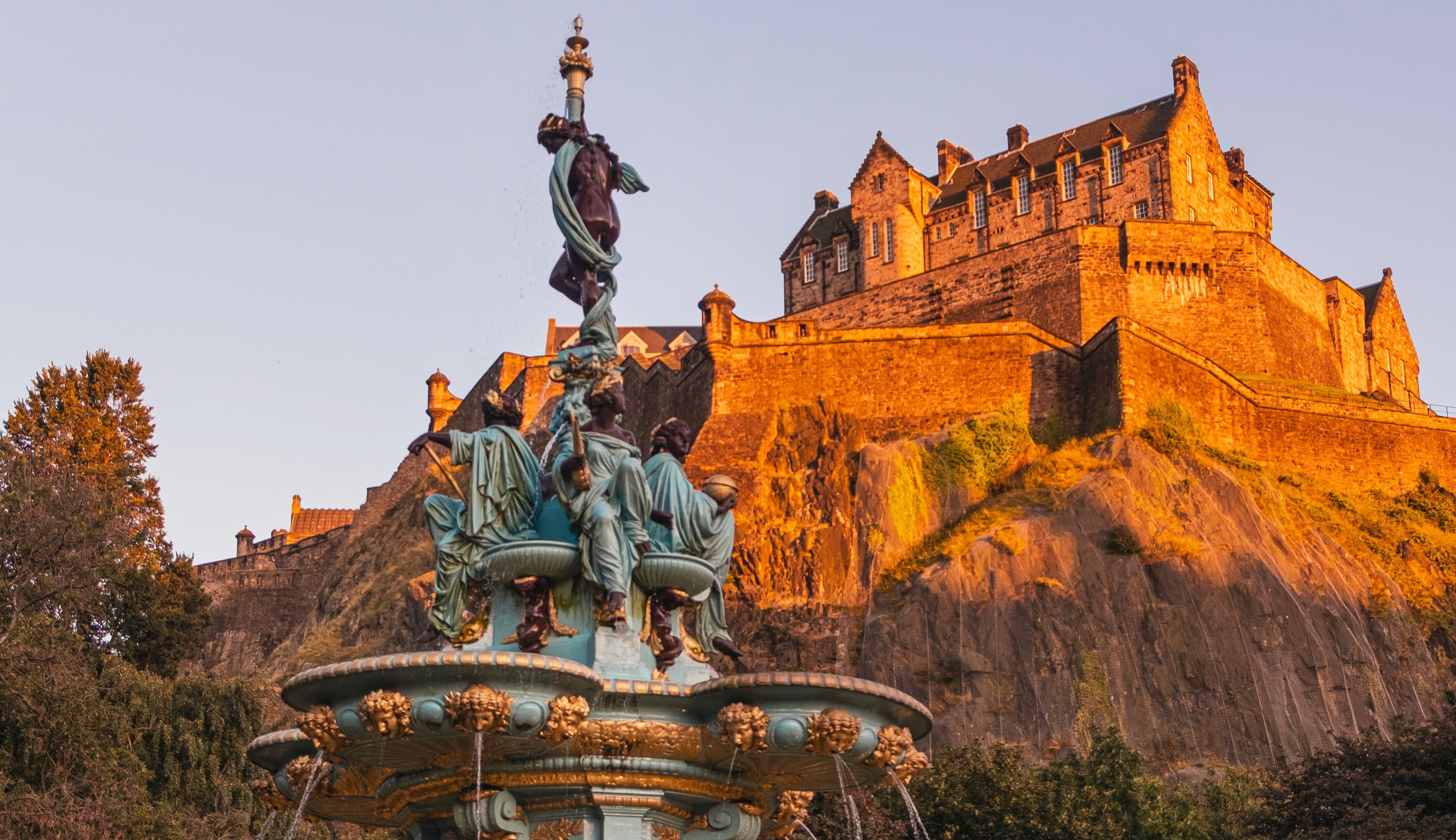 Edinburgh is a charming destination that offers history, culture, and cuisine. To explore the city's trendiest neighborhoods, we recommend checking out the following areas: Leith is a vibrant, waterfront district with a rich maritime history and diverse dining options, Stockbridge is a fashionable, leafy neighborhood with a village feel and independent shops, the historic Dean Village is a picturesque, tranquil area with charming cobblestone streets and waterways, and Tollcross is a bustling, central district with a diverse mix of eateries and entertainment venues. These neighborhoods offer a range of opportunities for exploration, from trendy bars and restaurants to historic landmarks and cultural attractions. We also recommend trying Edinburgh's well-known and delicious cuisine, including its famous haggis, whisky, and traditional Scottish sweets.
Situated in the heart of Edinburgh, this hotel on the prestigious Princes Street offers panoramic views of the city and Edinburgh Castle. The property houses elegant and well-appointed accommodations, each equipped with modern amenities such as Nespresso machines and rainfall showers. Guests also have access to the property's well-equipped fitness center, complimentary Wi-Fi, and on-site parking.
The hotel's rooftop restaurant offers exceptional dishes featuring locally-sourced ingredients, all while showcasing stunning views of the Scottish capital. Guests can also enjoy the hotel's chic and sophisticated bar, which features an extensive wine list and artisan cocktails.
Located in the heart of Edinburgh's New Town, this charming aparthotel offers a unique blend of historic Georgian architecture and modern Scandinavian design. Comprised of 72 beautiful studio and one-bedroom apartments, the hotel accommodations are generously sized and feature a fully-equipped kitchenette, living and dining spaces, a king-sized bed, and a stylish bathroom. Guests can also enjoy access to a well-curated café and lounge, as well as a comprehensive fitness suite.
Easily accessible from some of the city's most iconic attractions, including Princes Street, the Royal Mile, and Edinburgh Castle, this contemporary property is an ideal base for guests looking to explore the rich history and culture of Scotland's capital. The neighborhood surrounding the hotel also offers a wide array of local boutiques, galleries, and dining options for guests to immerse themselves in the city's vibrant atmosphere during their stay.
Edinburgh Sixteen, a charming boutique guesthouse, is nestled in a quiet residential area just a short bus ride from Edinburgh's city center. This Victorian property has been meticulously renovated to offer guests 7 spacious rooms, each decorated with an elegant blend of traditional and contemporary design features. All the accommodations are equipped with modern amenities, including free Wi-Fi, flat-screen TVs, tea and coffee-making machines, and luxury beds.
The hotel serves a hearty breakfast in the dining room each morning, ranging from a traditional Scottish meal, a continental spread, or lighter options such as fresh fruits and pastries. The warm and attentive staff is always ready to help, offering personalized service and expert advice on nearby attractions and activities.
Set in the heart of Scotland's historic and cultural capital, this five-star property is in an unparalleled location, just steps away from iconic landmarks such as The Royal Mile, Edinburgh Castle, and the Scottish National Portrait Gallery. Situated within a collection of five Georgian townhouses, the hotel combines its rich heritage with modern sophistication and amenities. The 240 contemporary rooms and suites feature modern technology, upscale furnishings, and stunning views of the city or the hotel's private courtyard. The property also features sleek meeting and event spaces, perfect for both intimate gatherings and larger celebrations.
The on-site restaurant serves a delicious blend of traditional Scottish cuisine with a cosmopolitan twist. At the cocktail bar, guests can enjoy dishes crafted from locally-sourced ingredients as well as an impressive range of whiskies. The hotel also offers a well-equipped fitness center and a dedicated concierge team ready to assist with arrangements of sightseeing tours, theatre tickets, or transportation services.
This boutique gem, a member of the esteemed IHG group, blends contemporary design with old-world charm. Just steps from the iconic Princes Street and George Street, guests will enjoy top attractions, stylish boutiques, and the finest dining options right at their doorstep.
The accommodations range from sleek and modern rooms to expansive suites decorated with luxury, handcrafted furnishings. Guests can also enjoy the on-site wellness facilities, including a fully-equipped gym, soothing spa, and heated pool. The property's dining options include a seasonal menu crafted by talented chefs using locally-sourced ingredients, complemented by an expertly curated wine list. The hotel also features both indoor and outdoor bars for guests to enjoy cocktails and stunning views of the city.
The Market Street Hotel offers unparalleled views of the city and traditional Scottish heritage design. With 98 upscale rooms and suites, guests can enjoy amenities such as Nespresso machines, Dyson hairdryers, rainfall showers, and luxurious Egyptian cotton linens. One of the highlights of the property is its rooftop champagne lounge, where visitors can take in breathtaking panoramas of Edinburgh Castle, Calton Hill, and the Royal Mile.
The hotel's Premium Rooms and Suites offer guests a blend of contemporary design and local craftsmanship. Additionally, the hotel's commitment to sustainability is evident in its inclusion of Fair Trade toiletries and its focus on utilizing locally sourced materials in the construction and interiors. One of the property's most luxurious suites, the Corner Suite, features a separate living area and expansive windows, showcasing stunning views of the city skyline.
Built on 20 acres of lush parkland and manicured gardens, this 17th-century Baroque-style mansion is a luxurious property offering rich fabrics, antique furnishings, and charming artworks. The hotel houses 23 individually designed rooms and suites, each complete with an array of modern amenities, including complimentary WiFi, flat-screen TVs, and en-suite bathrooms. Personalized and attentive service is a hallmark of this unique property, ensuring the perfect balance of privacy and hospitality.
Additionally, the hotel's signature fine-dining experience showcases seasonal, locally-sourced cuisine in an elegant, candlelit setting. For a more relaxed atmosphere, the adjacent lounge offers guests afternoon teas and expertly crafted cocktails by the roaring fireplace. The property also features beautiful ornamental gardens, opportunities to play golf at a nearby championship course, and convenient access to the historic city center.
Located at No. 1 Princes Street, this iconic 5-star hotel in the heart of Scotland's charming capital is renowned for its blend of traditional charm and modern luxury. The property features a striking clock tower, grand architecture, and unrivaled views of the city, including Edinburgh Castle and the Sir Walter Scott Monument. The hotel is also home to a spa, fully-equipped fitness center, Michelin-starred dining, and elegant rooms and suites complete with contemporary amenities.
The on-site dining options include a prestigious French-inspired restaurant, an elegant Palm Court for traditional afternoon tea, and a stylish whisky bar with over 500 varieties of Scotch. The hotel's exceptional, personalized service, rich heritage, and unparalleled location make it an ideal base for exploring Edinburgh.
Housing 16 rooms and suites, the Hampton House is located just a short walk from the city's top attractions, including the Royal Botanic Garden and the iconic Edinburgh Castle.
Each well-appointed room at the Hampton House offers a stunning view of either the city skyline or the hotel's lush gardens. All rooms come complete with plush furnishings, warm textiles, and unique artwork, as well as smart TVs, complimentary WiFi, Nespresso coffee machines, and luxurious Noble Isle toiletries. Guests can also consider opting for a suite with a freestanding copper bathtub. Added plus: the hotel serves a complimentary full Scottish breakfast each morning.
The Raeburn is a charming boutique hotel that blends Georgian architecture with modern amenities. Located in the picturesque neighborhood of Stockbridge, the hotel houses ten elegant rooms, each equipped with king-size Hypnos beds, high-thread count bedding, and Nespresso coffee machines. Guests can enjoy convenient proximity to Edinburgh's city center, as the property is perfectly located for city exploration.
The hotel's signature restaurant, helmed by an award-winning chef, showcases a menu featuring both traditional classics and contemporary fare. The on-site bar also serves a wide range of international spirits, craft beers, and wines, perfect for enjoying by the open fire.
This boutique gem is located in one of Edinburgh's most prestigious neighborhoods. The former Georgian townhouse offers stunning views of Edinburgh Castle and Princes Street Gardens, providing opportunities for both relaxation and urban exploration. Guests can enjoy well-appointed rooms and suites, each designed with thoughtful touches and modern amenities
The hotel's on-site Michelin-starred restaurant features exceptional, seasonal menus, while the bar, decorated with artwork and luxury furnishings, offers a collection of cocktails and fine whiskies.
Sign up for Safara
Want 10% back towards all future hotel bookings?
Sign Up