The Best Hotels in Kuala Lumpur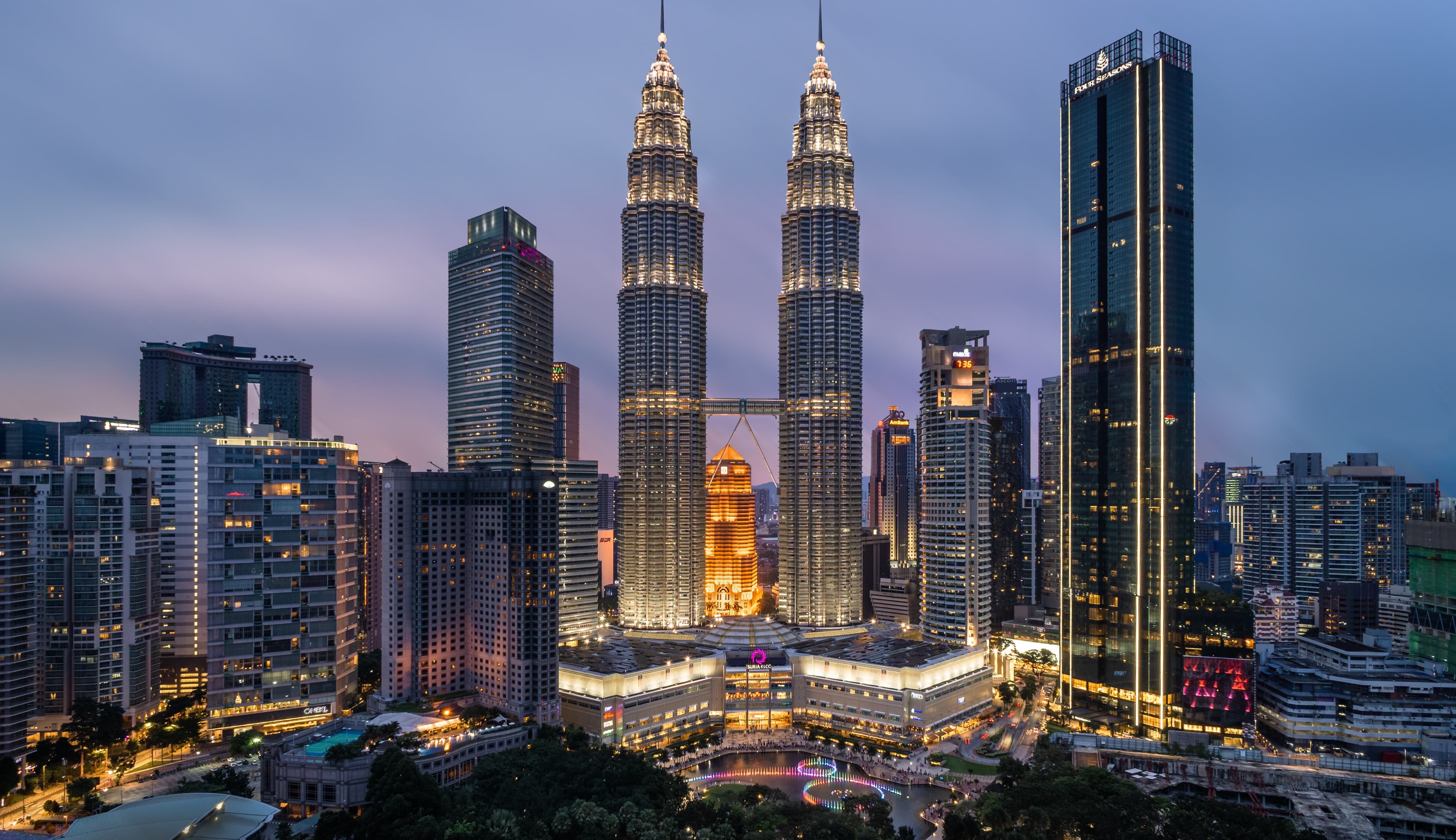 Kuala Lumpur, the capital of Malaysia, is a cosmopolitan city known for its modern architecture and vibrant street life. Amidst the fast-paced lifestyle, visitors can find pockets of culture and tradition through visits to historic buildings, temples, and markets. We recommend visiting these neighborhoods: Bukit Bintang, a bustling area known for its nightlife, street food stalls, and shopping centers; Bangsar, a trendy and affluent district recognized for its dining scene, boutiques, and bars; Damansara Heights, often referred to as the "Beverly Hills of Malaysia," an upscale neighborhood with luxury residences, high-end shopping, and gourmet restaurants; and KLCC (Kuala Lumpur City Centre), the city's commercial and entertainment hub.
The Best Hotels in Kuala Lumpur
Towering high above the bustling streets, this hotel was designed by the internationally-acclaimed Neri&Hu. The hotel's amenities and services include a rooftop infinity pool, fitness facilities, and an in-house restaurant featuring an expertly curated menu of contemporary Asian cuisine.
The property's 143 spacious guest rooms and suites are designed to combine comfort and style with floor-to-ceiling windows that showcase views of the city skyline. Each room is outfitted with modern technology, plush bedding, and sleek, contemporary furnishings. A dedicated personal concierge is available to assist with reservations, tour arrangements, and any other needs.
Nestled in the center of Kuala Lumpur, this hotel offers 55 rooms and suites, with each room thoughtfully designed to feature contemporary décor, state-of-the-art amenities, and floor-to-ceiling windows.
This property houses an award-winning rooftop bar where guests can sip cocktails against the backdrop of the iconic Petronas Twin Towers, and a spa offering an array of treatments and therapies inspired by ancient Asian healing techniques.
This luxurious five-star hotel features a total of 236 rooms and suites and offers a wide range of world-class amenities, including a rooftop infinity pool, fitness center, and a spa.
Emphasizing personalized service and curated dining experiences, the hotel features six dining options, ranging from an elegant Cantonese restaurant to a chic rooftop bar. Additional amenities include meeting and event spaces, as well as a 24-hour concierge service.
Situated in Kuala Lumpur's business and entertainment district, this 5-star hotel offers 411 guest rooms and suites with panoramic views of the city skyline. Guests can enjoy the hotel's in-house restaurants and the wellness and recreational facilities which include an outdoor swimming pool, a 24-hour fitness center, and a full-service spa.
Combining contemporary design elements with local Malaysian touches, each spacious guest room at this hotel is equipped with complimentary Wi-Fi, a workstation, and floor-to-ceiling windows with lovely views. Business travelers will appreciate the hotel's conferencing and meeting facilities, and families can take advantage of the dedicated children's area and babysitting services.
This luxury hotel offers guests a prime city-center setting with close proximity to major attractions and conveniences. With 473 well-appointed guest rooms and suites, the property's amenities include a fitness center, outdoor swimming pool, five-star spa, and six distinct dining and beverage venues.
The hotel's diverse culinary offerings range from authentic local and international cuisine to fine dining, savory pastries, and a selection of liquors, and the on-site spa features a range of bespoke treatments customized to suit individual needs.
This five-star hotel offers 578 guest rooms and suites, ensuring a comfortable stay, accompanied by a diverse range of world-class facilities. The culinary experiences onsite include international and contemporary Asian cuisines, along with authentic local dishes.
Guests can indulge in treatments and services at the luxury spa, or take a dip in the stunning outdoor pool. Additional amenities include a well-equipped fitness center and well-equipped meeting rooms.
Located in the heart of Kuala Lumpur, this urban retreat provides 85 guest rooms that blend modern sophistication with local flair. Guests enjoy easy access to nearby shopping centers, dining venues, and major cultural attractions, plus the convenience of an on-site café featuring freshly-brewed coffee and pastries.
On-site amenities includes a well-equipped fitness center, a tranquil pool with a garden terrace, a serene yoga room, a shared workspace, and a rooftop event space.
Each of this hotel's 150 serviced residences, ranging from spacious one to three-bedroom deluxe suites, come equipped with modern amenities including a fully functional kitchenette, living spaces with plush furnishings, and dedicated workstations.
Recreational offerings include an outdoor pool, a fitness center, and an exclusive residents' library lounge. The in-house dining options include an array of international cuisines and local delicacies. This hotel also has a prime location offering convenient access to the city's top attractions, shopping districts, and gastronomic hotspots.
Directly connected to the city's central transportation hub, guests will appreciate the seamless access to public transit at this five-star property, as well as the convenient walking distance to the Petronas Twin Towers and KLCC Park. This hotel features 419 spacious guest rooms and suites, each with floor-to-ceiling windows.
The property's atrium-style lobby is adorned with contemporary artwork, and there is also an all-day dining venue with an open kitchen concept, a fitness center, and an in-house spa. The hotel's outdoor pool features a heated whirlpool and an adjacent children's pool.
This luxurious five-star hotel offers guests a retreat amidst the city's bustling shopping and dining districts, with stylish rooms and suites, state-of-the-art amenities, and a mix of dining options.
Guests can take advantage of award-winning spa treatments, an outdoor infinity pool with city views, and fully-equipped fitness and wellness facilities. The hotel also offers an array of dining options ranging from local delicacies to international favorites.
Situated within lush gardens in the heart of Malaysia's capital, this iconic five-star hotel is an easy five-minute walk from the Petronas Twin Towers and the Kuala Lumpur Convention Center. With 662 guest rooms, this urban sanctuary features award-winning dining venues, a spa, a fully-equipped health club, and an outdoor pool.
The hotel takes pride in its spacious and sophisticated accommodations, which include a luxurious marble bathroom, a flat-screen television, plush bedding, and complimentary Wi-Fi access. Premium rooms and suites offer cityscape views and access to an exclusive lounge where daily breakfast, refreshments, and evening cocktails are served.
Located in the Damansara district, this five-star property grants guests easy access to prime shopping destinations such as Bukit Bintang and KLCC. Each of the 312 elegant rooms and suites feature plush accommodations and access to the hotel's world-class spa, an outdoor pool, a fitness center with dedicated trainers, and spectacular views of the city. The hotel also has five unique dining venues, allowing guests to choose from international, French, Chinese, and local flavors.
Within Kuala Lumpur's bustling Chow Kit district, this boutique hotel provides easy access to some of the city's top attractions, including Jalan Tuanku Abdul Rahman and Merdeka Square. The hotel offers 113 spacious guest rooms, each featuring curated amenities, luxurious bedding, and free Wi-Fi.
The on-site restaurant offers a versatile menu that highlights the diverse flavors of Malaysian cuisine and caters to all dietary preferences. The hotel also includes a rooftop terrace, fitness facilities, and unique spaces to host private events, meetings, and celebrations.
This charming early 20th-century colonial-style hotel is part of the Autograph Collection and features a prime location near KL Central Station. Guests can enjoy the spa, fitness center, and distinctive on-site dining options. The guest rooms are complete with plush bedding, in-room entertainment, and unobstructed city views.
Kuala Lumpur's Ritz-Carlton features 364 rooms and suites, which blend contemporary elegance with touches of traditional Malaysian style, featuring high-end amenities and floor-to-ceiling windows. Beyond the rooms, visitors can enjoy a world-class spa, a fitness center, and an outdoor pool surrounded by greenery.
The on-site dining options offer everything from refined Cantonese cuisine to innovative European dishes. The hotel's fine dining restaurant has earned numerous awards for its culinary artistry, and the cozy-yet-sophisticated lounge provides an inviting atmosphere perfect for afternoon tea or evening cocktails.
Within Kuala Lumpur's Golden Triangle, this urban retreat provides 253 rooms and suites and features a bespoke check-in process, an infinity pool overlooking the city skyline, and state-of-the-art meeting and event spaces. The property also features a rejuvenating spa, a gym, and a rooftop bar with a 360-degree view of the city.
The all-day dining restaurant serves an array of international and local cuisines, while the lounge bar offers curated cocktails, rare spirits, and fine cigars.
At the St. Regis Kuala Lumpur, guests can expect spacious rooms with modern technology, unparalleled views of the city skyline, and a choice of exquisite dining venues, showcasing an array of local and international cuisines.
Guests can unwind in the award-winning spa or visit the fitness center, featuring personal trainers and a wide variety of classes. Other amenities include an outdoor swimming pool, a bespoke butler service available 24/7, and versatile conference and event spaces.
This 5-star hotel features incredible views of the iconic Petronas Twin Towers and the KLCC Park, and offers an impressive range of facilities, including a 24-hour fitness center, spacious meeting rooms, and a rooftop pool overlooking the city's skyline.
The hotel's on-site restaurant serves local and international dishes, while the bar and lounge offers signature cocktails and an extensive wine selection. With its central location, guests are a stone's throw away from upscale shopping, multinational offices, and must-visit attractions.
Villa Samadhi by Samadhi - Adults Only offers an idyllic retreat for couples and solo travelers with 21 luxurious guest rooms, each accentuated with a private plunge pool or direct access to the shared lagoon pool. The hotel is located close to the city center's major attractions, dining hotspots, and shopping destinations.
The property features an on-site restaurant and bar, treating guests to a fusion of Asian and Western cuisines, along with a wide selection of fine wines and signature cocktails. Visitors can also partake in a unique culinary journey: a secret, multi-course dinner prepared and served at an undisclosed location. Guests can also enjoy the hotel's spa treatments or join yoga sessions amidst the tropical gardens.
This hotel has 150 guest rooms and suites, an infinity pool overlooking the city skyline, a spa and wellness center, and a modern fitness center. The hotel's award-winning restaurants offer a fusion of diverse flavors from around the world. The vibrant social scene comes to life in the hotel's bars, where guests can enjoy handcrafted cocktails and shareable plates while taking in the panoramic views.
Sign up for Safara
Want 10% back towards all future hotel bookings?
Sign Up