The 14 Best Hotels in Portland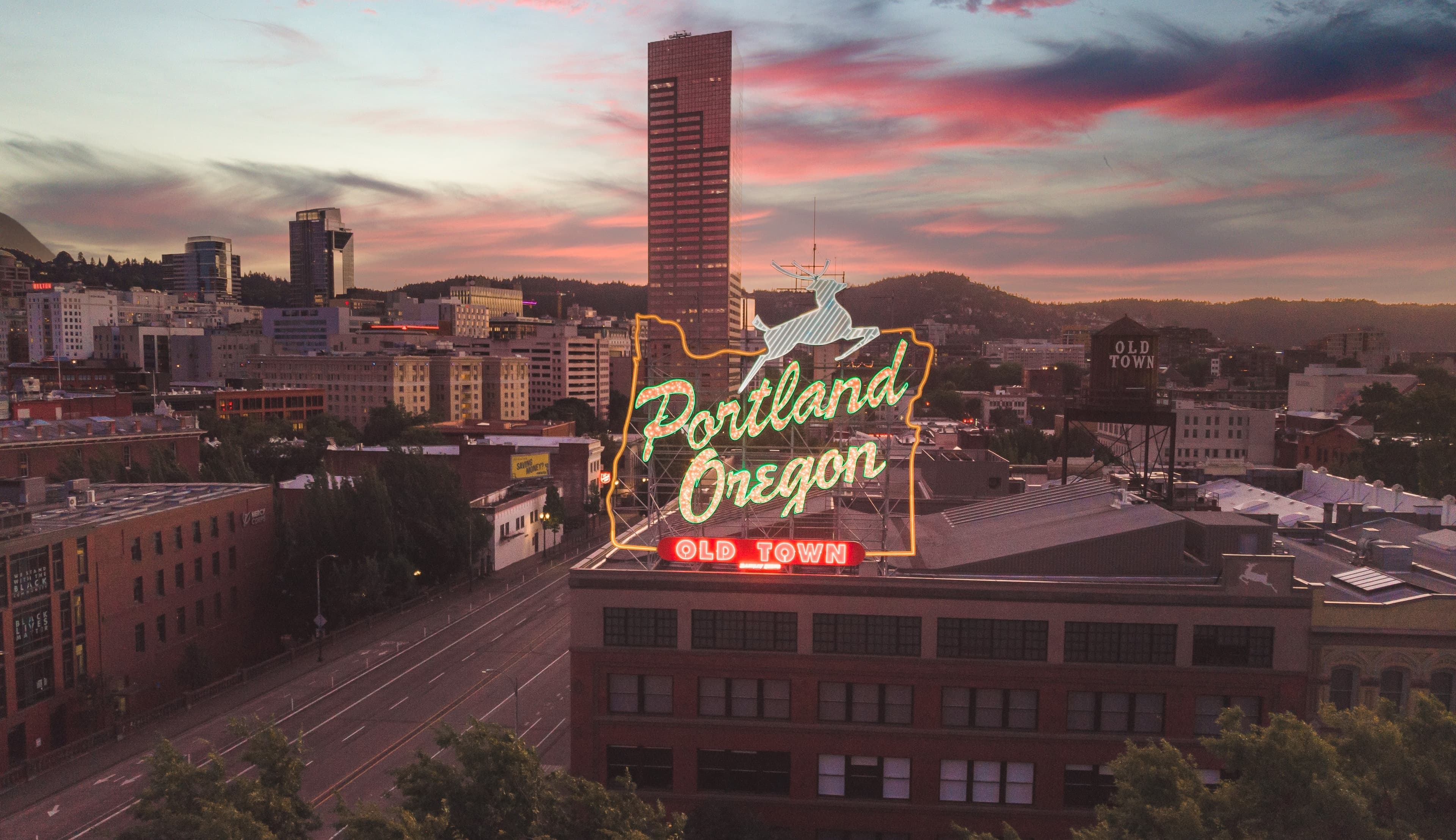 Portland is a laid-back city that showcases the best of the Pacific Northwest. Beyond its stunning natural beauty, visitors can enjoy a range of experiences in the city, from farm-to-table dining to craft breweries to boutique shopping. For those looking to explore Portland like a local, we recommend checking out the neighborhoods of Alberta Arts District, Mississippi Avenue, Division/Clinton, and Hawthorne. These areas offer a mix of trendy restaurants, artisanal shops, and unique attractions that will make any trip to Portland unforgettable.
Nestled in the heart of the vibrant Pearl District, this chic and eco-friendly property offers a refreshing blend of urban style and Pacific Northwest charm. Guests are greeted by warm, contemporary interiors featuring local artwork, industrial elements, and comfortable spaces for relaxation. The hotel houses 153 guest rooms complete with Serta mattresses, blackout shades, as well as filtered water stations on each floor. The property also includes modern amenities, such as complimentary Wi-Fi, a fully-equipped fitness center, and flexible meeting spaces for events. Guests are invited to enjoy the hotel's lively rooftop lounge, which offers sustainably-made food, local craft beer, and panoramic views of the city skyline. The hotel's central location serves as a perfect base for exploring Portland's renowned galleries, boutiques, and eateries by foot, bike, or public transportation.
Located in downtown Portland, this urban retreat combines the historic charm of the city with modern comforts and elegance. Guests can enjoy easy access to Portland's landmarks, dining scene, and cultural attractions from this conveniently located gem. The beautifully restored property features spacious guest rooms, each featuring custom furnishings, plush bedding, and carefully selected art pieces. Additionally, the hotel offers a range of modern amenities, including a fully-equipped fitness center, complimentary Wi-Fi, and attentive concierge services. At the intimate on-site restaurant, guests can enjoy exceptional cuisine crafted by top chefs, where seasonally inspired dishes meet an extensive wine selection, while the rooftop bar offers artisanal cocktails, small plates, and unrivaled cityscape views. The property also houses a spa where guests can choose from a variety of treatments.
Hotel Lucia is located in Portland's thriving downtown district and combines elegance and contemporary design. Each of the 127 spacious rooms and suites, from cozy king rooms to luxurious corner suites, is meticulously designed and equipped with a variety of modern amenities including high-speed Wi-Fi, a mini fridge, a large flat-screen TV, and plush bedding. The hotel also houses a fully-equipped fitness center, meeting spaces for business travelers, as well as a highly attentive staff. The on-site award-winning restaurant helmed by a renowned chef crafts exceptional dishes combining local ingredients and international flavors. The inviting social spaces, such as the lobby sitting area and the bar, are perfect for enjoying drinks and conversation. Free bike rentals are also available on-site, allowing guests to explore Portland's diverse neighborhoods and attractions.
Situated in the heart of Portland, this boutique hotel combines eclectic design and modern amenities. Offering 81 rooms and suites, guests can choose from a variety of accommodation options including pet-friendly and connecting family rooms. Additionally, the property features an on-site gallery displaying rotating local art, where guests can enjoy works that show Portland's creative spirit. Guests can also enjoy lively nightlife just steps away, as the hotel is situated in close proximity to an array of bars, restaurants, and live music venues. The property's central location also offers convenient access to public transportation, making it easy to explore the city's various neighborhoods and must-visit attractions. The hotel also has an adjoining restaurant, which specializes in dishes made from locally sourced ingredients in an intimate setting.
This urban retreat consists of 67 spacious guest rooms, each complete with custom art installations and floor-to-ceiling windows providing sweeping city views. Situated in close proximity to popular attractions and cultural experiences, the hotel grants guests easy access to the surrounding city. On the hotel's premises, guests are invited to enjoy the stunning rooftop bar, featuring panoramic skyline views and an extensive cocktail menu, while the on-site restaurant showcases locally sourced, farm-to-table cuisine in a stylish and comfortable setting. Additionally, the attentive and knowledgeable staff is always available to provide recommendations and help personalize guests' experiences.
Kimpton Hotel Vintage Portland, this boutique gem blends urban sophistication and vintage charm. On each floor of the hotel, guests are treated to a different set of locally-made wines that pay homage to Oregon's renowned wine country. The property houses elegant guest rooms, complete with modern amenities and beds made up with Frette linens. The friendly and accommodating staff are also available to answer questions and provide recommendations for enjoying the city. The hotel is conveniently situated within walking distance of various attractions, shops, and restaurants. Additionally, the property is home to a fully-equipped fitness center and an acclaimed restaurant that specializes in locally-inspired cuisine and cocktails.
Set along the Willamette River, this upscale boutique hotel embraces Pacific Northwest-inspired design. As part of the IHG collection, this luxurious property is renowned for offering exceptional service, as well as comfortable and pet-friendly rooms and suites. With a prime waterfront location, the hotel is surrounded by nature, providing ample opportunities for guests to kayak, bike, or stroll along the riverfront paths. The hotel lobby is complete with local art, fireplaces, and plush seating, combining urban and woodland charm. The on-site restaurant is a popular dining destination offering farm-to-table fare and a sparkling riverfront patio, perfect for enjoying meals with a view. The hotel also features a modern fitness center, extensive in-room spa services, and tranquil riverfront yoga classes.
In the heart of Portland's vibrant downtown, this iconic hotel offers a perfect balance of history, luxury, and modernity. The property features 100 elegant guest rooms and suites, complimentary Wi-Fi, pet-friendly accommodations, a 24-hour fitness center, meeting facilities, and electric vehicle charging stations. Its centralized location ensures easy access to the city's best shops, restaurants, and attractions. The hotel's highly acclaimed on-site restaurant serves up contemporary American cuisine alongside a carefully curated wine list, while the lounge area is perfect for evening cocktails.
Part of the Curio Collection by Hilton, this hotel blends historic charm and contemporary amenities. Established in 1913, the hotel is in a prestigious location just a short stroll away from premier shopping, dining, and cultural attractions - including Pioneer Square, Powell's City of Books, and the Portland Art Museum. The elegant property features crystal chandeliers and walnut paneling, well-appointed guest rooms and suites, plush bedding, complimentary Wi-Fi, flat-screen TVs, and in-room coffee makers. The hotel also offers an array of facilities, including a restaurant specializing in farm-to-table meals, a fully-equipped fitness center, and a relaxing lounge serving cocktails and local craft beer.
The Duniway Portland is a 4-star property offering stylish accommodations and premium amenities. Its prime location, just steps from the iconic Pioneer Square and city streets, makes it an ideal base for exploring the City of Roses. Guests can take advantage of the on-site fitness center, heated indoor pool, and rooftop terrace showcasing panoramic views of the city skyline. Each of the hotel's boutique-style rooms effortlessly blends urban style with modern comforts. Guests can also enjoy the renowned in-house restaurant, which is known for its farm-to-table fare, crafted cocktails, and inviting ambiance.
A unique blend of classic elegance and modern luxury, this hotel offers elegant accommodations, exceptional dining experiences, and personalized service. The property features world-class amenities including a renowned art collection, nightly wine receptions, and a top-rated fitness center. The on-site restaurant, helmed by an award-winning chef, serves a seasonal menu of Pacific Northwest cuisine, showcasing locally-sourced ingredients and flavors. Additionally, the hotel's function spaces, including a historic Tea Court, provide the perfect setting for weddings, meetings, and special events. Steps from the city's vibrant arts and cultural scene, this distinguished hotel is an ideal base for exploring the city.
Set in Portland's Old Town Chinatown district, this boutique hotel blends historic charm and contemporary design. Guests can choose from a variety of thoughtfully designed rooms, including cozy, shoebox, and roomy categories, all complete with modern amenities and artwork from local artists. The spacious lobby features a cozy fireplace, an inviting social space, and a well-equipped co-working area. The hotel is also home to two dining options: the ground-floor restaurant serving an array of locally-sourced American fare and the intimate basement bar with its extensive selection of handcrafted cocktails and small plates. Conveniently located near the city center, the hotel gives guests easy access to Portland's dining scene, cultural attractions, and vibrant nightlife.
Situated in Portland's prestigious Downtown district, this five-star property combines contemporary elegance with a rich historic past. Within walking distance of the city's must-see attractions, hotel guests are well-positioned to explore Pioneer Square, Powell's City of Books, and the Pearl District. The property includes an on-site fitness center, a fully-equipped business center, and a stunning art collection. The hotel is home to spacious accommodations, complete with plush bedding, marble bathrooms, and custom-crafted furniture. The property also has two distinguished dining options – a vibrant, modern Asian restaurant and a sophisticated American bistro that specializes in Pacific Northwest flavors.
The Woodlark is an elegant and sophisticated hotel that seamlessly blends the city's rich history with botanical-inspired design. Conveniently located in the city, the property grants guests easy access to Portland's thriving art, dining, and shopping scenes, all while offering comfortable accommodations and modern amenities. The hotel features 150 well-appointed rooms and suites, an on-site restaurant that offers locally-sourced flavors, and an impressive curated art collection.
Sign up for Safara
Want 10% back towards all future hotel bookings?
Sign Up