The 11 Best Hotels in Stockholm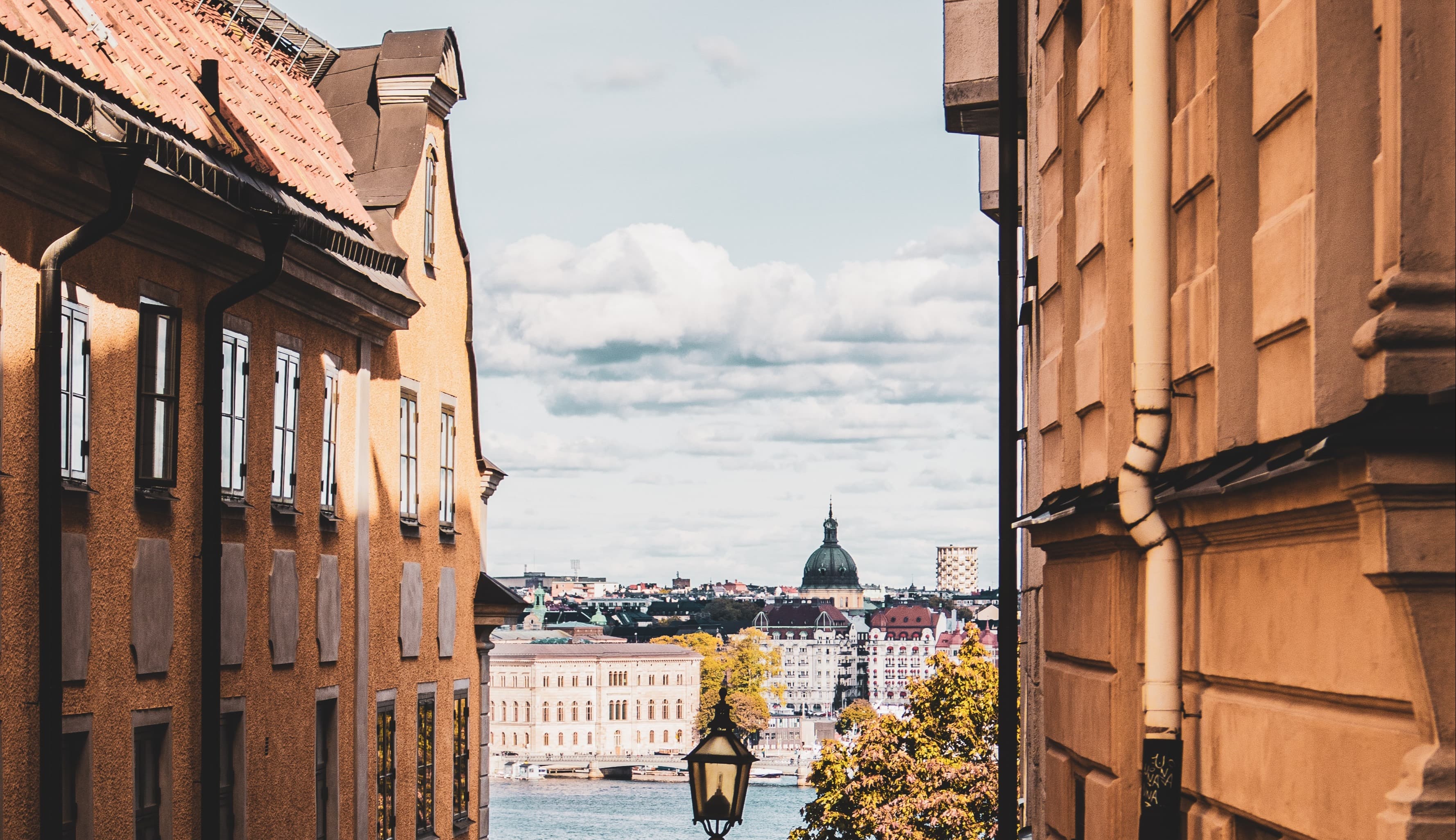 Stockholm is a sophisticated city that showcases the best of Scandinavian design and culture. Visitors can explore a range of experiences from world-class museums to trendy cafes to innovative cuisine. For those looking to discover Stockholm like a local, we recommend checking out these neighborhoods: Södermalm is a trendy and bohemian district known for its eclectic mix of vintage stores, art galleries, and hipster cafes; Östermalm is an upscale neighborhood famous for its luxury boutiques, high-end restaurants, and the bustling Östermalm's Market Hall; Vasastan is a charming residential area characterized by its beautiful architecture, local parks, and cozy cafes; Kungsholmen is a lively neighborhood with a mix of residential tranquility and a bustling restaurant scene, all set along beautiful waterfront paths. These areas offer a mix of hip restaurants, chic boutiques, and hidden gems that will make any trip to Stockholm unforgettable.
Situated in the artistic Södermalm district, this hotel is a Member of Design Hotels. Housed in a converted 1930s warehouse, this contemporary hotel offers over 200 elegant rooms and suites designed by the renowned Wingårdh Architects. Guests can expect chic accommodations complete with luxe amenities and stunning views of the city.
A major highlight of this hotel is its array of dining spaces that cater to a variety of preferences. Visitors can choose from a sophisticated Stockholm rooftop bar where tasty dishes and handcrafted beverages are complemented by views of the Swedish capital or head to the courtyard for a more intimate dining experience.
Ett Hem is a secluded hotel situated in the city's residential district, Östermalm. This 1912 townhouse, transformed by designer Ilse Crawford, retains its historical character while integrating modern design and comfort. With just 12 rooms, guests are treated to a highly personalized service located near tourist destinations, galleries, shopping centers, restaurants, and bars.
The heart of the hotel is its communal spaces, including a tranquil garden where guests can relax or enjoy afternoon tea. The on-site restaurant focuses on farm-to-table cuisine made with locally sourced and seasonal ingredients to cater to all dietary needs. The inviting open-kitchen concept encourages guests to gather around and dine in a welcoming atmosphere.
Established in 1874, this five-star hotel overlooks the waterfront and the Royal Palace in the heart of the Swedish capital. Guests can enjoy luxe accommodations and exceptional service with 273 elegantly-designed rooms and suites, each with an array of amenities, including a full-service Nordic spa, a contemporary fitness center, and an assortment of fine dining options featuring both Swedish and international cuisines.
The on-site spa provides rejuvenating treatments, an indoor pool, saunas, and a relaxation lounge. There are also various dining options available at the hotel, including a Michelin-starred restaurant that serves contemporary dishes using locally-sourced ingredients.
Located in Stockholm's prestigious Östermalm district, this property combines an Art Nouveau exterior with a chic, contemporary interior. Featuring views of the waterfront and the Old Town, the hotel is just a stone's throw away from shopping, fine dining, and nearby attractions. Its 130 rooms and suites are complemented by modern amenities and impeccable service.
The on-site gourmet restaurant offers a blend of Scandinavian and Mediterranean flavors, while the lobby bar provides a comfortable setting for guests to unwind with a drink by the open fireplace. The deluxe spa and fitness center offer a variety of treatments and services that cater to both physical and mental well-being, while the meeting and event facilities make it the perfect choice for conferences, weddings, and other special occasions.
With its unique location on an island in the heart of Stockholm, this hotel offers a tranquil retreat. Constructed in the 17th century as the Royal Marines' barracks, the property maintains its original structure while offering guests contemporary accommodations and luxurious amenities. Guests will enjoy views of the waterfront within a short walking distance of the city's renowned attractions, such as the Vasa Museum, the Royal Palace, and Gamla Stan, Stockholm's Old Town.
A member of Design Hotels, this property focuses on seamless integration with its natural surroundings with environmentally-friendly practices. The on-site restaurant serves Swedish flavors with a modern twist sourced from local, organic ingredients. The hotel's outdoor features include a spacious outdoor terrace and picturesque gardens.
Featuring waterfront views, this boutique accommodation is close to the neighboring Royal Palace, National Museum, and other cultural attractions. This luxury hotel features spacious, individually-designed rooms with contemporary artwork, as well as comprehensive amenities and service.
Indulge in an eclectic mix of international and Swedish cuisine at the on-site restaurant accompanied by a program of art exhibitions and live music events, or sip cocktails and enjoy views of the city in an idyllic setting on the outdoor terrace.
Found in the heart of Stockholm's bustling city center, this restored 1910 Art Nouveau hotel offers an unforgettable experience complete with on-site gym facilities, a rejuvenating sauna, and an in-house restaurant featuring locally-sourced cuisine.
Blending modern elegance and Swedish minimalism, the hotel's 92 rooms and suites feature floor-to-ceiling windows, plush beds, blackout curtains, and soundproof walls. The hotel's eco-conscious initiatives include an array of sustainable practices, from complimentary electric bike rentals to environmentally-conscious amenities.
Housed in a historic 19th-century building, Nobis Hotel features 201 spacious rooms and suites with Scandinavian décor and modern amenities. Guests can enjoy the five-star hotel's grand atrium lounge, rejuvenating fitness center, and restaurant featuring contemporary Swedish and international cuisine.
The hotel's prime location provides convenient access to world-class shopping, dining, and cultural attractions, including the Royal Swedish Opera and National Museum. Additionally, the hotel's spa offers soothing treatments and therapeutic services designed to promote wellness.
With 83 bespoke rooms, this hotel combines Scandinavian design with the historic charm of the building's 1930s architecture. Conveniently located in Stockholm's Östermalm district, the hotel is surrounded by a vast assortment of restaurants, shops, galleries, and nightlife.
When it comes to dining, the in-house restaurant showcases the eclectic flavors of Sweden's culinary scene, offering locally-sourced, seasonal ingredients and a distinct Scandinavian touch, while the cocktail bar presents a curated assortment of sophisticated drinks.
This boutique hotel combines contemporary design with vintage charm with just 101 rooms and suites. Each room is outfitted with luxe amenities, high-quality linens, complimentary Wi-Fi, and flat-screen TVs. The central location provides guests easy access to some of the city's finest attractions, upscale shopping areas, and renowned dining spots.
The on-site restaurant offers a menu inspired by French and Swedish influences, utilizing locally-sourced ingredients, while the bar and lounge area offers an enticing selection of wines, craft cocktails, and appetizers. The hotel also offers a fully-equipped fitness center, 24-hour room service, and personalized concierge services.
Set in central Stockholm, this hotel has a prime location surrounded by upscale shops, renowned restaurants, and world-class museums. Each of the 70 rooms and suites features comfortable beds, and state-of-the-art amenities with on-site services such as a spa, gym, and an organic market.
The culinary experience at Villa Dagmar features an award-winning Mediterranean-inspired restaurant showcasing locally-sourced ingredients. Guests can try creative dishes while enjoying the relaxed atmosphere or visit the lounge bar that serves crafted cocktails, fine wines, and light bites.
Sign up for Safara
Want up to 10% back towards all future hotel bookings?
Sign Up