The 15 Best Hotels in Sydney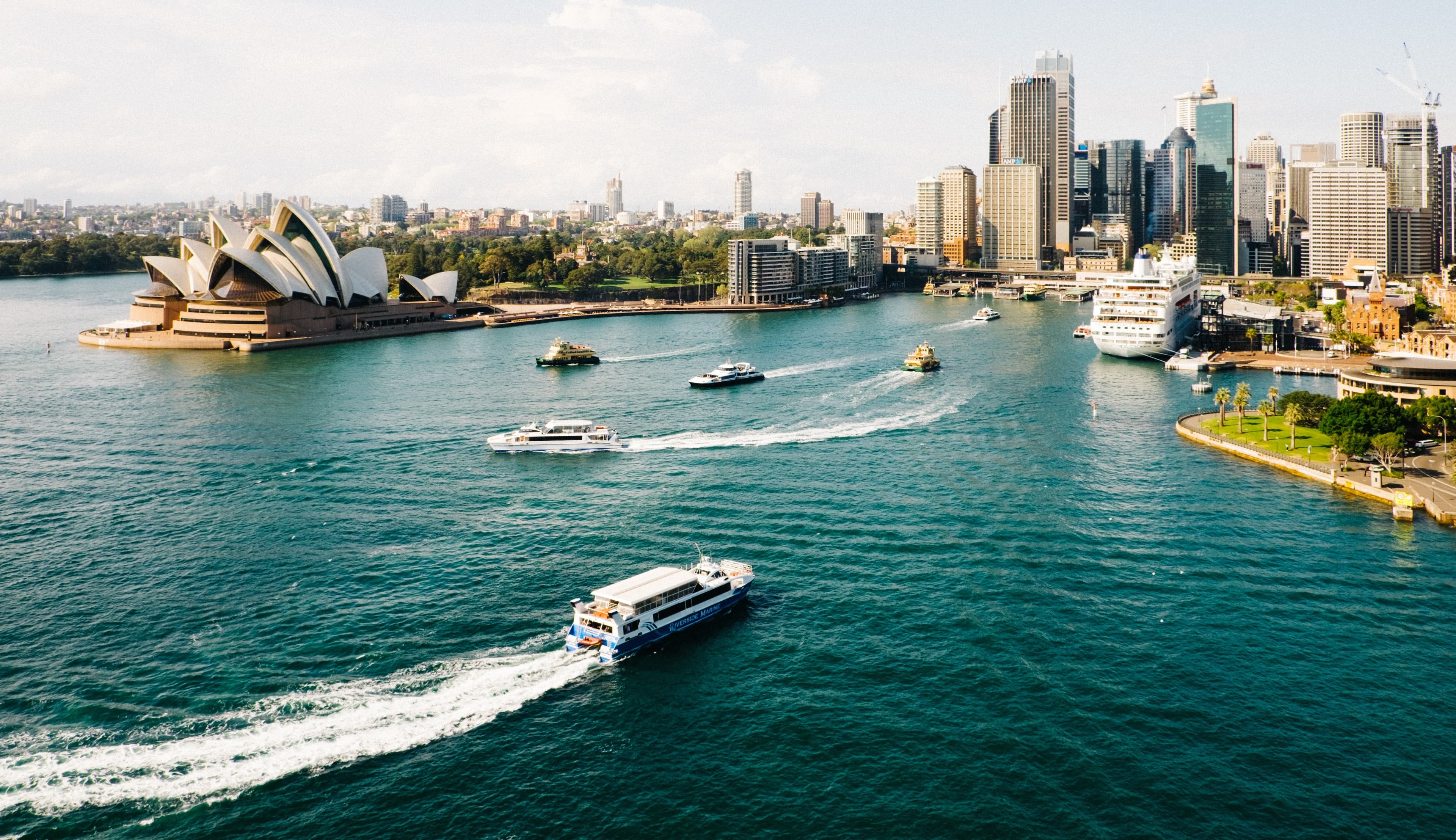 Sydney, Australia's largest city, is a vibrant location known for its iconic landmarks such as the Sydney Opera House and the Sydney Harbour Bridge, set against the backdrop of one of the world's most picturesque harbours. Known for its sunny climate, beautiful beaches, and outdoor lifestyle, Sydney offers a blend of urban sophistication and laid-back coastal living, with a diverse culinary scene, world-class shopping, and abundant parks and wildlife.
Within the city itself, these are some of our favorite neighborhoods: Surry Hills is a creative and trendy hub full of art galleries, design studios, eclectic cafes, and a gourmet food scene; Paddington has Victorian architecture, high-end fashion boutiques, popular markets, and a rich culinary landscape; Newtown is a multicultural, bohemian neighborhood famous for its live music, street art, independent bookshops, and diverse dining options; and The Rocks, one of Sydney's oldest areas, blends history with modernity, featuring numerous galleries, museums, historic pubs, and waterfront dining with views of iconic landmarks.
If you're looking to explore the coast, check out these areas: Bondi Beach is a globally recognized beachside town known for its stunning beach, thriving arts scene, trendy boutiques, and diverse dining options; Manly combines beautiful beaches, a lively food scene, shopping, and cultural attractions like the Manly Art Gallery and Museum; Bronte, a more laid-back neighbor to Bondi, offers a family-friendly atmosphere, café scene, great restaurants, and serves as the starting point for the famous coastal walk to Bondi; Cronulla, the only Sydney beach accessible by train, has a relaxed beach vibe, exciting food scene, local shops, and is close to the Royal National Park.
This sophisticated boutique hotel offers contemporary design with a warm ambiance. With an ideal location near celebrated attractions such as the iconic Opera House, Harbour Bridge, and the Royal Botanic Gardens, the property easily immerses guests in the local culture. The 198 individually designed rooms and suites feature luxury bedding, workstations, curated art pieces, and modern amenities.
The hotel's acclaimed rooftop restaurant serves innovative Mediterranean-inspired dishes using fresh, local ingredients which guests can enjoy over panoramic city views or a cocktail at the adjoining bar. The property also features a spacious fitness center, complete with state-of-the-art equipment, and exceptional personalized services.
Located in the neighborhood of Surry Hills, Crystalbrook Albion is a reimagined boutique hotel that seamlessly blends contemporary luxury with vintage interiors. Guests can enjoy a rooftop bar and pool offering city views and delicious cocktails and 35 intimate guest rooms and suites designed to reflect the building's Art Deco heritage. With its convenient location, the property provides easy access to the nearby Central Station, popular cafes, and boutique shopping. The hotel is also home to a trendy dining establishment serving locally sourced dishes and an on-site fitness center.
Situated in the center of Sydney's Central Business District, this urban retreat combines contemporary design with a rich architectural heritage. The property offers attentive service and a host of modern amenities, including a fully-equipped fitness center, rooftop terrace, and lively cocktail bar. Within walking distance of iconic attractions, the hotel gives guests easy access to explore the surrounding city.
The sleek, modern guest rooms come complete with marble bathrooms, custom bath products, and complimentary high-speed Wi-Fi. Guests will also appreciate the on-site, award-winning dining options, which include a seafood restaurant, a Japanese eatery, and a casual cafe.
Also found in Sydney's Central Business District, this five-star property offers sweeping views of the city's most famous landmarks - the Sydney Opera House and the Harbour Bridge. The hotel houses elegant rooms and suites featuring modern technology, as well as amenities including a rooftop pool and bar, award-winning spa, and modern fitness center. Guests can also easily access some of the city's top attractions, shopping destinations, and culinary delights.
Additionally, the property is home to a restaurant serving modern Australian cuisine alongside an extensive wine selection, and a sophisticated lounge offering high tea and cocktails. Guests can also enjoy the hotel's conference and meeting spaces, as well as diverse cultural and recreational activities within walking distance, such as the Museum of Contemporary Art or Royal Botanic Garden.
Merging history with modern conveniences, this property houses 509 spacious guest rooms including 28 suites, each featuring views of the city, plush furnishings, and modern technology. With the city's main attractions just minutes away, the property gives guests easy access to the surrounding culture, dining, and shopping.
The hotel is home to a range of facilities and services, including a heated rooftop swimming pool, a fully-equipped health club, and a day spa. The property also features multiple restaurants and bars offering a diverse selection of food and beverages, from fine dining experiences to casual cocktails with panoramic views.
In Sydney's Woolloomooloo district, this 5-star hotel blends contemporary design and classic heritage architecture. The hotel is a waterfront property featuring views of the city in addition to 100 spacious guest rooms and suites, complete with Apple TV, free Wi-Fi, and personal iPads. On-site amenities include an indoor swimming pool, a 24-hour gym, and flexible meeting spaces.
Aside from its excellent location, the hotel is also home to an on-site restaurant which serves an inventive menu of locally sourced ingredients and global cuisine. Complementing the dining options, an on-site bar offers an extensive list of cocktails, wines, and spirits in a cozy yet trendy atmosphere.
With views of the Sydney Opera House and Harbour Bridge in the historic district of The Rocks, this waterfront property features 155 spacious guest rooms, including 11 luxury suites, each with private balconies and many showcasing Sydney's best views. Guests can unwind in the heated rooftop pool, enjoy relaxing treatments at the award-winning spa, or exercise at the well-equipped fitness center. Dining options are also available on-site, as well as access to bou­tique shopping and art galleries nearby.
With floor-to-ceiling windows and modern amenities, the guest rooms come complete with Nespresso machines and luxurious soaking tubs. The property's on-site fine dining restaurant serves locally-sourced seasonal cuisine, while the bar is perfect for sampling artisanal cocktails and an extensive wine list. Guests will also appreciate the 24-hour business center and modern meeting facilities.
The QT Bondi blends contemporary style and beachside charm. Just steps away from the beach and surf culture, guests can enjoy easy access to an array of shops, cafes, and eateries. The property houses 69 spacious guest rooms, each complete with designer furnishings, private balconies, and modern amenities.
The accommodations are thoughtfully designed to blend with the surrounding beachscape, featuring custom artwork and sustainable materials in addition to rain showers, luxury bedding, and complimentary Wi-Fi. Guests can also enjoy the well-equipped gym and on-site boutique stocking local designs and exclusive beachwear.
Located in Sydney's Central Business District, this boutique hotel combines Gothic, Art Deco, and Italianate architectural features. Housed in a former department store and iconic Gowings building, the hotel features an array of contemporary art, design, and personalized services. The property is home to 200 rooms, all equipped with custom furnishings and modern amenities.
The hotel's elegant European-style restaurant serves meals highlighting fresh seasonal produce. For evening entertainment, guests can enjoy the underground speakeasy featuring crafted cocktails and live performances. The hotel is also home to a spa facility offering an array of treatments and a relaxation room.
This five-star hotel has a prime waterfront location, showcasing views of the city skyline. With its contemporary design, spacious guest rooms, and modern facilities, the hotel treats its guests to elegance and sophistication. The property is home to an infinity pool, a wellness center, and an array of dining options.
Each of the hotel's 590 guest rooms and suites offers modern amenities, including floor-to-ceiling windows and luxury bedding, blending elegant French touches with contemporary Australian design.
The Sofitel Sydney Wentworth is a five star hotel with tastefully designed guest rooms and suites. Here you'll find city views, plush bedding, and spacious marble bathrooms. Guests can also enjoy a range of on-site amenities, including a fitness center, an intimate library, and custom treatments at the spa.
The property is also home to an acclaimed restaurant led by an award-winning chef. The menu consists of both French and local Australian cuisine, accompanied by an extensive selection of fine wines from the hotel's sommelier. Additionally, the on-site lounge and bar is perfect for relaxing and features a menu of delicious cocktails and light bites.
Spicers Potts Point is a boutique property housing 20 guest rooms, each incorporating original heritage features with modern amenities. Guests can choose from a range of room types, including Queen, King, and Luxury King rooms, all of which include high-speed Wi-Fi, climate control, and espresso machines. This restored property also features Victorian terrace facades and a lush courtyard.
The in-house dining experience includes an intimate wine bar with a selection of local and imported wines, as well as a conservatory-style café that serves breakfast and afternoon tea. The hotel's prime location places guests within walking distance of some of Sydney's most popular attractions.
With its prime location at Circular Quay, this 5-star hotel offers access to the city's most iconic attractions. The property places guests just steps away from Sydney's shopping and dining scenes, as well as convenient public transportation options.
The hotel's 595 guest rooms and suites feature panoramic views of the city, plush bedding, and modern amenities. Guests can also enjoy the hotel's on-site dining options, which include a restaurant serving the best of Australian cuisine and a chic rooftop bar offering craft cocktails and city views. Additional amenities include a fully staffed concierge desk, a 24-hour fitness center, and a heated indoor pool.
Known for its timeless elegance and impeccable service, this five-star property is nestled in the historic Millers Point neighborhood. The hotel houses 98 rooms and suites, a 20-meter indoor swimming pool, a fully-equipped fitness center, a contemporary spa, and a specialty afternoon tea experience.
The hotel also offers easy access to Sydney's iconic landmarks, such as the Sydney Opera House, the Royal Botanic Garden, and The Rocks. Additionally, guests are invited to enjoy a refined dining experience at the award-winning on-site restaurant which serves innovative, globally-inspired cuisine using the finest local ingredients.
This boutique hotel, offering heritage charm and contemporary design, is in the heart of Chippendale, a trendy and artistic Sydney suburb. The property, a revitalized 19th-century heritage building, houses 62 rooms and suites and showcases exposed brick walls and timber beams, in addition to a rooftop pool and bar, fitness center, and three critically acclaimed dining options.
The hotel's ideal location grants easy access to a variety of local attractions and experiences. Surrounded by a flourishing arts, design, and culinary scene, the neighborhood is home to galleries, vintage stores, and markets, as well as a thriving architectural landscape. The hotel is also situated just a short walk away from the Central Station, allowing guests to conveniently explore the City Centre and all that Sydney has to offer.
Sign up for Safara
Want 10% back towards all future hotel bookings?
Sign Up