The 13 Best Hotels in Tulum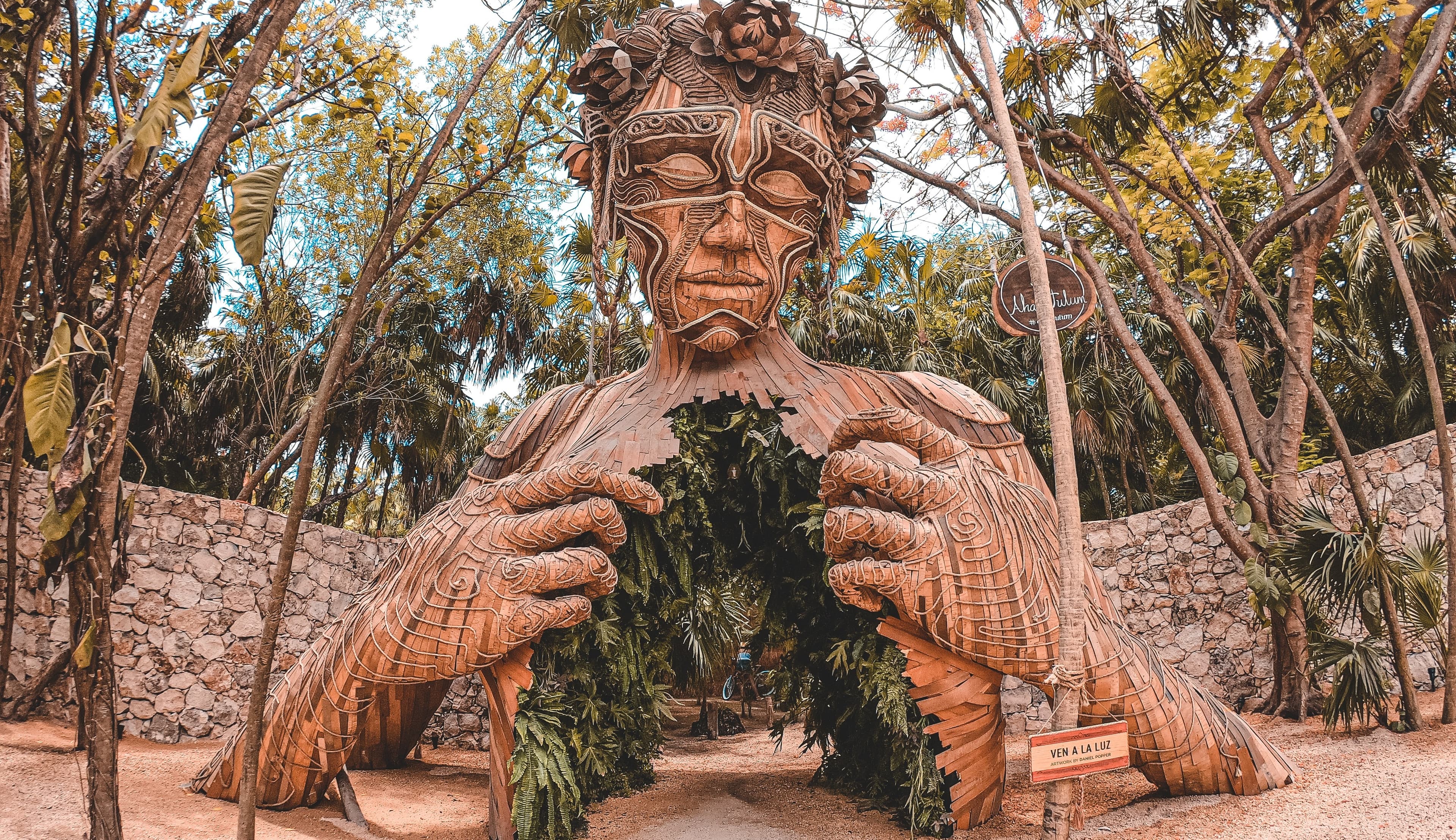 Tulum is a bohemian and laid-back beach town located on the Caribbean coast of Mexico. Beyond its stunning beaches, visitors can discover a range of experiences from eco-friendly hotels to yoga retreats to farm-to-table dining. For those looking to discover Tulum like a local, we recommend checking out the neighborhoods of La Veleta, Aldea Zama, Tankah, and Soliman Bay. These areas offer a mix of trendy cafes, boutique shops, and hidden gems that will make any trip to Tulum unforgettable.
Situated along the shores of Tulum, this resort offers a selection of thatched-roof suites where guests can enjoy open-air living spaces, private ocean-view terraces, and locally-sourced, sustainable furnishings. The resort's design employs indigenous materials and an open, welcoming ambiance where sea breezes provide natural air-conditioning.
Guests can indulge in a variety of yoga and meditation classes, savor farm-to-table cuisine made from locally-sourced ingredients, and unwind with an array of therapeutic spa treatments. Nearby, guests can explore Mayan heritage at archaeological sites to partake in eco-adventures such as snorkeling and kayaking.
This beachfront resort offers 64 suites that blend comfort and contemporary design and feature private pools or Jacuzzis, luxe linens, and handcrafted furnishings. The jungle surroundings enhance the serene atmosphere, with only a stone wall separating you from the beach.
Experience a gastronomic journey through its three restaurants, each inspired by the culinary traditions of the region and highlighting locally-sourced, sustainable ingredients. Venture out to explore the nearby ancient Tulum ruins, partake in a variety of water sports and land excursions, or relax and pamper at the spa.
Just steps away from pristine Caribbean beaches, guests at this five-star hotel can easily explore ancient Mayan ruins or dive into cenotes. Each of the hotel's suites features floor-to-ceiling windows that invite the tropical surroundings indoors, custom-designed furnishings, elegant textiles, and state-of-the-art amenities. The on-site spa offers an extensive menu of treatments that incorporate locally-sourced ingredients, as well as traditional healing techniques rooted in Mayan culture. The hotel's culinary offerings cater to every palate, complemented by an impressive wine list and cocktail selection.
Hotel Bardo offers 16 suites that blend seamlessly into the natural surroundings, featuring private plunge pools, indoor/outdoor showers, and design details inspired by the local culture. The property's commitment to sustainability is evident through its use of solar power and locally-sourced organic materials.
Guests can experience a fusion of Mexican and Mediterranean flavors at the on-site restaurant or take part in wellness offerings, from treatments at the full-service spa to daily yoga and meditation sessions overlooking the jungle canopy.
Once an exclusive private hideaway for an Italian duchess, the 50-acre estate has its own white sand beach overlooking the Caribbean Sea. The hotel features 42 suites and villas, each with bespoke furnishings and original artwork. Its amenities include two on-site restaurants led by a Michelin-starred chef, a world-class spa, and several aquatic activities.
Sustainability and a commitment to local culture are reflected throughout the property, blending indigenous Mayan elements with contemporary Mexican decor. Guests can explore the property's gardens, take yoga and meditation classes, or go on excursions to nearby archaeological sites, cenotes, and eco-parks.
Combining contemporary architecture with jungle surroundings, this hotel's suites feature private terraces, plunge pools, and floor-to-ceiling windows. An infinity pool overlooks the Caribbean Sea, while an on-site wellness center offers an array of rejuvenating spa treatments and fitness options.
With a focus on farm-to-table and locally-sourced ingredients, guests can sample a selection of regional Mexican and international dishes, while the rooftop lounge serves handcrafted cocktails featuring flavors of the region.
Tucked away in Tulum's jungle, this boutique hotel provides an immersive mid-century tropical experience with only 15 rooms.
Each room features floor-to-ceiling windows, inviting natural light, while the geometric architecture and retro furnishings create a vibrant atmosphere. The adults-only property features a beautiful pool area, surrounded by greenery with comfortable cabanas. The on-site open-air bar offers a selection of cocktails and a curated menu of local cuisine.
Offering 78 guest rooms featuring private balconies, floor-to-ceiling windows, and locally-inspired decor, this hotel provides exceptional on-site amenities include a rooftop infinity pool, spa facilities, and a fitness center.
The hotel's two on-site dining venues serve a fusion of local and international cuisine in alfresco settings. Additionally, the mixologists at the poolside bar craft cocktails made from fresh, indigenous ingredients. The hotel is also ideally located close to popular attractions such as the Tulum Ruins and the Sian Ka'an Biosphere Reserve.
Featuring just nine rooms, this beachfront property allows guests to indulge in their own private sanctuary, while still providing top-notch services and amenities. Each suite offers a fusion of traditional Mayan elements and contemporary accents, complete with eco-friendly features.
Guests can also try the fresh, local, and sustainable dishes available at the on-site restaurant just steps from the Caribbean Sea. After a fulfilling meal, the hotel's pristine private beach area and infinity pool await.
This eco-conscious Colibri Boutique Hotel offers 29 contemporary suites, each with handcrafted furnishings and private verandas. The on-site spa provides rejuvenating treatments, while the two-tier beachfront pool provides the ultimate swimming experience. The hotel's on-site restaurant combines fresh, locally-sourced ingredients with Mexican culinary expertise.
Guests will enjoy the hotel's proximity to world-class kiteboarding and paddle-boarding facilities, and scenic bike tours along vibrant stretches of the Riviera Maya are also easily accessible.
Overlooking the white sands of Tulum's coastline, this boutique hotel offers 10 beachfront rooms and suites featuring bespoke amenities, such as artisanal toiletries and locally sourced textiles.
The on-site, oceanfront restaurant, serves an ever-changing menu of locally-sourced dishes for breakfast, lunch, and dinner. The culinary team takes pride in its commitment to sustainability and supporting local farmers, with daily offerings designed around the highest quality ingredients found nearby.
At this eco-friendly boutique resort, guests will find 85 casitas and cabañas, each showcasing locally-sourced materials, stunning ocean views, and thoughtful design elements. Guests can partake in a variety of activities, including yoga classes, spa services, and water sports.
The on-site dining experience focuses on farm-to-table cuisine and the freshest local ingredients. Patrons can enjoy their meals in a beachfront setting just steps from the Caribbean Sea. In addition to its commitment to ecological responsibility, this retreat regularly hosts social and cultural events.
Stay in the heart of the jungle at this eco-conscious retreat featuring just 18 suites. Designed with locally-sourced materials and influenced by Mayan architecture, the accommodations provide private terraces, plunge pools, and views of the tropical surroundings. The property features a yoga studio, spa, and two swimming pools, as well as an array of artisanal workshops, adventure tours, and spiritual development classes to choose from.
The on-site dining venue serves fresh, locally-sourced ingredients that fuse traditional Mexican and contemporary international cuisine. Guests can also take advantage of amenities like a 24-hour concierge, complimentary bicycles, and Wi-Fi throughout the property.
Sign up for Safara
Want 10% back towards all future hotel bookings?
Sign Up