The 5 Best Hotels in Courchevel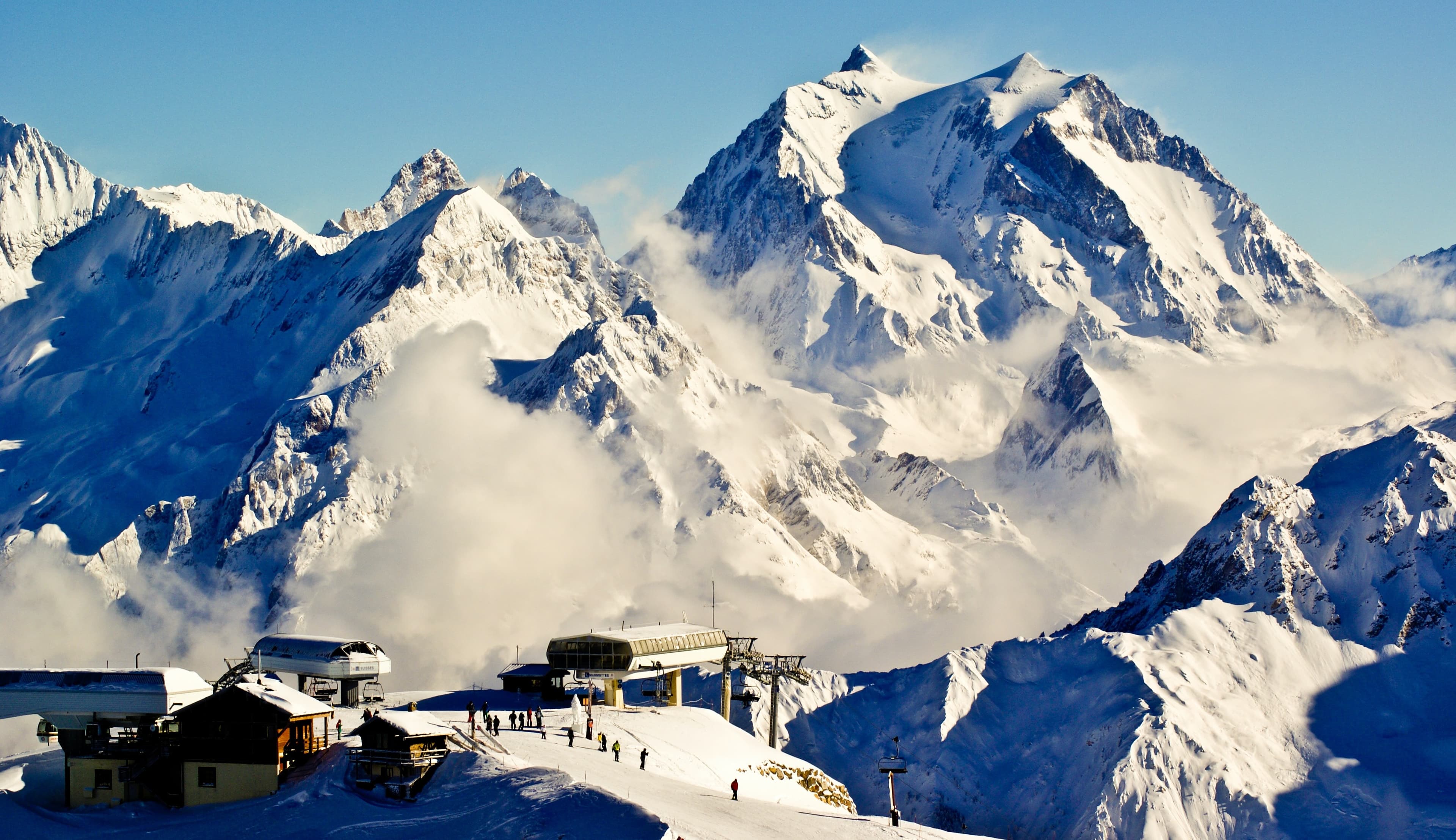 Courchevel is a prestigious ski resort in the French Alps known for its luxury, world-class ski slopes, and charming alpine village atmosphere. Courchevel offers an elite winter retreat with its interconnected ski areas, Michelin-starred restaurants, and exclusive boutiques.
This alpine retreat is perched on the Bellecôte ski slope in the picturesque Courchevel 1850 village. Guests are treated to ski-in, ski-out access to the legendary Les Trois Vallées, the world's largest linked ski area. The chalet-style property comes with rich wooden interiors and 19 elegant rooms and suites, each offering mountain or forest views.
The property's in-house, Michelin-starred restaurant serves exceptional French and Japanese-inspired dishes using locally-sourced ingredients. Guests can also enjoy the on-site spa offering innovative treatments and therapies, and an indoor heated pool with views of the mountains.
This five-star ski-in, ski-out retreat is in the very heart of Courchevel 1850, offering seamless access to the largest ski area in the world, Les Trois Vallées. With sophisticated, cozy, and mountain-inspired architecture, the property features 42 elegant rooms and suites, each offering panoramic views of the surrounding mountains. On-site amenities include two fine dining establishments, a spa and wellness center, an indoor swimming pool, a private cinema, and a wide range of tailor-made winter activities.
The hotel's two high-end restaurants serve dishes crafted from local and seasonal ingredients and offer an extensive wine list. Guests can also enjoy a spa experience, featuring exclusive treatments and therapies incorporating natural, alpine-inspired ingredients.
Hotel Le K2 Palace is renowned for its ski-in, ski-out access, and proximity to the world-class Trois Vallées skiing area. The hotel's architecture combines traditional alpine design with chic modernity, featuring 29 rooms, suites, and chalets. The property's accommodations include sophisticated furnishings, private balconies or terraces, and modern amenities and technology. Guests can also choose to stay in private chalets, which come complete with home theaters, saunas, ski rooms, and dedicated housekeepers. This property is also home to a luxury spa with an array of treatments, as well as two Michelin-starred restaurants, a wine lounge, and a cozy cigar bar.
Offering easy access to the world's largest interconnected ski area, this Beaumier Hotel is home to elegant rooms, exceptional dining options, and an array of modern amenities including a spa facility, an indoor pool, and an extensive fitness center. A standout among the hotel's dining options, the on-site Michelin-starred restaurant serves cuisine highlighting locally sourced, seasonal ingredients.
Guests can enjoy ski-in and ski-out access, along with access to the resort's private ski lounge in this mountain resort. Six Senses Residences Courchevel combines exceptional service, sustainable living, and a stunning alpine landscape. The accommodations include apartments, chalets, and penthouses complete with upscale furnishings and modern amenities. The property also features an on-site spa, a fitness center, a private cinema room, and a gourmet restaurant.
Sign up for Safara
Want 10% back towards all future hotel bookings?
Sign Up