The 15 Best Hotels in Kyoto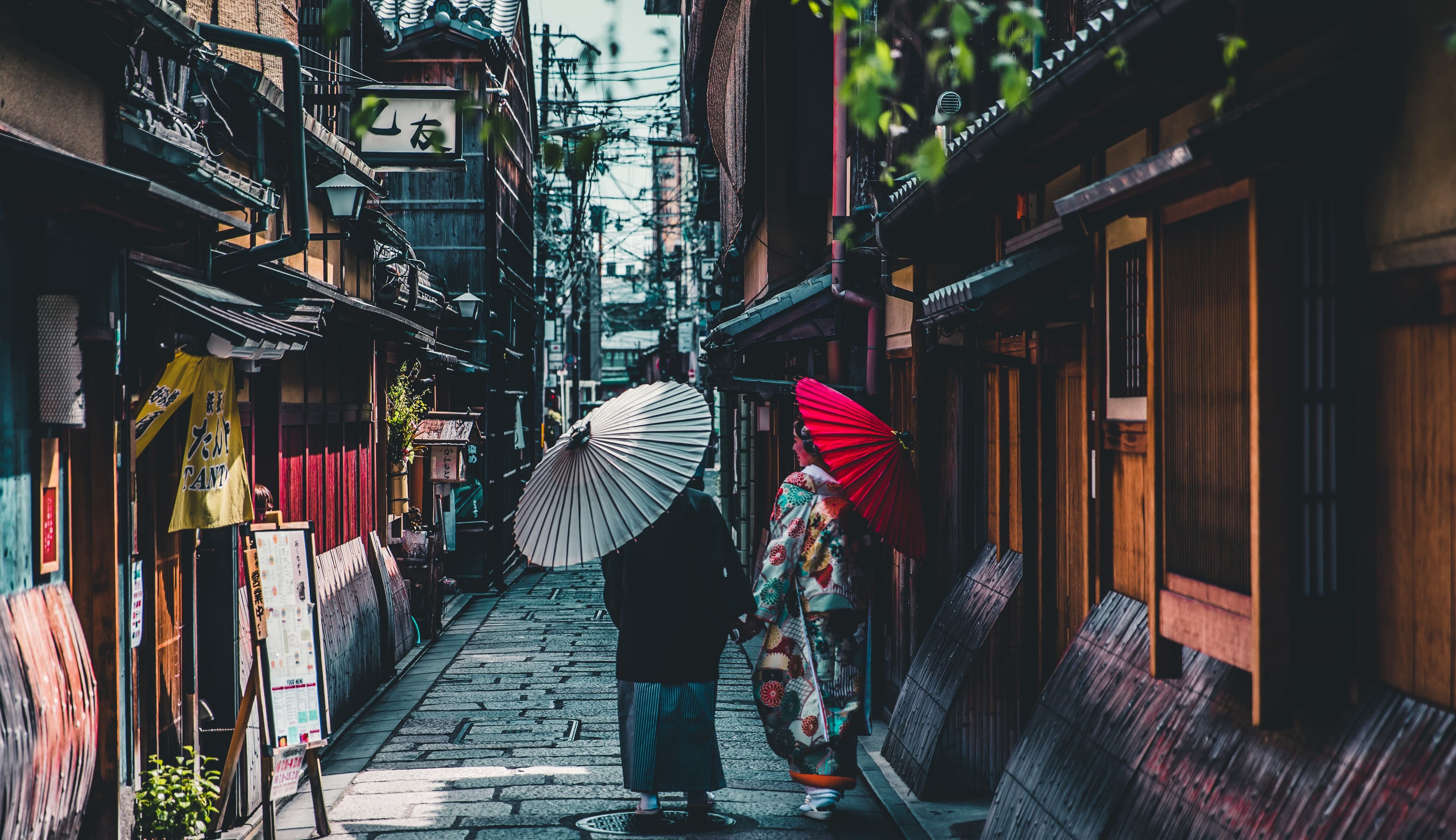 Kyoto, once the capital of Japan, is a city steeped in history and traditional Japanese culture, where ancient temples, shrines, and beautifully preserved machiya houses coexist with modern architecture and amenities. Kyoto offers a journey through Japan's rich cultural heritage amidst its seasonal beauty, especially during cherry blossom and autumn leaf seasons.
We recommend checking out these neighborhoods: Gion, the city's most famous geisha district, is known for its traditional wooden machiya houses, teahouses, and its role in preserving classical Japanese arts; Higashiyama, one of Kyoto's best-preserved historic districts, offers a journey through time with its narrow lanes, wooden buildings, and iconic Kiyomizudera temple; Nakagyo, the city's downtown area, combines modernity and history with its shopping arcades, traditional merchant houses, and the historic Nijo Castle; Shimogyo is a bustling area that includes Kyoto Station and offers a mix of hotels, shopping centers, and historical attractions such as Higashi Honganji temple.
Situated in Kyoto's historic district, this contemporary resort was designed by renowned architect Kengo Kuma and features 213 rooms, combining traditional tatami mat flooring with custom-designed furniture. Its curated amenities include a well-equipped fitness center, a tranquil spa, and a garden courtyard.
A diverse array of on-site dining options are available, including a fusion of international and Japanese cuisine, a lobby café, and a local izakaya-style bar offering a selection of Japanese whiskey and sake. The hotel also promotes a rich cultural program with regular art exhibitions, workshops, and live performances.
Tucked within 80 acres of gardens and bordered by the Hidari Daimonji Forest, this retreat pays homage to the traditional ryokan inn, with minimalist accommodations consisting of 24 guest rooms and two villas. Accommodations include floor-to-ceiling windows and soothing onsen bathing facilities.
Dining options are inspired by the region's culinary heritage and showcase locally-sourced, seasonal ingredients through multi-course menus in both à la carte and signature kaiseki styles, while the more casual café and bar serve beverages and light bites. Also on offer are dedicated wellness treatments, including personalized spa experiences and yoga sessions.
Fusing French elegance and Japanese tradition with comfortable rooms and technological amenities, this hotel is located within walking distance of popular historical sites. The hotel offers convenient access to shrines, temples, and gardens.
Guests can dine on-site in venues that balance French gastronomic expertise and Japanese flavors. Visitors are also welcome to enjoy the wellness and leisure facilities, including a spa and fitness center.
Featuring serene garden views, this five-star hotel provides easy access to nearby landmarks. With a kaiseki restaurant, a fusion teppanyaki eatery, and an all-day dining option on-site, guests have access to a variety of Japanese flavors, while other amenities include a spa, an indoor pool, and a fitness center.
One notable feature of this hotel is its 800-year-old Shakusui-en pond garden, highlighting Kyoto's landscape design history. The property's accommodations consist of 123 spacious guest rooms and 57 suites, featuring local crafts and natural elements from tatami-style living spaces to wood-enclosed baths.
With a prime location just a 5-minute walk from the Kyoto Shichijo Station and a 12-minute stroll from Kyoto-eki, guests to this hotel will be surrounded by rich history and culture. The hotel offers 68 guest rooms, each designed to showcase a blend of modern aesthetics and timeless Japanese craftsmanship.
Guests can indulge in one of the city's finest spas, unwind at the bar-lounge space while enjoying a selection of cocktails, wines, and light bites, or try the in-house Japanese restaurant serving Kyo-kaiseki cuisine. For a more immersive experience, various cultural activities are available, such as tea ceremonies and traditional craft workshops.
At this property located in Kyoto's Gion district, guests can select from 157 rooms and suites, each furnished with plush bedding, beautiful local artwork, and state-of-the-art amenities. The hotel also features a wellness spa, a tranquil Japanese garden, and a rooftop bar with lovely views.
The on-site dining options include a Japanese restaurant offering local cuisine, as well as an all-day dining café ideal for a casual meal or afternoon tea. Guests can unwind with a massage at the wellness spa or spend an evening in the serene Japanese garden, and the hotel staff are available to provide expert recommendations on nearby attractions.
Located in Kyoto's cultural district, Higashiyama Shichijo, this hotel provides 187 guest rooms and suites conveniently located near many famous temples, museums, and scenic gardens.
Adding to the guest experience, this hotel features an award-winning restaurant serving contemporary European cuisine, a traditional teahouse, a Japanese grill, and a sophisticated Sushi bar. After a day of exploring the city, guests can relax at the on-site spa or indulge in cocktails at the bar.
Mogana is situated in an idyllic setting near Kamo River. This hotel offers easy access to iconic landmarks, renowned temples, and culinary experiences, while the guest rooms provide relaxation and comfort.
From the curated in-room tea selections to the soothing onsen-style bathing facilities to the local artworks decorating the interiors, each detail has been crafted to provide an authentic Kyoto experience.
Conveniently located near popular attractions such as the Nishiki Market and Kyoto Imperial Palace, Node Hotel features spacious guest rooms, each with amenities that include complimentary Wi-Fi, air conditioning, and flat-screen televisions.
The hotel's onsite gallery and art space host seasonal exhibitions, film screenings, and live performances, acting as a hub for creative minds and art enthusiasts. An in-house restaurant offers a fusion of Japanese and Western cuisine, highlighting locally-sourced ingredients and the celebrated culinary traditions of Kyoto.
Tucked away in the heart of the ancient city, this boutique hotel comprises 81 rooms and suites, with amenities including an onsite spa, a restaurant offering farm-to-table dining, and a bar housing an extensive collection of artisanal Japanese whiskies.
Located in close proximity to UNESCO World Heritage sites such as Kiyomizu-dera Temple, Nijo Castle, and Kyoto Imperial Palace, this hotel's location allows for easy city exploration. Guests also have access to concierge services that can arrange cultural activities such as tea ceremonies, geisha performances, and private temple tours.
Just moments away from one of the city's most iconic UNESCO World Heritage sites, Park Hyatt Kyoto houses 70 guest rooms, including 9 specialty suites.
Dining experiences await visitors, with a choice of four on-site restaurants, offering multi-course Japanese Kaiseki to authentic Italian cuisine, while innovative design features blend indoor and outdoor spaces. In addition to the culinary offerings, visitors can relax at the wellness center or take part in cultural activities such as tea ceremonies and Ikebana flower arrangement classes.
Located in a traditional Japanese neighborhood, this hotel offers 114 guest rooms and suites with each room decorated with locally-inspired décor and handcrafted furnishings. Visitors can take in the ambiance of the Japanese gardens, explore the alleyways revealing hidden shrines and temples, or venture into the city to discover Kyoto.
The on-site dining venues showcase sophisticated twists on traditional Japanese and international cuisine, while the hotel spa offers therapeutic treatments and practices inspired by local well-being philosophies.
With its ideal location in the historic Arashiyama district in Kyoto, this hotel offers 39 rooms, combining classic ryokan-style interiors with contemporary amenities. Guests can unwind at the spa or explore the surrounding bamboo groves and sacred temples.
The on-site restaurants artfully combine regional flavors and international dishes; the riverside dining venue offers views of the surrounding hills, while the bar offers a selection of cocktails and whiskies.
Along the banks of the Kamogawa River, this five-star retreat offers 134 rooms and suites designed to incorporate elements of nature. The property's amenities include a spa, fitness center, indoor swimming pool, and a collection of Japanese gardens.
The hotel offers four on-site fine-dining options, including a Michelin-starred French restaurant and a traditional Japanese kaiseki restaurant. For an elevated afternoon tea experience, the hotel's teahouse-inspired lounge serves a range of beverages and desserts. Proximity to iconic attractions makes it an ideal base for exploring, while the dedicated concierge team ensures a personalized and memorable visit.
With easy access to attractions such as Kiyomizu-dera and Nijō Castle, this boutique hotel offers its guests a prime location. The hotel features 13 individually-designed rooms, while amenities include a limousine service, mobile phone rentals, and private guided tours.
A fine dining experience awaits featuring innovative international dishes with Japanese flair, sourcing seasonal ingredients from the region. The hotel also has a rooftop terrace with views of the surrounding cityscape and the on-site garden.
Sign up for Safara
Want 10% back towards all future hotel bookings?
Sign Up