The 12 Best Hotels in Seoul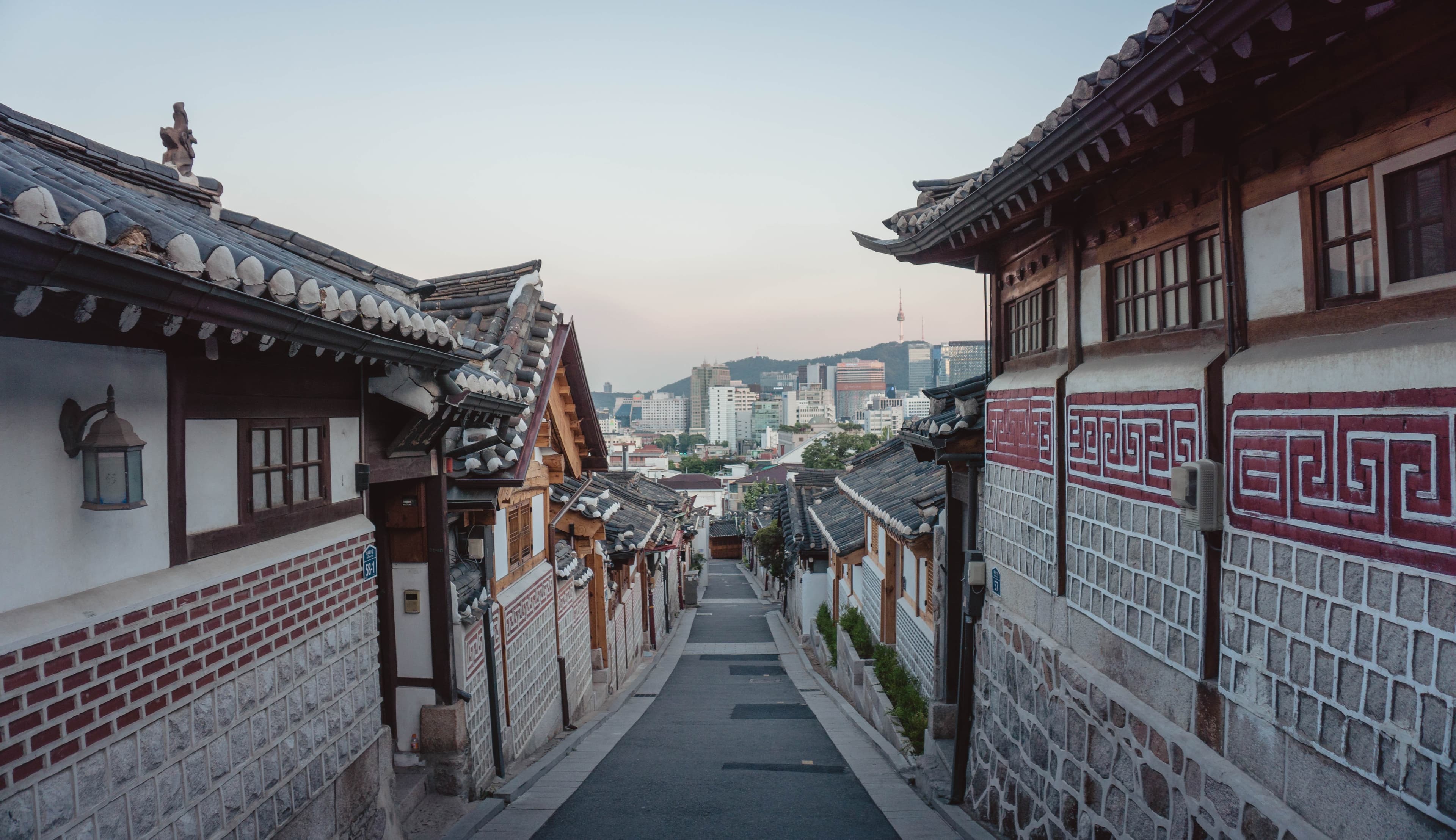 Seoul, the capital city of South Korea, is a dynamic city known for its modern architecture, rich cultural heritage, and thriving technology industry. With its historic palaces, vibrant markets, street food scene, and innovative pop culture, Seoul offers a blend of tradition and innovation that captivates visitors.
In Seoul, the upscale neighborhood of Cheongdam-dong offers high-end shopping and dining, the area of Hongdae is known for its nightlife, street art, and indie music, and the quaint Insadong neighborhood provides a window into Korea's traditional art and crafts culture.
Located in the heart of Seoul, this five-star property offers a blend of luxury and relaxation. The hotel features elegant accommodations and modern amenities, including a fully-equipped fitness center, a spa, and an indoor amusement park. With its impressive selection of meeting rooms and banquet facilities, the property caters to a wide array of events, from weddings to business conferences.
The hotel also offers a variety of culinary options, from Italian to authentic Korean to a buffet spread of local and international dishes. Steps away from a premier shopping center, a golf club, and the Jamsil station, the hotel's prime location offers convenient access to the city's key attractions.
Offering an ideal location for exploring the city's must-see attractions, this hotel is in close proximity to historical landmarks, high-end shops, and top-rated restaurants. Guests can enjoy elegant rooms and suites, each equipped with modern technology, in addition to an award-winning spa, a fully-equipped fitness center, and an outdoor pool. With a range of cuisines that include French, Japanese, and traditional Korean, guests will appreciate the multiple on-site dining options in addition to personalized services during their stay.
The Grand InterContinental Seoul Parnas is known for its world-class service and refined elegance. The five-star hotel houses 517 guest rooms, including 60 executive suites, in addition to a rooftop indoor swimming pool, a fitness club, and a spa. The hotel is conveniently situated near iconic attractions such as Bongeunsa Temple.
With 11 on-site restaurants and bars, the property serves cuisine ranging from Korean to Italian fare, in addition to a French-style pastry shop. Guests with executive-level access can enjoy panoramic city views while unwinding in the exclusive lounge, which serves a variety of cocktails and refreshments throughout the day.
With its prime location in the city, this 5-star hotel offers views of Seoul's skyline and the Han River. Guests can enjoy easy access to popular shopping districts, cultural attractions, and vibrant nightlife. The property houses 615 spacious guestrooms and suites, in addition to a fully-equipped fitness center, an outdoor pool, tennis courts, and an ice-skating rink. The hotel also offers a wide selection of fine dining experiences, ranging from authentic Korean to international cuisines.
Guests are invited to enjoy the on-site spa, which offers a comprehensive range of treatments, therapies, and wellness programs. The property also features more than 35,000 square feet of flexible event spaces, including a grand ballroom and versatile meeting rooms.
Nestled in the heart of Gangnam, this upscale hotel combines traditional Korean design with contemporary elegance. The property houses 254 spacious guest rooms and suites, each equipped with modern technology and amenities. In addition to the fitness center and indoor heated pool, guests can enjoy treatments at the on-site spa. From fine dining to casual fare, the hotel is also home to multiple restaurants featuring a range of cuisines and flavors. This hotel also offers meetings and event facilities.
Positioned in the center of the Dongdaemun district, this luxury property offers views of the Dongdaemun Gate. The hotel features 170 guest rooms and suites, complete with modern amenities and technologies. Its convenient location provides easy access to shopping centers, local markets, historic cultural landmarks, and a thriving nightlife scene.
Within the hotel, guests can enjoy international and Korean cuisine, curated by world-class chefs. Additional amenities include a spa offering a range of treatments, a fully-equipped fitness center, an indoor pool, and versatile meeting spaces suitable for any event.
This boutique hotel houses 274 rooms and suites and two acclaimed dining establishments. Each of the rooms comes complete with modern amenities, such as a well-stocked mini-bar, custom fragrance diffusers, and plush bedding. The property is also home to an art gallery, a fully-equipped fitness center, and a spa. The hotel's prime location in a neighborhood known for its arts, music, and nightlife scene means guests have easy access to local shops, galleries, and eateries. Additionally, the subway is just a short walk away, offering convenient connections to the rest of Seoul's attractions.
Conrad Seoul offers views of the Han River and Seoul skyline. The hotel houses 434 spacious guest rooms and suites, each featuring modern technology and elegant décor. The property is also directly connected to the city's subway system and offers easy access to nearby attractions. The five on-site restaurants range from fine dining to casual options, and guests can also enjoy a fully-equipped fitness center, indoor swimming pool, spa, and extensive meeting and event spaces.
This hotel is designed down to the finest detail to reflect the rich cultural heritage of Korea. Each of the 317 well-appointed guest rooms is complete with floor-to-ceiling windows, offering views of the city skyline and modern amenities. The property is home to a well-equipped fitness center, an indoor pool, and a full-service spa offering a diverse range of treatments.
The hotel's seven gourmet dining venues showcase a variety of international cuisines, ranging from authentic Korean to Mediterranean-inspired dishes. Guests can also enjoy a modern bar and lounge on-site. Due to its convenient location, the property provides easy access to high-end shopping, fine dining, and entertainment options nearby.
Home to 50 guest rooms and suites, this property offers comfort and style in addition to modern amenities, including a private club, an outdoor swimming pool, and tennis and squash courts. The hotel's garden, complete with ample event and meeting spaces, is perfect for hosting special occasions, while the expansive spa offers a range of treatments and therapies. Guests can also enjoy the property's diverse dining options, ranging from contemporary Italian to Korean barbecue.
Featuring floor-to-ceiling windows that reveal views of the city's skyline, this property is home to 185 contemporary guest rooms, including 38 suites, in addition to a tranquil spa, a well-equipped fitness center, and a 24-meter indoor infinity pool.
With an array of world-class dining options on-site, guests can enjoy both local and international cuisine. The hotel is also conveniently situated near upscale shopping malls, entertainment venues, and transportation hubs, making it an ideal base for exploring the city.
Situated within the Lotte World Tower, this luxury hotel offers guests panoramic views of Seoul's skyline from its location in the heart of the city. Housing 235 rooms and suites, the property prioritizes personalized service, modern amenities, and technology. Its design, inspired by the beauty of the Han River, is reflective of South Korea's cultural heritage.
This hotel is home to a Michelin-starred French restaurant, as well as a distinguished Korean restaurant. On-site facilities include a spa, a fully-equipped fitness center, and an indoor infinity pool. Guests will also enjoy the hotel's proximity to numerous cultural attractions and shopping districts.
Sign up for Safara
Want 10% back towards all future hotel bookings?
Sign Up