The 15 Best Hotels in Nashville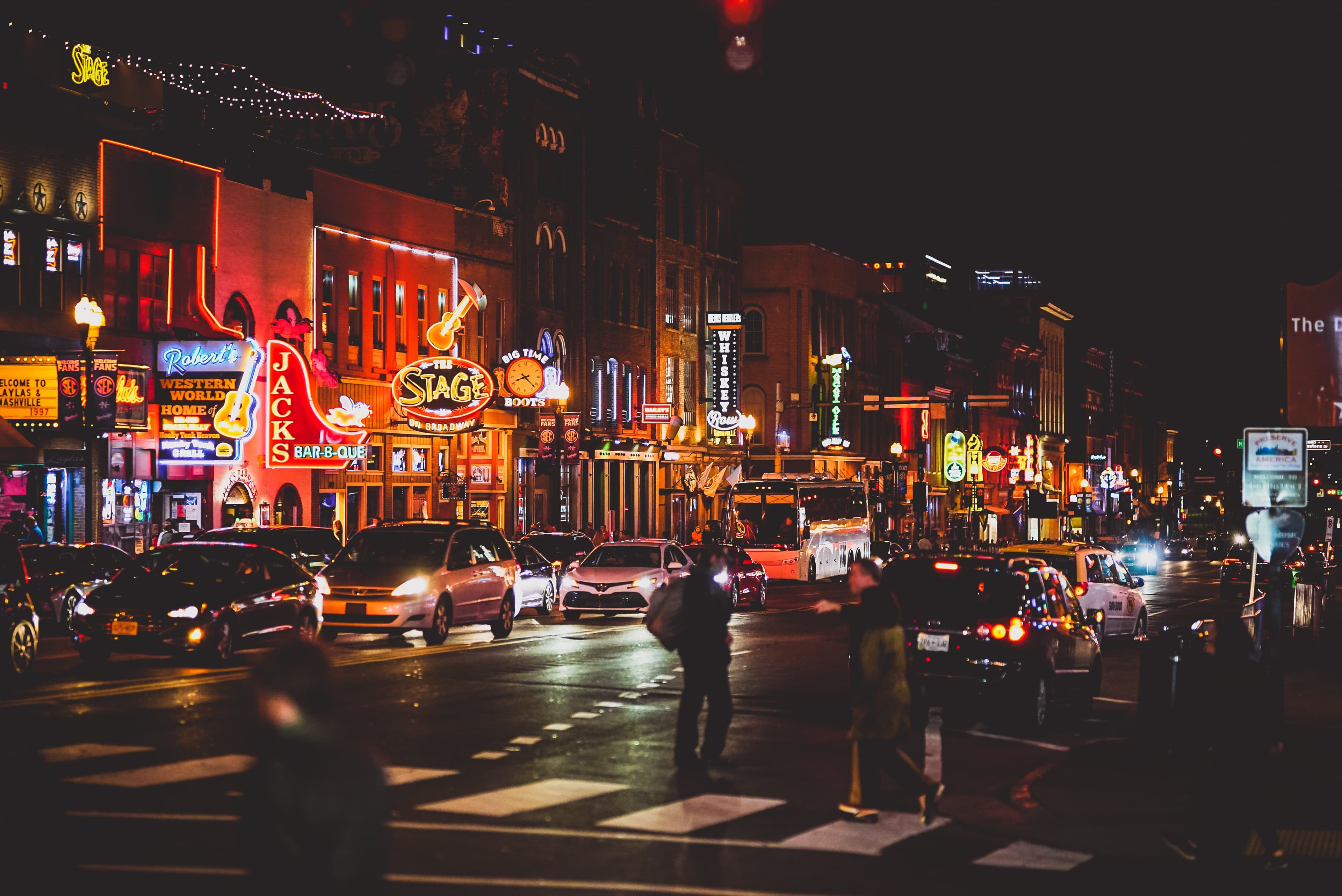 Nashville is a lively city that is known for its rich music history, delicious Southern cuisine, and interesting neighborhoods. Beyond the country music scene, visitors can discover a range of experiences from art galleries to boutique shopping to craft cocktail bars. For those looking to explore Nashville, we recommend checking out the neighborhoods of East Nashville, Germantown, 12 South, and The Gulch. East Nashville is a hip, eclectic neighborhood with a thriving arts scene and diverse dining options, Germantown is a historic, upscale area with charming brick architecture and trendy restaurants, 12 South is a vibrant, walkable district boasting boutique shops and popular eateries, and The Gulch is a modern, urban neighborhood with high-end shopping and a lively nightlife scene.
This environmentally conscious hotel is located next to the Music City Center. The hotel offers guest rooms, suites, and residences complete with floor-to-ceiling windows that provide views of the city's skyline. There's also a rooftop pool and lounge area.
The farm-to-table restaurant sources its ingredients from local purveyors to create flavorful dishes that celebrate the region's culinary heritage. While the hotel's concierge team offers curated itineraries and activities that highlight the city's live music scene and prominent cultural sites.
Located in downtown Nashville, this boutique hotel offers a unique blend of art, culture, and comfort. The hotel houses a contemporary art museum with rotating exhibitions and over 10,500 square feet of gallery space, while each guest room also features original artwork.
Amenities include a full-service spa, fitness center, and an on-site farm-to-table restaurant and bar serving craft cocktails and seasonal dishes made from fresh, locally-sourced ingredients. The hotel also provides meeting and event spaces that can accommodate various types of gatherings.
Bobby Hotel is located in downtown Nashville and offers guest rooms and suites with thoughtful design elements such as exposed brick and wood accents, as well as modern amenities. The rooftop lounge provides skyline views and features a vintage bus-turned-bar.
The hotel offers both a cozy diner, perfect for a hearty breakfast, and a rooftop restaurant serving a variety of dishes and craft cocktails. The hotel's collaboration with a Parisian perfumer is also evident in the tailor-made toiletries.
Close to Lower Broadway's lively music scene, this boutique hotel offers 168 art deco-inspired rooms and suites, complete with modern amenities and plush furnishings.
The rooftop bar provides guests with views of the city skyline, craft cocktails, and a sophisticated atmosphere. The on-site restaurant serves creative Southern cuisine, and guests can find additional food options in the Lobby Bar. A well-equipped fitness center is also available.
This mid-century modern boutique hotel offers 81 guest rooms and suites, as well as several noteworthy amenities. These include a complimentary Tesla Model X house car, a 24-hour gym, and a curated mini-bar stocked with local Tennessee products. The hotel's central location also provides easy access to the city's historical sites, entertainment venues, and shopping districts.
The hotel's rooftop bar and lounge offers guests panoramic views of Nashville's skyline and tasty craft cocktails, while the cozy on-site restaurant serves farm-to-table cuisine paired with fine wines.
Graduate Nashville, located in Nashville's Midtown neighborhood, offers both modern amenities and interior design inspired by the city's rich musical history. It's also conveniently close to Vanderbilt University and many of the city's most popular attractions. On-site dining options include a rooftop bar and a café. Each guest room comes with unique furnishings and artwork, high-speed Wi-Fi, flat-screen smart TVs, and premium toiletries.
Part of The Unbound Collection by Hyatt, this hotel is housed within a historic 1929 Art Deco building that combines contemporary design with the city's rich heritage. The hotel offers 191 guest rooms and suites, as well as a rooftop pool and on-site restaurant, both with views of downtown Nashville.
The property is conveniently located near Nashville's renowned Broadway district, providing easy access to top entertainment venues and dining establishments. The hotel's wellness facility, TENN, offers a range of services including a fitness center, yoga classes, and spa treatments.
Known for its eco-friendly practices and upscale accommodations, this boutique hotel is located in Nashville's West End. Originally constructed in 1910, the hotel underwent a full-scale renovation. It's conveniently located near museums, art galleries, shopping, and iconic music venues.
Guest rooms feature custom-designed beds, five-fixture bathrooms, and modern technology. Other amenities include a 24-hour fitness center, complimentary car service, and 13,600 square feet of flexible event space for meetings and special occasions. The Southern brasserie serves dishes created from locally-sourced ingredients in a subtle setting. For more casual fare and live music, there's also a cozy on-site social club.
This skyscraper hotel is located in Music City's downtown area and offers stunning views of the city skyline from 33 stories up. On-site amenities include a fully-equipped fitness center, spa, indoor-outdoor pool, and flexible meeting spaces.
There are three on-site dining options. The hotel's signature rooftop steakhouse serves grilled dishes and unique cocktails, along with panoramic views. There's also an Italian-inspired eatery and an upbeat bar that features live music and a wide selection of craft beers and spirits.
Set in the Midtown district of Nashville, this boutique-style hotel is in close proximity to attractions such as the Country Music Hall of Fame and Vanderbilt University. Amenities include a rooftop pool and bar area, an upscale restaurant serving locally-inspired cuisine, and a full-service spa.
Each of the 180 guest rooms and suites features quality furnishings, plush bedding, unique artwork, high-speed Wi-Fi, and refreshment centers. The property also offers a range of specialty accommodations, such as pet-friendly rooms and presidential suites.
Noelle is a downtown boutique hotel housed in a restored building from the 1930s. It features an impressive art collection, an in-house restaurant that specializes in Southern cuisine, and a rooftop bar offering views of the city. The guest rooms and suites feature contemporary design and unique, hand-picked furnishings, as well as plush bedding, high-speed Wi-Fi, and spacious bathrooms.
Within Nashville's arts district, this Luxury Collection Hotel offers 297 guest rooms and suites, all with views of the Nashville skyline. Amenities include a rooftop pool and sundeck, a fitness center, and a 24-hour business center. The 21-story property is also within walking distance of some of the city's best dining, shopping, and entertainment venues.
The on-site restaurant serves Italian cuisine prepared by a Michelin-starred chef. Guests will also find a craft cocktail lounge, a rooftop bar with panoramic views of Nashville, a dedicated concierge team, and customizable event spaces.
Thompson Nashville is located in Nashville's Gulch neighborhood and features floor-to-ceiling windows, hardwood floors, and modern amenities. The hotel's rooftop bar offers views of the city skyline, handcrafted cocktails, and light snacks, while the ground-floor restaurant serves modern Southern cuisine with a strong emphasis on locally sourced ingredients.
Additional amenities include 24-hour concierge service, in-room dining options, valet parking, and a fully-equipped fitness center. Premier shopping, dining, and entertainment options are also conveniently located nearby.
This boutique hotel, located in the East Nashville neighborhood, offers individually designed rooms, each with its own unique personality. Prices range from $190 to $400 per night, and guests have access to a communal outdoor space with a fire pit and hot tub. The property is also conveniently located near popular music venues and restaurants.
The on-site eatery adheres to a farm-to-table philosophy and uses local, seasonal ingredients to curate an ever-changing menu, along with craft cocktails and carefully chosen wines.
Virgin Hotels, located on Nashville's Music Row, offers 262 spacious, pet-friendly rooms and suites. It also features a rooftop pool, fitness center, spa, and multiple dining options, including a restaurant serving Southern cuisine, a rooftop bar, and a street-level café. The hotel's location also provides easy access to local landmarks, entertainment venues, and cultural attractions.
Sign up for Safara
Want 10% back towards all future hotel bookings?
Sign Up