The Best Hotels in Amsterdam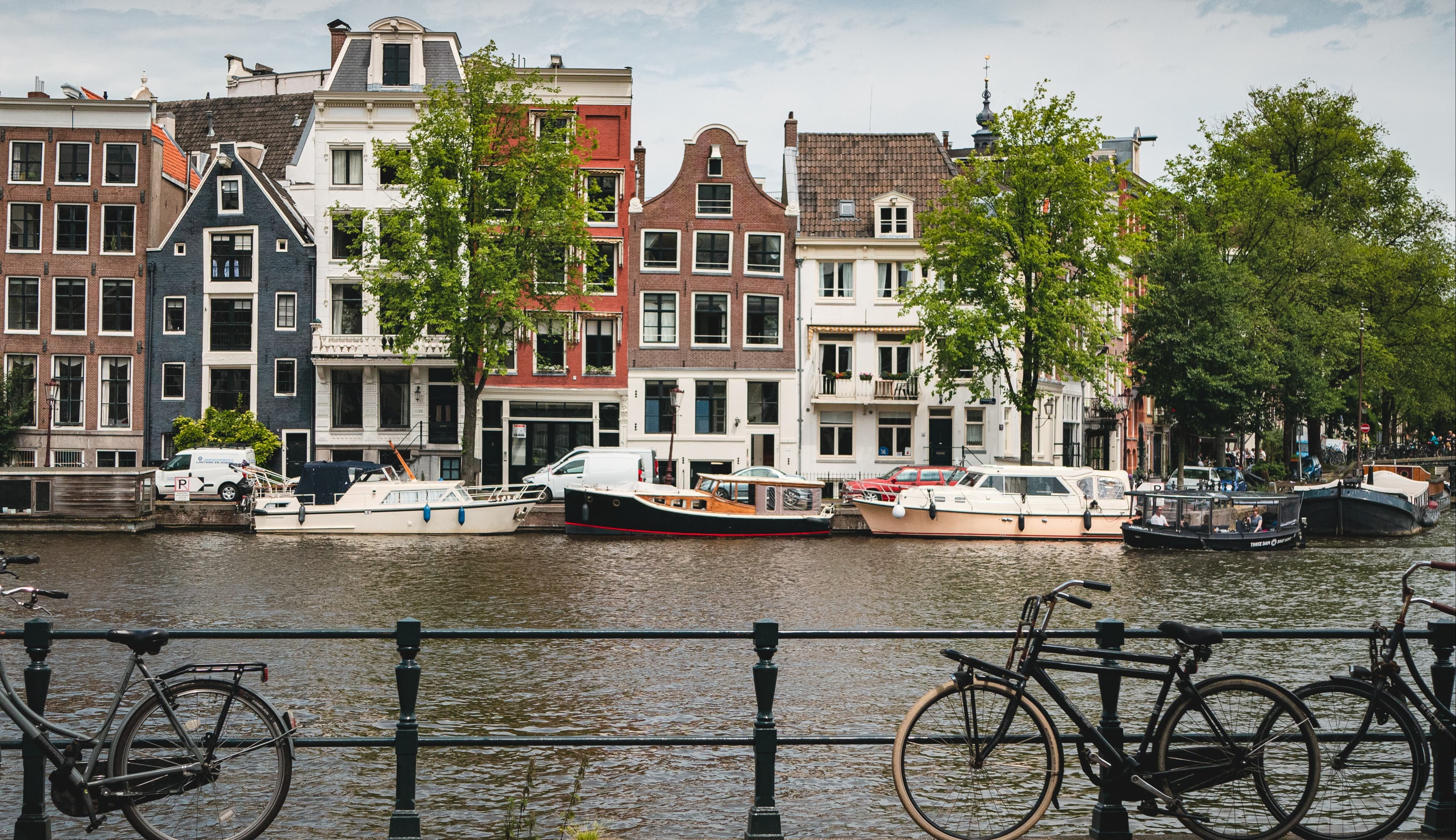 Amsterdam is a city that embodies a unique blend of old and new, with a rich history and a modern outlook. Each of the city's neighborhoods offers its own distinct character and charm, from the winding canals of Jordaan to the trendy bars and restaurants of De Pijp. Whether you're interested in exploring the city's many museums and galleries, taking in the stunning architecture, or simply wandering the vibrant streets, Amsterdam never fails to captivate.
The Best Hotels in Amsterdam
Nestled in the heart of Amsterdam's iconic Canal District, this charming boutique hotel blends classic elegance and contemporary comfort. Its prime location near the Nine Streets shopping area, renowned museums, and vibrant nightlife ensures an unforgettable stay in the Dutch capital. Housing 56 uniquely styled rooms and suites adorned with original artwork, guests are surrounded by modern touches that complement the authentic 17th-century architecture. Foodies will appreciate the on-site, award-winning French brasserie, known for its refined menu and impressive wine list. The in-house library lounge, with its extensive collection of first-edition books signed by international authors, is the perfect sanctuary for book lovers and history buffs.
Situated in the heart of historic Amsterdam and the bustling Dam Square, this five-star hotel offers a blend of contemporary elegance and historic charm. The iconic property houses 447 rooms and suites and a glass-roofed Winter Garden. The rooms feature modern amenities, as well as a fantastic view of the Royal Palace. The fine dining experience offered in-house features a Michelin-starred restaurant led by acclaimed chefs, showcasing modern European cuisine in a sophisticated setting. Additionally, the hotel's wellness area features a well-equipped gym and spa treatments.
Located in Amsterdam's historic Canal District, this five-star property offers guests the perfect blend of contemporary design and exceptional hospitality. Converted from a former public library, the hotel's interior was designed by renowned Dutch architect Marcel Wanders. The hotel's prime location on the Prinsengracht Canal offers convenient access to the city's main attractions, including the Anne Frank House, Van Gogh Museum, and Vondelpark, all within walking distance. This boutique hotel offers a variety of facilities, including a full-service spa, an indoor pool, and a fitness center. Its 122 elegant guestrooms and suites feature custom-designed furniture, complimentary Wi-Fi, and well-stocked minibars. Guests can enjoy international cuisine at the on-site restaurant, helmed by a celebrated local chef, or a handcrafted cocktail in the cozy, artistic lounge area that overlooks the city canals.
In Amsterdam's Canal District, this charming 17th-century residence effortlessly combines contemporary luxury with authentic Dutch character. The hotel features 23 beautifully designed rooms and suites, each furnished with a blend of antique and modern elements. In the hotel's lush private garden or in the cozy lounge, guests can enjoy a beverage and take in the serene ambiance. The property is also easily accessible from major tourist attractions and within walking distance of exceptional restaurants and designer boutiques.
Situated in the heart of Amsterdam's Museum Square, this neo-gothic gem offers a unique blend of historic architecture and contemporary design. With 129 rooms and suites, and noted for its fascinating atrium, the hotel combines 19th-century industrial heritage and ultra-modern interiors. The property also features an impressive array of amenities, including an award-winning holistic spa and a fitness center with access to an 18-meter swimming pool. For a memorable dining experience, try the hotel's Michelin-starred restaurant while enjoying panoramic views. The hotel is also perfectly located steps away from the city's finest museums, upscale boutiques, and vibrant local attractions.
Situated in the heart of historic Amsterdam, this 5-star property offers an unbeatable location overlooking the picturesque Amstel River. The hotel, housed in a 19th-century landmark building, combines the charm of the past with contemporary luxury, offering 111 elegant rooms and suites. Expect suites featuring Dutch Masters-inspired artwork, marble bathrooms, and all modern amenities, including high-speed Wi-Fi and Nespresso coffee machines. With a variety of dining, shopping, and sightseeing options within easy walking distance, this hotel makes an ideal base.
Featuring an on-site Michelin-starred restaurant showcasing Dutch culinary artistry, enjoy a curated menu and magnificent views of Amsterdam's historic canals. The hotel also offers an award-winning spa, which features a variety of treatments and facilities, including a heated indoor pool, sauna, and fitness center.
Situated along the Amstel River, this iconic five-star property has an impressive 1800s exterior that seamlessly blends with its contemporary interior. Offering a wide range of elegant rooms and suites, the hotel is thoughtfully designed to elevate comfort with picturesque views of the city. Guests can enjoy the hotel's wellness center and indoor pool, along with the acclaimed fine-dining restaurant and sophisticated bar. The hotel is also conveniently located near key attractions, such as the historic city center, the museum district, and vibrant shopping streets.
Jaz in the City offers an unrivaled experience in the heart of Amsterdam, where modern design meets eclectic energy. This hotel houses 258 contemporary rooms and suites, each designed with inviting color palettes and modern amenities, including both high-speed Wi-Fi and captivating views of the city and waterfront. The property is ideally located in close proximity to key attractions such as the Rijksmuseum, Van Gogh Museum, and the Anne Frank House. It's is also home to in-house dining options, including a unique range of international and local flavors, along with a lively rooftop bar. Those seeking fitness or relaxation can visit the 24-hour gym or unwind at the elegant on-site spa. 
Located in Amsterdam's city center, this IHG property offers a unique combination of contemporary design, historical charm, and warm hospitality. The property houses 274 guest rooms, including 9 signature suites and 17 rooms in original 17th-century townhouses. The hotel also features complimentary VanMoof bikes for guests to explore the city, a well-equipped fitness center, and an on-site parking facility. Its convenient location is just steps away from iconic landmarks, shopping streets, and cultural attractions. The property is also home to a bar that serves artisanal cocktails, as well as a brasserie with a refined, seasonal menu. The dining experience takes place in a stunning indoor-outdoor conservatory where guests can enjoy their food amidst plants and natural light. The hotel also offers a range of tailored programs and services, such as pet-friendly accommodations, in-room spa treatments, and a dedicated concierge.
Situated in a prominent historic building that once served as the town hall, this five-star hotel resides on the banks of the Amstel River. Its design is a perfect combination of classic and contemporary, and its prime location ensures easy access to major cultural attractions like the Hermitage Museum, Rijksmuseum, and the Albert Cuyp Market, all within a short walking distance. The property features 154 rooms, including 32 suites, as well as an indoor pool, spa, and fitness center. International cuisine is served in the on-site restaurant, which showcases sustainable, seasonal ingredients, accompanied by a carefully curated wine list. The hotel also offers a variety of adaptable meeting spaces and beautifully designed lounges, perfect for work or private events.
Nestled within the canals of the city's historic center, this luxury boutique property consists of 25 interlinked 17th and 18th-century canal houses and prides itself on showcasing its art-focused heritage. With upscale amenities including a private boat, award-winning bar, industrial-chic eatery, and tranquil inner gardens, guests can unwind in style after a day of exploring the iconic sights just steps away. The 225 guest rooms and suites, with a unique blend of modern and vintage furnishings, provide the perfect balance of comfort and sophistication. Each room has a distinct Dutch-inspired design, showcasing views of the canals and gardens.
This modern hotel situated on the artificial island of IJdock, designed by architect Ben van Berkel, features sleek, contemporary interiors, floor-to-ceiling windows, and views of the city's skyline and waterfront. Guests can enjoy easy access to the city center, just a short walk away, and explore popular nearby attractions. The hotel is also conveniently located near Amsterdam's Central Station. The property offers a selection of 284 spacious rooms and suites, each impeccably designed and featuring amenities such as minibars, flat-screen TVs, and free WiFi. Guests can unwind in the sophisticated lounge bar or enjoy a unique dining experience at the on-site restaurant, which excels in Mediterranean cuisine with contemporary flair. 
The Sir Adam is a stylish hotel inside the iconic A'DAM Tower, offering excellent amenities and stunning views of the historic city center and IJ River. Located in the heart of creative and cultural hubs, this modern boutique hotel perfectly merges comfort and design. Each of its 108 industrially-styled rooms is well-equipped with Crosley vinyl record players, custom-made wallpapers, and en-suite bathrooms with rain showers. The property is located next to the Amsterdam Central Station and features a complimentary one-hour boat tour along with a dynamic range of culinary and recreational options, including a top-floor club, a versatile music studio, and exhibition spaces. Guests can enjoy expertly crafted cocktails while taking in panoramic views from the rooftop bar or treat themselves to international cuisine and locally-inspired dishes at the on-site restaurant. There is also a 24-hour gym and bike rental services for guests to explore the surrounding city.
Located in Amsterdam's historic district and just steps away from popular attractions, the Sofitel Legend The Grand Amsterdam is a blend of history and contemporary luxury. Guests can expect a premium five-star experience, as this former city hall turned accommodation features elegant rooms and suites with modern amenities and furnishings. With views of the canals and manicured gardens, this hotel's setting is matched only by its exceptional hospitality and amenities, which include a 24-hour fitness center, indoor pool, and luxurious spa. Guests can dine beneath stunning stained glass windows and ornate chandeliers as they enjoy fine dining or afternoon tea. The hotel is also home to a bar serving up expertly mixed cocktails and some of the finest wines in its extensive collection.
Located in the heart of Amsterdam, this boutique hotel is housed within a charming historic building and features 40 elegantly designed rooms and suites that blend classic and contemporary styles. Overlooking the Keizersgracht Canal, the hotel is just a short stroll away from local attractions such as the Anne Frank House, Rijksmuseum, and the Nine Streets shopping district. Guests can enjoy a fine dining experience at the on-site Michelin-starred restaurant, which features modern European cuisine containing the freshest ingredients from local markets, or unwind at the chic bar and courtyard lounge, where expert mixologists serve signature cocktails and an array of tapas-style dishes.
Located in the heart of Amsterdam, this boutique hotel offers a unique blend of art, style, and luxury. The hotel's prime location steps away from Central Station allows guests to enjoy the city's lively dining scene and explore iconic landmarks. Each of the 26 rooms is thoughtfully designed, offering a mix of modern amenities and historic features. A rooftop terrace, fitness center, and private cinema screening room are just some of the exclusive facilities available to guests. The in-house dining experience consists of a resident culinary team that crafts locally sourced ingredients into seasonal menus. The on-site bar offers an extensive collection of drinks, while the speakeasy-style space lends itself perfectly to intimate gatherings and relaxed evenings.
Nestled in the heart of the Dutch capital, this boutique property is a prime canal-side location and offers a blend of contemporary style, historic charm, and signature hospitality. The hotel's 111 rooms span five interconnected canal houses, featuring three unique room categories: Shoebox, Cozy, and Roomy, each offering its distinct combination of comfort, style, and functionality. The hotel offers a range of amenities, including complimentary Wi-Fi, well-stocked mini bars, and an all-day dining destination. In the surrounding area, visitors can enjoy the picturesque canals, local markets, and exclusive shops, as well as a variety of restaurants and bars. Culture enthusiasts will appreciate the close proximity to prestigious museums, historical sites, and art galleries, while business travelers will appreciate well-equipped meeting and event spaces throughout the hotel.
Located in the lively heart of Amsterdam, this five-star retreat combines modern design with the city's historic charm. Comprising two iconic buildings connected via a glass walkway, the hotel offers an array of contemporary rooms and suites, equipped with designer furniture, floor-to-ceiling windows, and modern amenities. On-site facilities include a rooftop pool, a lounge with panoramic city views, a spa, and a well-equipped fitness center. The hotel also includes a rooftop terrace serving Mediterranean-inspired cuisine and a deli-style eatery featuring Dutch classics. Its exceptional location allows guests to discover the city's most popular attractions.
Exuding timeless elegance and charm, this property is situated along the iconic UNESCO World Heritage-listed Herengracht Canal in the heart of Amsterdam. The 17th-century hotel comprises six canal palaces, thoughtfully restored to preserve their rich history while adding contemporary sophistication. Guests can enjoy 93 spacious rooms and suites, many with magnificent canal views, along with exclusive Guerlain spa facilities, an indoor swimming pool, private boat tours, and a dedicated personal concierge service. The hotel is home to on-site Michelin-starred restaurant and a charming brasserie with a wide selection of seasonal favorites and signature cocktails. There is also a hotel bar where customized drinks and refreshments are served, and a peaceful garden for enjoying an afternoon tea.
Sign up for Safara
Want 10% back towards all future hotel bookings?
Sign Up