The Best Hotels in Athens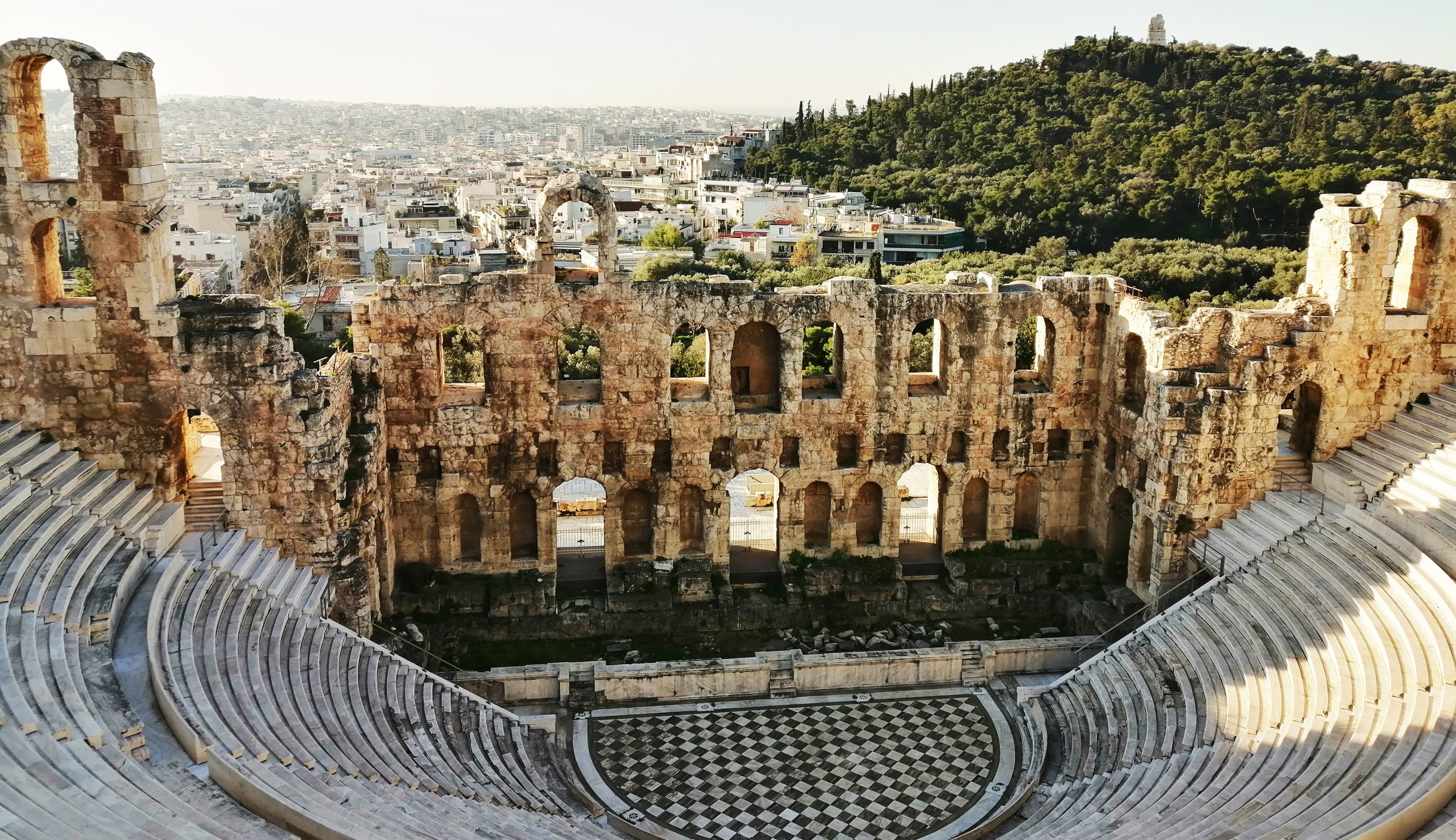 Athens offers a unique blend of ancient history and contemporary culture. Beyond its iconic landmarks, the city is home to trendy and artistic districts, vintage shops and cafes, foodie hubs showcasing traditional Greek cuisine, and chic residential areas with impressive architecture and design. During a visit, explore vibrant street art, indulge in Greek cuisine at a contemporary taverna, or unwind at a chic rooftop bar overlooking the illuminated Parthenon. From the bustling flea markets of Monastiraki to the cool cafes in Metaxourgeio, Athens is a city that rewards the curious traveler.
The Best Hotels in Athens
This boutique hotel blends modern amenities and classical charm in the heart of the Athenian Plaka. The property features seven exclusive suites, each complete with private balconies and Grecian design and art, as well as a rooftop terrace with magnificent views of the Acropolis. The hotel prides itself on delivering top-notch services, including personalized concierge assistance for guests looking to explore the rich history and nightlife Athens has to offer. Guests are also invited to enjoy the property's in-house fine dining restaurant, which showcases local and innovative Mediterranean cuisine.
Located in the heart of Athens, just steps away from the famous Acropolis and historic Plaka neighborhood, this elegant property is home to a rooftop bar and restaurant with an unrivaled view of the Parthenon. Designed by renowned interior architect Stavros Papayiannis, the hotel houses 22 rooms and suites, each decorated with a blend of classic aesthetics and contemporary design elements and amenities. Guests can enjoy well-equipped facilities, including the on-site gym, marble bathrooms, Nespresso machines in each room, and complimentary high-speed Wi-Fi. Additionally, the hotel's attentive and knowledgeable staff offers guests tailored tours, personalized dining experiences, and planned excursions.
Experience sustainability and luxury at this eco-friendly boutique hotel in the vibrant neighborhood of Kolonaki. Guests can expect elegant rooms complete with natural furnishings, including handcrafted mattresses made from natural materials like coco fibers and seaweed. Guests can also enjoy the hotel's rooftop garden, a perfect setting for dining, which features views of the Acropolis and Lycabettus Hill. Conveniently located near the city center, the property offers guests easy access to numerous museums, galleries, and shops, all within walking distance. Guests are invited to enjoy a menu of curated wellness services, including spa treatments, yoga classes, and personal training sessions during their stay. Eco-conscious travelers will appreciate the hotel's commitment to sustainable practices, as the hotel sources local, organic ingredients at its restaurant and works to conserve energy with smart room design.
Situated in the heart of Athens, this luxury hotel offers panoramic views of the city and the iconic Acropolis and features 471 contemporary rooms and suites designed for comfort. The property offers an array of modern amenities, such as complimentary Wi-Fi, an award-winning spa, a fully-equipped fitness center, and three swimming pools. Dining options at the hotel include Mediterranean, international, and local Greek cuisine, all served within elegant, intimate atmospheres. The chic rooftop bar and restaurant provide breathtaking views of Athens, as well as expertly-crafted cocktails and fine dining. Additionally, the hotel's central location allows guests easy access to explore the landmarks, vibrant shopping districts, and nightlife that define Athens.
Divani Palace Acropolis offers unobstructed views of the Parthenon and is just steps away from the city's main attractions. The elegant rooms and suites come equipped with modern amenities such as Wi-Fi, air conditioning, and flat-screen TVs, and facilities include a rooftop swimming pool and spa. The hotel is also home to a rooftop restaurant providing breathtaking views of the ancient city and serving Mediterranean cuisine prepared with fresh, locally sourced ingredients. For lighter fare and hand-crafted cocktails, head for drinks and bites in the lobby bar.
Conveniently located in the scenic Plaka district, guests of this hotel can enjoy stunning views of the Acropolis and cobblestone streets from their well-appointed rooms and suites. On-site amenities include a rooftop restaurant serving local cuisine, an outdoor pool with a poolside bar, and a spa offering a variety of treatments. The property also features exceptional service and warm, inviting interiors inspired by Greek mythology. Conveniently located near the city center, the hotel gives guests easy access to key attractions like the Roman Agora, Syntagma Square, and Monastiraki flea market, as well as public transport options.
This one-of-a-kind urban retreat combines luxury with an authentic farm-to-table experience. Situated within a historic building, the hotel houses 38 well-designed rooms and suites equipped with top-quality amenities, including organic bath products, plush bathrobes, and fine linens. The property redefines traditional hotel services by including a bustling marketplace, a rooftop garden, and an in-house bakery on the premises. The rooftop garden offers not only spectacular views of Athens but also a dining experience that includes dishes created from the hotel's own produce. Guests are also invited to try the property's interactive cooking workshops and wine tastings.
Guests of Gatsby Athens can experience a chic and stylish retreat amid the city's rich cultural landscape. Known for its Art Deco design and exceptional personalized service, the property houses 22 elegant guest rooms and suites, each complete with luxurious amenities and breathtaking views of the city. It is also conveniently located with easy access to major historical sites such as the Parthenon and the Temple of Olympian Zeus. The rooftop terrace offers guests a perfect spot to enjoy exceptional Mediterranean cuisine and panoramic views of the Acropolis, as well as craft cocktails and an extensive wine list.
Perfectly located in the heart of the city, this stunning five-star hotel welcomes guests with luxury accommodations, world-class amenities, and breathtaking views of the city's most iconic attractions. The property features an impressive selection of guest rooms and suites designed for ultimate comfort while blending contemporary décor with ancient artifacts. The hotel's rooftop swimming pool and bar offer panoramic views of the city below. Dining options include two on-site restaurants serving Mediterranean cuisine and local delicacies. The hotel also offers a breakfast buffet, featuring a variety of fresh fruits, pastries, and hot dishes. The hotel is also home to a well-equipped fitness center and spa for guests to enjoy during their stay.
Embodying elegance and luxury, this iconic 5-star property has resided in the heart of Athens since 1874. Overlooking the historic Syntagma Square, the hotel's prominent location offers unobstructed views of the Acropolis, Hellenic Parliament, and Lycabettus Hill. Featuring well-appointed guest rooms and suites, the property combines classic Greek charm with contemporary comforts and modern amenities. The hotel also features a diverse range of upscale dining venues, including a sophisticated rooftop restaurant offering panoramic views of the city and serving Mediterranean cuisine. Additional amenities include a full-service spa and rooftop pool.
King George is an elegant five-star hotel that features meticulously-decorated rooms and suites with remarkable views of the Acropolis. In addition to its world-class location, the property is home to renowned dining options, a fully-equipped fitness center, and a charming boutique. Additionally, the hotel's award-winning rooftop restaurant offers the ultimate Mediterranean and Greek culinary combination, while the cigar lounge and speakeasy-style bar provide intimate spots to unwind.
Within walking distance of the city's major cultural and historical attractions, this beautiful 18th-century neoclassical building features a blend of elegant architecture and contemporary design. Each of the six individually-designed suites is equipped with modern amenities, including plush bedding, marble bathrooms, and Nespresso machines. Guests can also enjoy breathtaking views of the surrounding neighborhood or unwind in the charming courtyard, shaded with lush greenery. The hotel is dedicated to supporting local artists through its curated art collection, which decorates the walls of the suites and common areas. The property also features a lounge with an impressive collection of Greek wines and handcrafted cocktails and hosts a breakfast each morning made with locally-sourced ingredients catering to all dietary preferences. The dedicated concierge service is always ready to assist guests in exploring all the hidden gems of Athens.
Steps away from iconic landmarks like the Ancient Agora, this contemporary urban retreat is surrounded by the rich history and buzzing energy of the city. The hotel features 79 rooms and suites, each decorated with commissioned artworks by local artists, paying homage to the city's renowned creative scene. Modern amenities, including a rooftop bar with breathtaking panoramic views of the city skyline and a well-equipped fitness center, are available for guests to enjoy on-site. The hotel is also home to a rooftop restaurant, serving exceptional Mediterranean cuisine, as well as fully equipped meeting rooms and spa facilities.
Designed by acclaimed architect Konstantinos Karampatakis, this hotel blends contemporary design and Greek heritage, housing 38 elegant rooms and suites, each thoughtfully designed with distinctive artwork. The property is home to a dining venue with an indoor urban garden, perfect for enjoying the restaurant's modern Mediterranean cuisine crafted by a renowned Greek chef. The hotel's rooftop bar offers meticulously-crafted cocktails, as well as panoramic views of Athens' skyline.
Located in the chic Kolonaki district of Athens, this urban boutique hotel provides guests with easy access to nearby attractions, such as the Acropolis, Plateia Syntagmatos, and the Benaki Museum. The property itself is characterized by modern design and cutting-edge technology, featuring 22 uniquely-decorated rooms and suites complete with modern amenities. Guests can enjoy panoramic views of the city from the rooftop terrace and admire contemporary art and elegant minimalist decor throughout the hotel. The on-site restaurant specializes in blending Mediterranean ingredients and flavors, creating exceptional gourmet dishes. At the same time, the hotel deeply values sustainability and the environment, implementing various eco-friendly initiatives, including energy-efficient systems, recycling programs, and locally-sourced organic materials in interior design elements.
Combining contemporary elegance with traditional Grecian charm, Shila Athens offers stunning views of the iconic Acropolis, placing guests just moments from the city's historic sites, exclusive shopping districts, and local dining scenes. The property also features elegant accommodations, well-equipped conference spaces, spa services, and a rooftop pool and lounge. The on-site spa offers guests a variety of treatment options inspired by local wellness traditions. Guests are also invited to enjoy traditional Mediterranean cuisine at the property's chic in-house eatery or sip on signature cocktails at the rooftop bar while taking in the surrounding panoramas.
In the fashionable suburb of Kolonaki in Athens, this boutique hotel offers a blend of contemporary design and classic elegance. Nestled within a beautiful neoclassical building enhanced with modern amenities, the property houses 38 guest rooms and suites, each featuring unique furnishings and luxury linens. Guests can enjoy stunning views of the Acropolis, Lycabettus Hill, or the elegant surrounding neighborhoods from the comfort of their rooms. They are also invited to try breakfast at the chic hotel café, known for its inventive menu and beautiful interior design. This boutique gem also places guests in close proximity to some of the city's most iconic sights, including the Benaki Museum, the Museum of Cycladic Art, and the Byzantine Museum, all just a stroll away from the hotel. After a day of sightseeing, guests can unwind at the property's wellness center, enjoy a meal that showcases the best in modern Greek cuisine or drink a cocktail at the rooftop bar overlooking the Athenian skyline.
Set in the heart of Athens, this boutique property combines luxury, privacy, and unparalleled service. Its prime location allows for convenient access to the city's top attractions just a short walk from the iconic Acropolis and Plaka neighborhood. This contemporary hotel blends modern architecture and traditional Greek elements, with beautiful interiors crafted by renowned local artists. Its stunning rooftop terrace offers panoramic views of Athens and is the perfect spot to unwind after a day of exploration. Each guest room is designed with comfortable furnishings and an array of modern amenities. The hotel's elegant on-site dining experience has earned accolades for its gourmet Mediterranean cuisine, featuring locally-sourced ingredients carefully curated by the head chefs. Additionally, the attentive and knowledgeable staff on-site cater to guests' individual needs and provide personalized recommendations for local discoveries.
Surrounded by 74 acres of lush coastal landscape, this iconic luxury resort in the Vari-Voula-Vouliagmeni area features three private beaches and two swimming pools. The property houses 303 elegant guest rooms, suites, and bungalows, each with views of the sea or the century-old pine forests. Guests can also enjoy a selection of eight dining options ranging from Mediterranean specialties to gourmet Japanese cuisine.
Additional amenities include a full-service spa, tennis courts, and an array of watersports. The hotel's prime location provides easy access to the city's most iconic attractions, including the Acropolis, Parthenon, and Temple of Poseidon. A 30-minute drive from the city center and 22 kilometers from the international airport, this resort combines the serenity of a seaside escape with the convenience of cosmopolitan living.
Each of the well-appointed suites at The Foundry Suites features a blend of contemporary design aesthetics, custom-made furniture, and captivating city or Acropolis views. The property's rooftop terrace features a plunge pool and a panoramic 360-degree view of the city that guests can enjoy both day and night. Conveniently situated in a historic neighborhood, the hotel is within walking distance of some of the most renowned landmarks, shopping areas, and fine dining venues that Athens has to offer. The property's on-site restaurant offers an array of Mediterranean-focused dishes, crafted from the freshest local ingredients and paired with an extensive wine selection. Additionally, an experienced and well-informed concierge team ensures every guest's needs are catered to during their stay. Additional amenities include free Wi-Fi and fully-equipped kitchens.
In close proximity to Vouliagmeni Beach, this boutique property is located within easy reach of Athens' vibrant cultural scene, top restaurants, and upscale shopping districts. Featuring a modern design with warm Mediterranean influences, the hotel houses 89 elegant rooms and suites, each offering private balconies, luxury bedding, and sleek furnishings. One of the property's key highlights is its excellent restaurants - a blend of Mediterranean and global flavors served at two on-site dining options. Guests can enjoy the poolside eatery or the fine-dining venue, known for its exquisite seasonal menus and impressive wine collection. The hotel is also home to a spa, a well-equipped gym, and a freshwater pool.
Sign up for Safara
Want 10% back towards all future hotel bookings?
Sign Up