The Best Hotels in Bodrum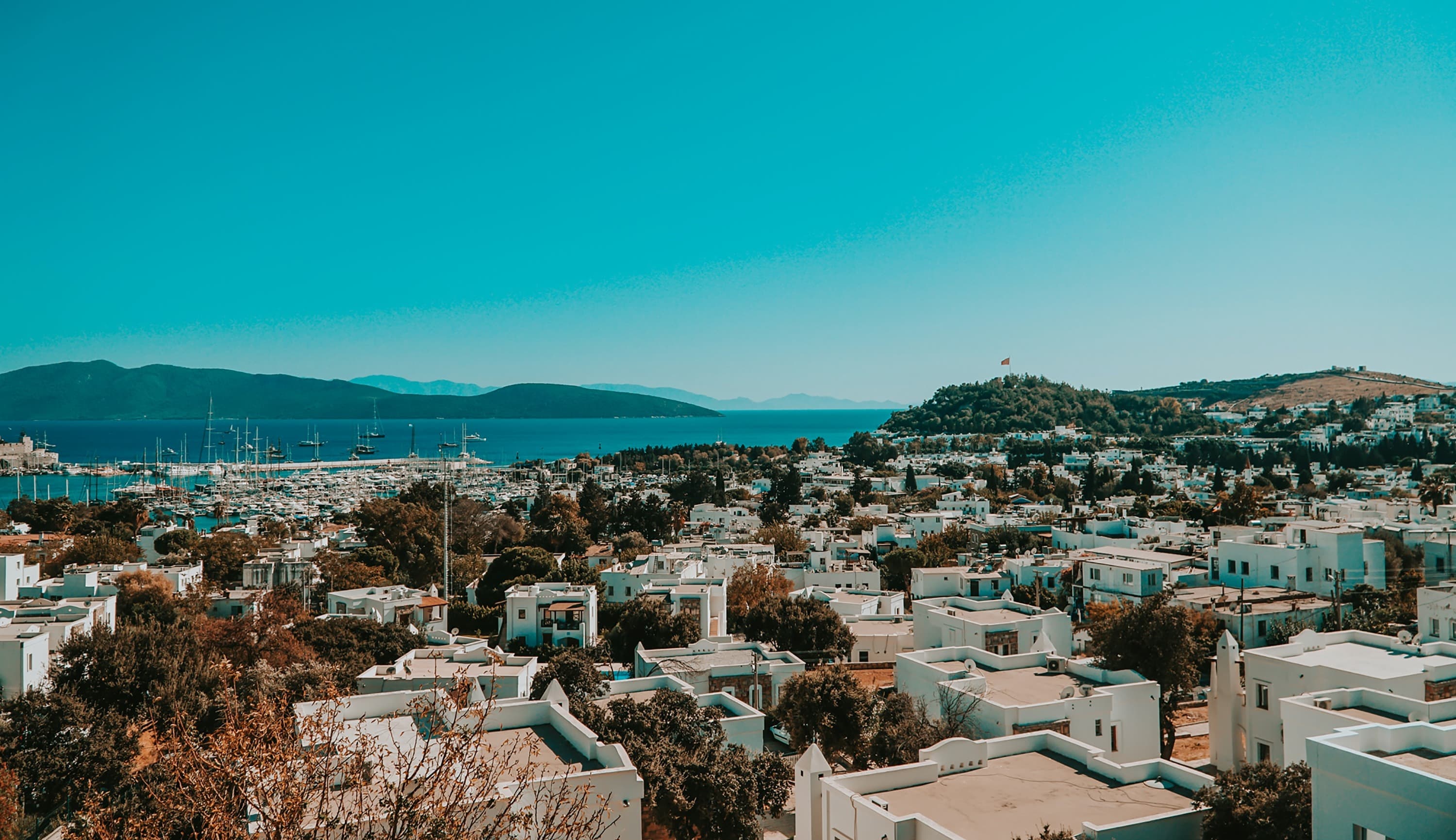 Bodrum is a city on Turkey's Aegean coast full of winding alleys, cobblestone streets, and charming boutiques and cafes.
This charming town, with its whitewashed houses and bougainvillea-filled streets, is a paradise for leisure and culture. From the bustling bazaars selling local crafts and delicacies to the marina filled with yachts, from tranquil coves to vibrant clubs, Bodrum promises a visit filled with fascinating contrasts.
Nestled between the green hills and turquoise waters of the Aegean Sea, this 5-star resort and spa features 36 elegantly designed suites and villas, complete with private balconies and terraces overlooking the sea or olive groves. Guests can enjoy an array of dining options on-site, including a gourmet restaurant serving international cuisine and a seafront spot offering authentic Turkish dishes. The resort's facilities include a spa, two private beaches, and an infinity pool with panoramic views. The spa offers a range of treatments, from massages to traditional Turkish hammam rituals. Guests can also enjoy leisure activities like water sports, yachting excursions, and scenic walks. In close proximity to historical sites, ancient ruins, and local artisan markets, this resort is perfectly located for exploring Turkey's rich culture and natural beauty.
Situated on the northern coast of the Bodrum Peninsula, this retreat offers a unique blend of traditional Aegean architecture and understated elegance. With its 36 spacious cottages, each featuring a private garden, pool, and spectacular views of the water, the property treats its guests to unbeatable serenity and seclusion. The on-site dining options include expertly crafted local and Mediterranean-inspired cuisine, with fresh, organic ingredients sourced from the property's own garden. Hotel facilities include spa services, an infinity pool, a private beach club, and a variety of excursions to historical sites and coastal towns nearby.
Overlooking the waters of the Aegean Sea and nestled among terraced gardens, this resort in Bodrum combines contemporary elegance with world-class service. Spanning over a stunning 148-acre property, the hotel features private sandy beaches, an impressive 2,700 square meter spa facility, various gourmet dining options, and a diverse range of leisure activities. The spacious accommodations range from contemporary rooms and plush suites to villas with private pools, each offering exceptional comfort, unique design elements, and mesmerizing sea or garden views.
Situated on the coast of Turkey, this property features both modern and traditional design elements, with a private beach, infinity pool, fully-equipped spa, two premier dining establishments, and a night club. All 108 guest rooms, suites, and private villas blend sophistication with comfort, offering a variety of amenities ranging from personalized concierge services to a selection of water sports.
The on-site fitness center offers yoga and pilates classes, while the spa features treatments such as Turkish hammam. Additionally, the hotel's two excellent restaurants serve an array of Mediterranean cuisine and locally-sourced seafood. For those looking to explore the surrounding area, the town of Bodrum and historical sites like the Castle of St. Peter and Bodrum Amphitheatre are just a short distance away.
Situated on the Aegean coastline, this eco-friendly resort features 141 guest rooms, suites, and villas, each designed with a contemporary aesthetic that complements the surrounding environment. With an emphasis on sustainability and well-being, the resort offers guests personalized wellness programs, locally-sourced gourmet dining options, and a variety of outdoor activities, including hiking, water sports, and excursions to nearby ancient sites.
The on-site spa features a team of international experts who create tailored experiences blending traditional and modern healing techniques, including hydrothermal areas, crystal steam rooms, experience showers, and traditional Turkish hammams. The resort also offers yoga, pilates, and guided meditation sessions led by skilled practitioners.
Sign up for Safara
Want 10% back towards all future hotel bookings?
Sign Up