The 13 Best Hotels in Buenos Aires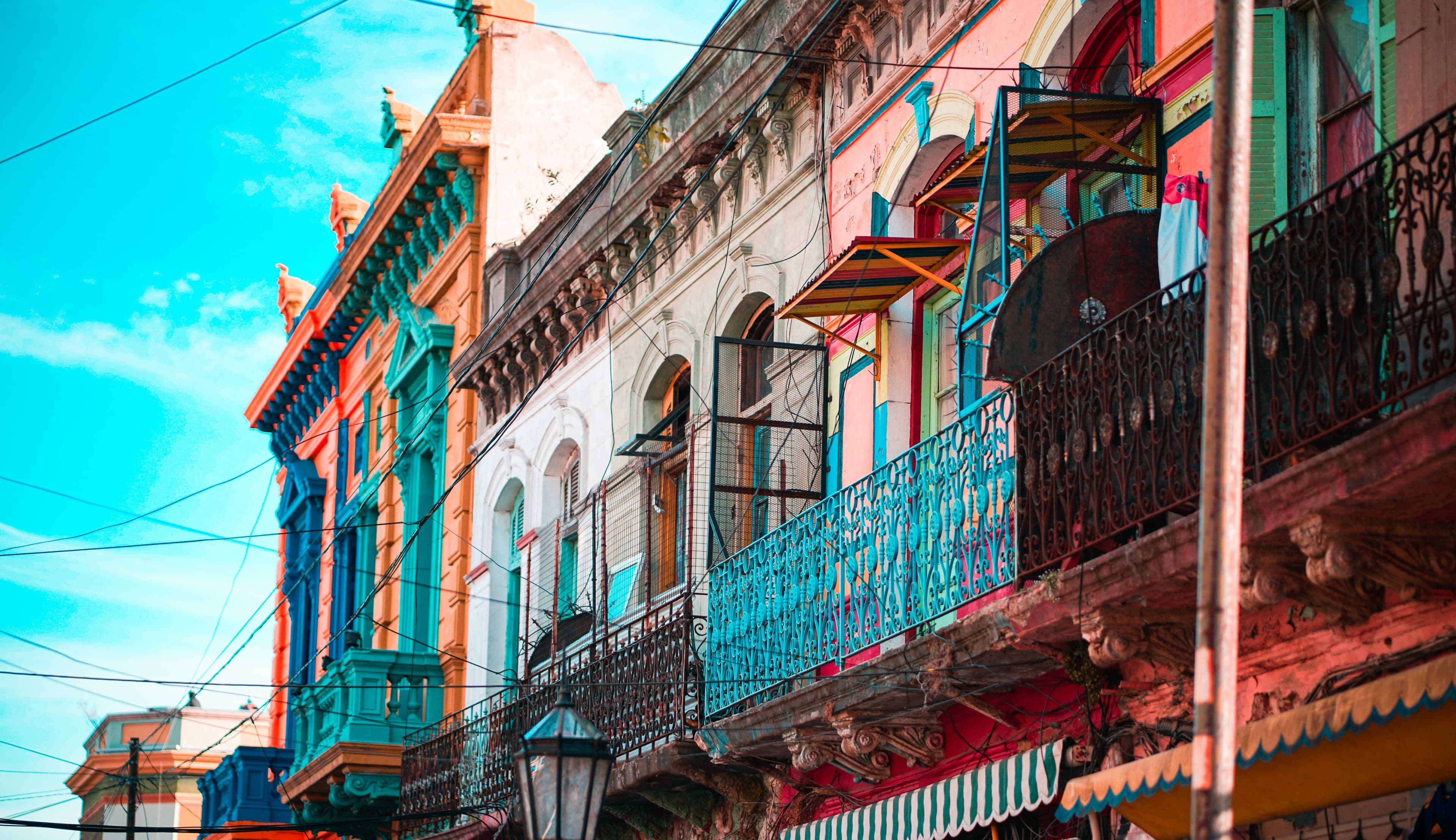 Buenos Aires, the capital city of Argentina, is known for its European-inspired architecture, passionate tango culture, and energetic street life. It has charming neighborhoods like Palermo with its trendy boutiques and nightlife, San Telmo with its cobblestone streets and antique markets, La Boca with it's tango culture and street art, and the historic center with its iconic landmarks such as the Obelisco and Plaza de Mayo.
This hotel features French-inspired architecture, antique furnishings, and crystal chandeliers. The five-star property houses 207 rooms and suites, each equipped with modern amenities and technology and an attentive personal butler service.
The hotel's diverse dining options include a rooftop garden restaurant that offers city views. The property is also home to a spa, which features a heated swimming pool, steam baths, and a range of treatments. The Alvear Palace Hotel's convenient location offers easy access to nearby attractions, such as the historic San Telmo district, tango shows, and vibrant nightlife.
Situated in the center of Buenos Aires' Recoleta neighborhood, this boutique hotel is housed in a restored, French-style mansion, with ten spacious suites that combine classic style with modern amenities. Each of the suites features unique decor and distinctive Buenos Aires artwork, in addition to amenities like Egyptian cotton linens, private wine cellars, and marble bathrooms.
Guests are invited to enjoy the rooftop pool and treatments at the on-site spa, all while taking in views of the city's skyline. The hotel is also home to an award-winning restaurant serving Argentinean cuisine with a contemporary spin. The property is conveniently located near various cultural attractions, fine dining establishments, and high-end shopping centers that are within walking distance.
Acclaimed for its top-rated wine tastings, spacious rooms, and outdoor pool, this hotel is located in the heart of Palermo Hollywood, a trendy neighborhood in Buenos Aires. The hotel's proximity to numerous fine dining restaurants, cafes, and boutiques gives guests easy access to the surrounding area.
Each accommodation comes complete with custom furnishings, rainfall showers, and balconies offering city views. The on-site gourmet restaurant serves dishes crafted with with locally sourced ingredients, and the rooftop terrace is perfect for unwinding with a glass of Argentina's finest Malbec. Beyond the impressive facilities, the attentive staff is always at hand to provide personalized services for every guest.
Providing elegant accommodations and world-class services, the hotel houses beautiful guest rooms and suites, as well as a charming garden and outdoor pool area, all featuring a blend of classic French and modern Argentine aesthetics.
The on-site, award-winning restaurant serves Argentine fare, while the sleek hotel bar offers a curated selection of fine wines and cocktails. Additional amenities include a full-service spa, fitness center, and versatile meeting spaces perfect for hosting events.
Home Hotel Buenos Aires features lush gardens, a solar-heated swimming pool, and thoughtfully designed rooms. The property's prime location allows easy access to some of Buenos Aires' most popular bars, shops, and restaurants, as well as close proximity to premier attractions such as the MALBA museum and Bosques de Palermo.
Each of the 20 rooms embodies timeless elegance with a blend of local art, custom furnishings, and contemporary amenities, including cozy fireplaces, Frette linens, and a complimentary minibar. The highly acclaimed on-site restaurant serves regional dishes complemented by an extensive wine list curated from Argentina's finest vineyards. Guests can also enjoy tailored spa treatments or partake in tango lessons on-site.
Featuring stunning architectural design, modern amenities, and unparalleled service, this property houses 88 rooms and suites, complete with plush bathrobes, luxury linens, and modern entertainment systems. The hotel is conveniently located within walking distance of the city's key cultural attractions, such as the famous Casa Rosada and the San Telmo Market, making it the perfect starting point for exploring the city.
This hotel is also home to on-site dining options that combine international flavors with the rich culinary traditions of Argentina, all while showcasing views of the city's skyline. During their stay, guests can unwind at the on-site spa, which offers an extensive menu of treatments and services, or enjoy the fully-equipped fitness center and unique event spaces.
Hub Porteño houses only eleven individually styled suites, each complete with stunning decor, handpicked art, and modern technology. The property is also home to an acclaimed on-site eatery, serving contemporary Argentine cuisine crafted by local chefs. Guests can enjoy a wellness spa, tango lessons, curated city tours, and 24-hour personal assistant service on-site.
This five-star property features rooms and suites complete with modern amenities, private balconies, and views of the city and the Río de la Plata. Guests can enjoy a rooftop pool, a well-equipped fitness center, and a spa offering a variety of treatments.
Dining options at the hotel range from a contemporary bar serving signature cocktails to a sophisticated on-site restaurant specializing in Argentine cuisine. The property is also ideal for events and conferences, with a range of versatile meeting spaces for both intimate gatherings and large celebrations.
Guests will appreciate this hotel's close proximity to boutiques, nightlife, and dining destinations. This boutique property houses 20 rooms featuring contemporary furnishings and artworks inspired by the city's rich cultural heritage. Each accommodation provides essential in-room facilities, including air-conditioning, mini-bars, and flat-screen televisions.
The property is also home to a tranquil garden with a swimming pool, perfect for relaxing. Guests can enjoy a daily breakfast on-site, featuring a selection of artisanal pastries, fresh fruit, and traditional Argentine dishes. The attentive staff is always available to assist guests with local tours, tango show arrangements, and personalized recommendations during their stay.
Located in the heart of Buenos Aires, this Luxury Collection Hotel features Argentinean art and panoramic views of the city and the Rio de la Plata. Amenities include an indoor pool, a fitness center and spa, and a 24-hour personalized butler service.
Each of the 181 spacious rooms, including 29 suites, comes complete with plush bedding, flat-screen TVs, and classic décor that showcases Argentina's rich cultural history. The hotel also serves international and Argentinean dishes in its sophisticated on-site restaurant, and the lobby bar, which features live piano performances, is perfect for unwinding with a cocktail.
This hidden gem was once a private home before it was transformed into an exclusive boutique hotel by filmmaker Francis Ford Coppola. The property features seven uniquely designed suites that reflect his artistic vision and personal aesthetic. Guests can enjoy the lush garden, private wine cellar, outdoor pool, and library of curated books in addition to personalized services including a dedicated concierge.
The on-site dining options showcase the rich flavors of Argentinean cuisine, with a daily gourmet breakfast spread of homemade pastries, local fruits, and cheeses offered in the courtyard. Guests can partake in an interactive cooking class under the guidance of the talented hotel chef, and the property is just a short stroll away from a number of art galleries, eclectic boutiques, and trendy eateries.
Hotel Pulitzer is a 4-star hotel that grants easy access to the city's many attractions, with views from the rooftop terrace and pool, and a blend of both modern and vintage design. The well-appointed rooms offer the perfect combination of comfort, sophistication, and modern technology and amenities. Additionally, the in-house restaurant serves an array of Argentine and international cuisine, while the bar is the perfect spot to unwind with a glass of local wine in the evenings.
Here, guests will enjoy timeless elegance, impeccable service, and sweeping views of the city or the 1930s-style gardens during their stay. The hotel features two distinct and interconnected buildings, a historic palace and a modern tower, housing a total of 165 guest rooms and suites.
The property is home to several diverse dining options, ranging from upscale Argentinean cuisine to an intimate underground wine cellar and bar. Guests can also enjoy the on-site spa, the indoor heated pool, and the well-equipped fitness center, in addition to the hotel's extensive private art collection.
Sign up for Safara
Want 10% back towards all future hotel bookings?
Sign Up