The 14 Best Hotels in Hamburg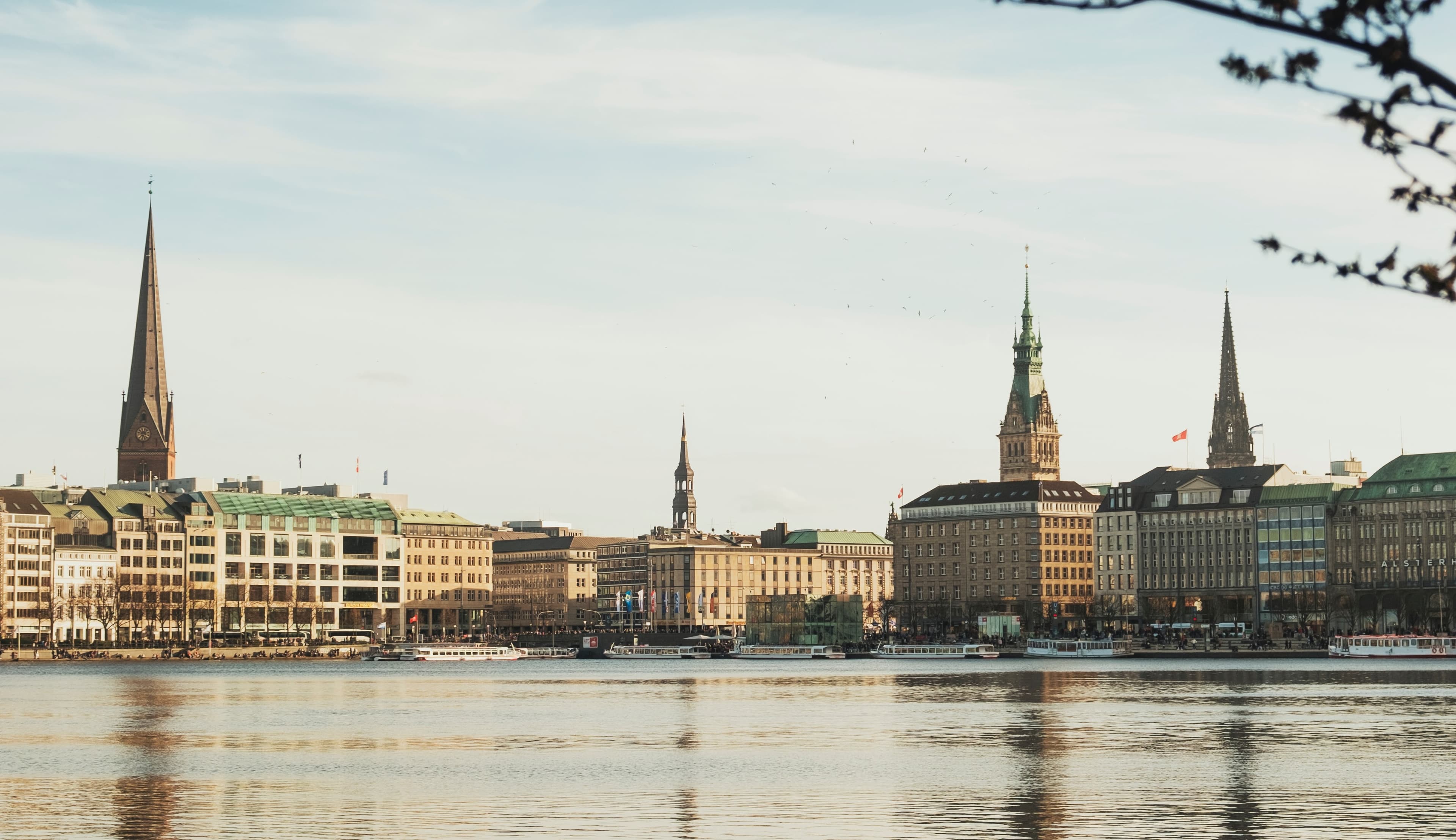 Hamburg is a city that seamlessly blends its maritime heritage and contemporary culture with its stunning architecture, world-class museums, and vibrant arts scene. Hamburg offers visitors countless chances to experience the city's unique identity. Here are a few of our favorite neighborhoods: Sternschanze is an alternative neighborhood known for its street art, eclectic boutiques, and trendy restaurants; Ottensen is a charming, family-friendly area offering a mix of old brick buildings, artisanal shops, and a hot culinary scene; St. Georg, home to the beautiful Lake Alster, is a diverse neighborhood celebrated for its cultural institutions, bustling Lange Reihe street, and LGBTQ+ friendly vibe; Eimsbüttel is a popular residential area characterized by its Art Nouveau architecture, leafy parks, and cozy cafes and restaurants.
Once serving as the Old Port Authority, the building's industrial charm is now the perfect setting for a memorable stay in Germany's thriving port city. Housing 49 individually designed rooms and suites, the property is conveniently located just minutes from the stunning Elbphilharmonie and places guests at the heart of Hamburg's cultural scene.
The hotel features design elements including repurposed shipping container reception desks and vintage maritime artifacts on the walls. The heart of the hotel is its living room lobby, bathed in natural light with a plush lounge area for guests to enjoy. The property also offers a range of dining options, including an in-house Mediterranean restaurant with seasonal menus and locally-sourced ingredients, as well as a rooftop bar serving up creative cocktails with panoramic views of the city.
Located in HafenCity district, this eclectic, nautical-themed hotel houses modern rooms with waterfront views. The property is just a short walk from the city's top attractions, including the Elbphilharmonie, Miniatur Wunderland, and the Speicherstadt. Guests can choose from a variety of room types, including bunk rooms that cater to families and groups, each of which is uniquely designed with shipping containers and vintage maritime artifacts.
The hotel also offers a lively common area complete with a comfortable lounge, a bar, and a diverse range of entertainment options, such as table football and a vinyl record collection. The on-site restaurant serves a mix of international and local cuisine, including fresh seafood and traditional German dishes, with an emphasis on quality ingredients and sustainability. The hotel also provides numerous modern amenities, including a sauna, fitness center, and bicycles for exploring the city.
Located in the center of Hamburg's St. Pauli district, this modern gem blends the building's original 1920s-era charm and its iconic neighborhood surroundings. Rooms at the hotel feature plush bedding, modern furnishings, sleek bathrooms stocked with designer toiletries, complimentary Wi-Fi, and flat-screen televisions. The property also features Asian-European cuisine at the on-site restaurant, a tranquil day spa, a fully equipped gym available around the clock, and a rooftop terrace with sweeping city views and refreshing cocktails.
This luxury hotel has a rich history dating back to 1897. The hotel houses 156 rooms and suites, each featuring modern amenities, plush linens, and stunning views of the city or the lake. Guests are invited to enjoy the rooftop spa and wellness center offering personalized treatments and modern facilities, as well as the on-site Michelin-starred restaurant and a Mediterranean eatery. The hotel's exclusive bars serve up curated cocktails in a cozy ambiance, perfect for unwinding after a day of exploring.
The Grand Elysee is a sophisticated five-star property home to elegant rooms and suites, complete with modern amenities. The hotel's on-site dining options range from refined French cuisine to hearty Italian dishes to a cozy venue for sampling regional specialties. Guests can enjoy the expansive wellness center, featuring a spacious indoor pool, spa services, and a fully equipped fitness center. The hotel also has a prime location, just steps away from Alster Lake, shopping districts, and numerous cultural attractions.
Overlooking the beautiful Alster Lake, the property provides guests with views from the comfort of spacious, nautical-themed rooms and suites. The hotel's prime location near leading shopping districts and cultural attractions makes it an ideal base for exploring the city. The property also features 24-hour concierge services, a spa, an indoor pool, a fitness center, and an acclaimed rooftop restaurant, which offers panoramic views of the city and lake. Guests can also enjoy the chic bar featuring refreshments and live music.
Situated along the banks of the Elbe River in Hamburg, this five-star luxury hotel houses 85 elegant rooms and suites, blending classical charm and modern comforts. Guests are treated to captivating views of the river and the picturesque gardens, providing a serene escape from the city. The property features two acclaimed on-site restaurants including a Michelin-starred dining experience, versatile meeting facilities, a relaxing spa and wellness center, and exceptional hospitality.
Each spacious room and suite is uniquely decorated with elegant furnishings and luxurious finishes, as well as amenities including Nespresso machines and complimentary Wi-Fi. The hotel's also features a spa and fitness center.
Hyperion Hotel Hamburg offers a blend of style, comfort, and convenience. The property provides a range of elegant accommodations including rooms and suites, along with modern amenities such as a health and wellness center, on-site parking, and conference facilities. The hotel's in-house restaurant serves exceptional international cuisine, and the bar offers an extensive menu of beverages and a welcoming atmosphere.
Conveniently located near the city center, this hotel is situated on the banks of Alster Lake, offers panoramic views, and is an ideal base for exploring Hamburg's cultural scene. Guests will enjoy the contemporary design and top-notch amenities, including an indoor pool, fitness center, spa facilities, and conference spaces on-site. In addition to its ideal location, the hotel is home to a renowned restaurant that specializes in locally sourced international cuisine and provides views of Alster Lake. Additionally, the chic on-site bar is the perfect setting for evening cocktails, handcrafted by skilled mixologists.
This elegant 5-star hotel is housed in a historic 1912 building, and features 252 spacious guest rooms and suites. On-site facilities include an award-winning spa and fitness center, an indoor pool, and a diverse selection of meeting and event spaces. Guests can enjoy a range of dining options on-site, including a European brasserie and a cozy lounge bar offering cocktails, rare whiskies, and an extensive wine list. The hotel's exemplary services, coupled with its easy access to the city's main attractions, make it an ideal base for a stay in Hamburg.
Situated in Hamburg's city center, this hotel's striking facade gives way to stunning interiors with blend sleek, modern design elements and amenities. The property features 178 rooms and suites, each complete with fine fabrics and modern technology. The hotel is only a short walk from some of the city's most famous attractions, including Alster Lake and Hamburg's celebrated shopping district. At the award-winning on-site restaurant, guests can enjoy farm-to-table cuisine featuring the freshest local ingredients. The hotel is also home to an elegant spa and versatile meeting and event spaces.
Perched along the historic Alster canal, this luxury five-star hotel blends modern design and traditional Hanseatic style in the heart of Hamburg. The property is conveniently located within walking distance of many of the city's main attractions, shopping areas, and historic sites. Guests are invited to enjoy a tranquil spa and wellness center, an indoor heated pool, fully equipped fitness facilities, and several dining options serving delicious international cuisine and fine wine.
The spacious guest rooms and suites are decorated featuring sleek furnishings, floor-to-ceiling windows, and comfortable beds, and also include complimentary high-speed Wi-Fi, flat-screen TVs, and Nespresso coffee machines. Additionally, guests can take advantage of the hotel's impeccable service, including 24-hour room service, daily housekeeping, and a knowledgeable concierge team.
Found on the banks of Lake Alster in the heart of Hamburg, this five-star urban resort offers elegance, modernity, and nature-oriented design. The property houses 130 chic rooms and suites, many with lake and city views. Guests can enjoy a tranquil rooftop spa, which features a 65-foot indoor/outdoor swimming pool, saunas, and a well-equipped gym.
The hotel has three on-site restaurants, one of which is Michelin-starred, serving exceptional meals and craft cocktails, with panoramic views from the rooftop bar. Guests can also choose to take a scenic boat trip on Lake Alster or enjoy cultural immersion through visits to nearby museums and galleries.
Located in Hamburg's city center, this boutique hotel blends British elegance and contemporary design. With convenient proximity to a variety of attractions, including Alster Lake, the Museum of Arts and Crafts, and extensive shopping opportunities, the property gives guests easy access to the city's many highlights. The property's 125 rooms and suites offer city or lake views, top-notch amenities, and sophisticated décor. Guests can also enjoy the rooftop terrace offering views of the Hamburg skyline, the on-site library, and the award-winning Italian restaurant serving dishes in a chic and elegant setting.
Sign up for Safara
Want 10% back towards all future hotel bookings?
Sign Up