The Best Hotels in Helsinki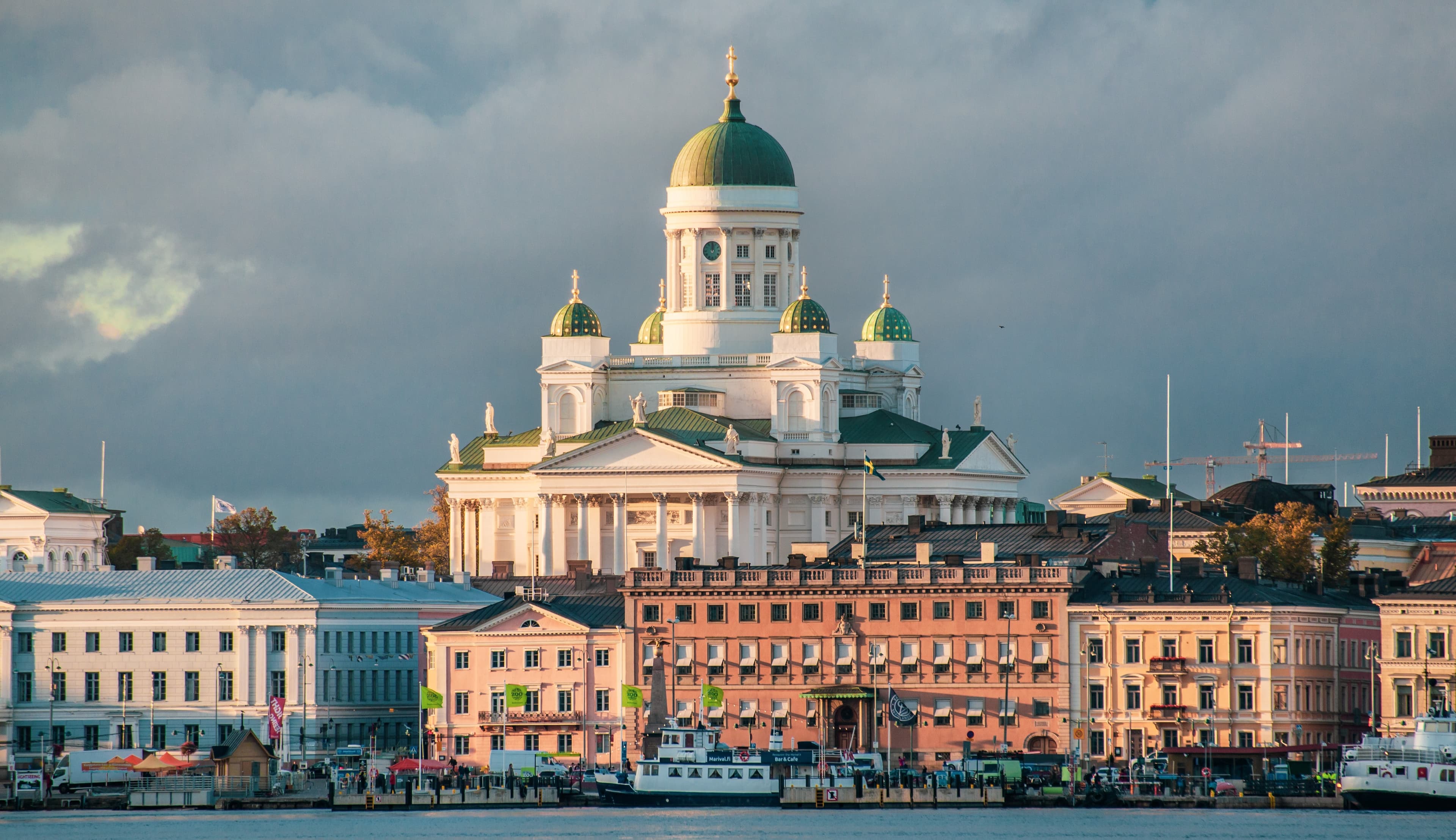 Helsinki is a city that seamlessly blends its rich history with contemporary culture. With its stunning Art Nouveau architecture, world-class museums, and vibrant design scene, Helsinki offers visitors countless chances to experience the city's unique identity. For those looking to explore the city beyond the typical tourist spots, we recommend visiting the neighborhoods of Kallio, Punavuori, Katajanokka, and Ullanlinna. Kallio is a vibrant and bohemian district known for its lively bar scene, quirky boutiques, and working-class roots; Punavuori, part of the Design District, is famous for its art galleries, indie boutiques, and hip coffee shops; Katajanokka, a unique island neighborhood, is characterized by its stunning Art Nouveau architecture and scenic waterfront views; Ullanlinna is a stylish and upscale district known for its beautiful parks, historic buildings, and a wide array of boutiques and restaurants. Each of these areas offers a mix of cultural landmarks, stylish boutiques, and innovative restaurants that reflect the city's dynamic spirit.
The Best Hotels in Helsinki
Nestled in the heart of Helsinki, the GLO Hotel Kluuvi houses 184 rooms and suites, all equipped with premium bedding, modern entertainment systems, and complimentary high-speed Wi-Fi. The property places guests just minutes away from many of the city's top attractions, including prominent landmarks, museums, designer shops, and high-end boutiques.
The on-site gourmet restaurant serves up Nordic-inspired cuisine, using only the freshest locally-sourced ingredients, while the chic lobby bar offers artisanal cocktails and an extensive wine list in an intimate, relaxing atmosphere. The hotel is also home to a fully equipped fitness center and spa, complete with a range of treatments and therapies.
Nestled in the heart of Helsinki, this boutique property blends contemporary design, luxury amenities, and personalized service. Just a short walk from the iconic Esplanadi Park and Market Square, the hotel is an ideal base for guests looking to explore the city. The property's accommodations feature impressive artwork, designer furnishings, and modern technology.
Guests are invited to enjoy a daily breakfast buffet, featuring a variety of fresh, locally sourced ingredients in the elegant dining area, as well as the cozy lounge with a curated selection of beverages, and the courtyard during the warmer months. The hotel is also home to a fully-equipped gym and a thoughtful staff that is always on hand to provide recommendations and tailored experiences.
Located in the heart of Helsinki, this elegant boutique hotel is in a prime location just minutes away from the city's top attractions, such as Market Square and Uspenski Cathedral. With its modern accommodations, the property is known for its attention to detail and contemporary interiors, featuring thoughtfully selected Scandinavian design elements and luxury linens.
Guests can enjoy the comfortable lounge area that serves as the perfect spot for socializing or unwinding after a day of exploring, as well as the on-site restaurant, which offers local and international delicacies crafted by a renowned culinary team.
Situated in the heart of Helsinki, this five-star boutique hotel offers an unrivaled location, just steps away from Market Square and breathtaking harbor views. Complemented by warm, personalized service, the property is home to a premium fitness center, well-appointed meeting rooms, an elegant bar, and an award-winning restaurant.
The hotel's rooms and suites feature modern amenities, tasteful décor, noteworthy artwork, and city views, while the attentive staff remains always on hand to provide assistance or local recommendations. The property also offers exceptional dining options, including innovative cuisine inspired by local produce, complemented by an impressive wine list.
Located in the heart of Helsinki, this hotel is renowned for its eco-conscious values and distinct Finnish aesthetic. Guests can enjoy a combination of modern amenities and classic Nordic design, as well as an exceptional in-house dining experience. The hotel's close proximity to major city attractions, shopping centers, and public transportation, makes it an ideal base for exploring the city.
The property's elegant rooms are outfitted with eco-friendly materials and luxurious, Finnish-inspired furnishings. Guests can also enjoy an on-site library with a curated selection of reading materials and the contemporary bar, perfect for unwinding with a drink at the end of the day.
Located in the heart of Helsinki, this five-star luxury hotel offers an unparalleled combination of tradition, elegance, and contemporary style. Built in 1887 and housing 179 well-appointed guest rooms and suites, the property's stunning Neo-Renaissance architecture is just steps away from the city's finest shopping, dining, and cultural attractions.
Guests are invited to enjoy award-winning cuisine and drinks at the hotel's two in-house dining establishments. Additional amenities include an on-site spa, which features an array of treatments, a Finnish sauna, and a well-equipped gym.
Located in the heart of Helsinki, this unique and historic property offers guests an experience steeped in heritage and modern luxury. The building, a former prison converted into a boutique hotel, showcases architectural features such as exposed brick walls and cell doors and houses 106 spacious guest rooms. Guests can enjoy an on-site gourmet restaurant that serves seasonal, local ingredients and dishes inspired by Finnish cuisine, as well as the lobby bar's craft cocktails.
Located in the heart of Helsinki's Design District, this contemporary boutique hotel is housed in a beautifully restored historic building that dates back to 1908. With its 130 guest rooms and suites designed by Finnish interior designer Yrjö Kukkapuro, the hotel offers privacy, personalized service, and exceptional attention to detail.
Guests can enjoy delicious, creative cuisine at the onsite restaurant, which prides itself on using locally sourced ingredients in its innovative Nordic dishes. The stylish bar, inspired by American jazz clubs, is perfect for unwinding. Guests can also take advantage of the impressive fitness center and relaxation room on-site.
Located in the heart of Helsinki, this contemporary hotel offers upscale accommodations, modern amenities, and an ideal location for exploring the city. Guests can enjoy easy access to many of the city's iconic attractions, such as the Helsinki Central Station, Kamppi Shopping Centre, and the Finnish National Opera.
The property offers a variety of room options to cater to individual preferences, complete with Finnish designs, ample natural light, and city views. Other amenities include 24-hour fitness facilities, an on-site restaurant specializing in Nordic cuisine, and a chic bar perfect for socializing over cocktails.
Situated in the heart of Helsinki, this hotel embodies modern design and historical charm and houses 153 elegant guest rooms and suites. Located in the prestigious Design District, the property features a tranquil garden, a serene spa, and a rooftop deck with stunning city views. Guests can enjoy the hotel's versatile meeting facilities, contemporary fitness center, and unique art collection, including works by Ai Weiwei.
The hotel's diverse array of dining options includes a chic kitchen and bar specializing in Nordic cuisine and a more casual bakery and wine room offering locally-sourced treats and curated cocktails. The true highlight of the property, however, is the enchanting Wintergarden, where guests can unwind with delicious drinks beneath a beautiful glass ceiling.
Nestled in the heart of Helsinki, this iconic Art Deco-inspired hotel is located opposite the Central Railway Station, providing guests with unparalleled convenience and access to the city's top attractions. The 4-star property houses 340 rooms and suites, featuring Finnish designs and modern comforts, including complimentary Wi-Fi, flat-screen TVs, and air-conditioning. Guests can also enjoy panoramic views of Helsinki's cityscape from the scenic rooftop bar.
The property's two on-site dining options are known for celebrating the flavors of Finland and international cuisine. Guests are also invited to enjoy a buffet breakfast, as well as a-la-carte lunch and dinner menus showcasing locally sourced ingredients. The hotel is also home to a sophisticated lobby bar, a 1960s-inspired event space ideal for conferences, social gatherings, and celebrations, and a wellness area equipped with a sauna and fitness center.
Located in the vibrant city center of Helsinki, this luxury hotel offers its guests exceptional comfort coupled with modern Scandinavian design, as well as close proximity to the finest shopping, entertainment, and cultural experiences the city has to offer. Each of the 262 rooms and suites is equipped with high-speed Wi-Fi and air-conditioning, while the rest of the property houses a modern fitness center, a sauna, and an in-house restaurant that serves local and international cuisine.
In addition to the elegant and comfortable accommodations, the hotel is dedicated to minimizing its environmental impact and holds a Green Key Eco-Label certification. The property also features 13 modern and flexible meeting spaces, perfect for both intimate gatherings and larger conferences.
Sign up for Safara
Want 10% back towards all future hotel bookings?
Sign Up