The Best Hotels in Las Vegas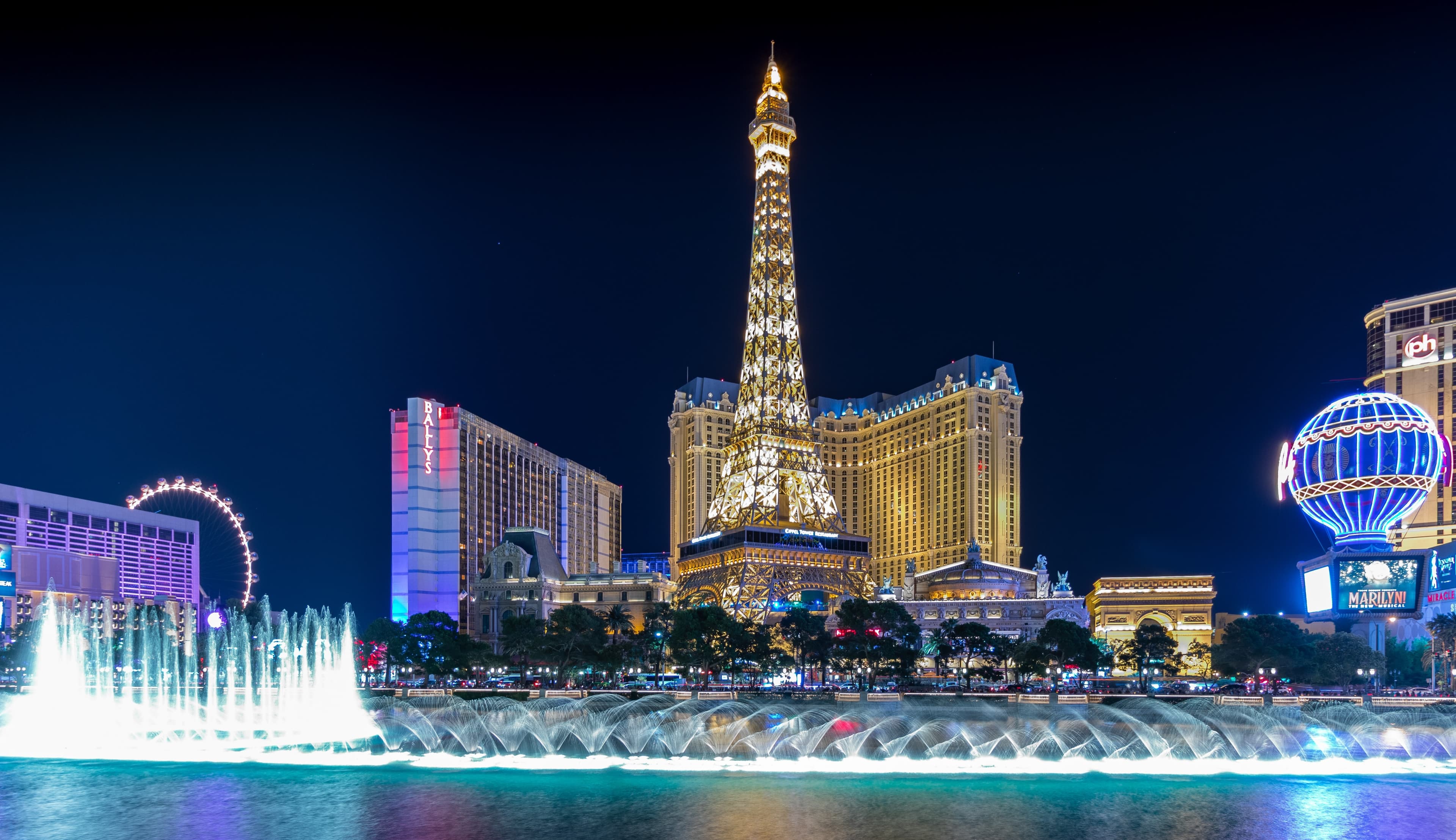 Las Vegas is a city that truly never sleeps. Here, neon lights guide the way to a myriad of experiences from around the globe, all brought together in the heart of the Nevada desert. Whether you're drawn by the allure of the casinos and entertainment shows, the acclaimed restaurants and shopping destinations, or the striking natural beauty just beyond the city limits, there's no shortage of things to do and see.
The Best Hotels in Las Vegas
This hotel offers a collection of luxurious and spacious rooms, suites, and bungalows. Among its many amenities the resort features a renowned casino, three swimming pools, and a spa and fitness center. It also houses an array of diverse dining options, as well as nightclubs and lounges.
The hotel offers a shopping area with a curated mix of boutiques, galleries, and brands, while the vibrant art program and the on-site theater hosts various A-list concerts and events.
The Bellagio was designed with Italian-inspired architecture and is celebrated for its dancing fountains at the entrance. With 3,933 guest rooms and suites, guests can enjoy elegance and comfort with amenities that include a casino, a shopping promenade, a fine art gallery, and a conservatory and botanical gardens.
Dining at this resort offers an array of options from Michelin-starred eateries to casual restaurants. There are extensive spa and salon facilities in the hotel, coupled with the five pool courtyards, as well as a resident cirque production with acrobatics, synchronized swimming, and aerial feats during its nightly performances.
Situated just west of the Las Vegas Strip, this resort is recognized for its chic casino, state-of-the-art rooms, and selection of premier restaurants. Guests can choose from several entertainment options, including a nightclub, an intimate live music venue, and a pool complex complete with private cabanas and beach club.
Each room features floor-to-ceiling windows with cityscape views, as well as spacious layouts with well-appointed amenities. The hotel offers a diverse array of on-site dining options, which include award-winning restaurants with a unique fusion of flavors from around the world.
This 4,004-room luxury resort offers a variety of entertainment, shopping, and dining options with world-class amenities such as a 215,000 square-foot pool deck, and a three-level spa with 62 treatment rooms. Guests can try their luck in the casino or enjoy one of the performances by Cirque du Soleil. This resort strives to be eco-friendly and meets high standards of energy efficiency, water conservation, and environmental responsibility, making it the largest resort in the world to have attained a LEED Gold Certification.
Its accommodations feature floor-to-ceiling windows, custom-designed furnishings, and state-of-the-art technology. Restaurant choices range from casual eateries to fine dining establishments serving global cuisines—Italian, Japanese, Thai, and more. The on-site shopping district offers an upscale retail experience, and the resort's nightclubs and lounges provide a classic Vegas nightlife experience.
With over 3,000 rooms, this resort offers a casino, a tropical-themed pool complex with an artificial beach, a man-made shark-infested aquarium, impressive live performances, and an array of dining options. Guests can also visit the on-site spa, host events in a variety of meeting spaces, or check out the property's signature observation deck.
Each of the hotel's rooms and suites features plush linens, spacious bathrooms with double vanities, and entertainment systems. The resort's collection of restaurants ranges from award-winning steakhouses to classic Italian trattorias. At night, experience live music, nightclubs, and a collection of casino games.
This exclusive adults-only resort and casino features a multi-tiered pool amphitheater equipped with a 143-foot diagonal, high-definition screen for guests to enjoy sports events, movies, and concerts. The resort includes 777 contemporary rooms and suites that showcase state-of-the-art amenities and views of the city skyline.
Among the five dining offerings, guests can enjoy steaks and seafood, indulge in pan-Asian fusion cuisine, or experience casual fare with a twist. Other amenities include a three-story casino, a cutting-edge sportsbook, and a wide array of entertainment options.
With a AAA Five Diamond rating, this 2,034-suite resort features floor-to-ceiling windows, smart technology, and bespoke furnishings. Guests can relax in the spa and salon, lounge by the pools, play the 18-hole golf course, or enjoy the aquatic theater production – all without leaving the property.
Visitors can explore the resort's floral and art collections, visit the on-site 74,000-square-foot casino, or check out the world-renowned shopping promenade, dining options led by celebrity chefs, and exclusive nightlife venues.
This iconic resort offers luxury accommodations and world-class amenities. The spacious suites are complete with comfortable beds, Italian marble bathrooms, and modern conveniences. The resort also features an impressive collection of fine-dining restaurants, top-name retail shopping, and exciting entertainment options.
Guests can enjoy the 5-acre pool deck featuring four pools, whirlpools, and elegant cabanas, browse the indoor Grand Canal Shoppes, advertising luxury boutiques and charming Venetian-inspired eateries, or embark on a gondola ride along the picturesque waterways.
Located on the northern end of the Strip and part of the Resorts World complex, this all-suite hotel offers top-tier amenities, including an on-site luxury spa, an upscale shopping esplanade, and a curated selection of culinary experiences.
The guest suites at this LXR Hotels & Resorts property feature plush bedding, top-of-the-line appliances, and panoramic views, providing the ultimate in comfort and style. Personalized services include a discreet private entrance and VIP check-in to a dedicated butler service.
Featuring an impressive variety of suites, the accommodations at Caesars Palace not only offer extravagant living spaces but also provide access to a range of restaurants, nightlife, and spa experiences.
The spacious suites have been thoughtfully designed to provide an unforgettable stay, with each suite offering plush bedding, modern technology, and tranquil spa-inspired bathrooms. The hotel's concierge service, personal butlers, and exclusive VIP perks are also available.
At NoMad Las Vegas, guests can choose from well-appointed guest rooms, suites, and penthouses, each with modern furnishings. The property also features an award-winning restaurant, a chic cocktail bar, and an on-site casino.
Beyond its five-star accommodations and dining, the hotel delivers personalized services and luxurious amenities including a curated art collection, a rooftop pool with panoramic views of the city, a fitness center, and meeting and event spaces.
Located in the CityCenter complex, this all-suite, non-gaming, and eco-friendly hotel offers easy access to the upscale shops of Crystals and an array of dining options. The spacious, modern suites with floor-to-ceiling windows offer both contemporary amenities and unparalleled views. The luxurious spa and salon feature a menu of treatments, the modern pool area is surrounded by cabanas, and the fitness center caters to active travelers.
The SKYLOFTS at MGM Grand features two-story lofts with views of the city, along with personalized attention from a dedicated 24-hour butler team. The exclusive lounge serves complimentary cocktails and hors d'oeuvres nightly. At this hotel, guests can enjoy world-class entertainment, dining, gaming, and relaxation all within the MGM Grand complex.
Each loft showcases modern décor, custom artwork, whirlpool baths, steam room showers, and modern technology. The open floor plans are complemented by vaulted ceilings while floor-to-ceiling windows fill the interiors with natural light.
Providing views of the city and surrounding landscape, this hotel features 389 guest rooms and suites with floor-to-ceiling windows. Guests can indulge in two world-class restaurants, including a French-Asian fusion dining experience and a sophisticated contemporary American café. The in-house spa offers an extensive menu of treatments, along with a tea lounge, a modern fitness center, and event and meeting spaces.
Nestled within the Mandalay Bay resort complex, this all-suite retreat features an intimate, smoke-free atmosphere with luxurious accommodations, personalized service, panoramic views, and a private entrance.
The tranquil beach club, lush bungalows, and infinity pool provide options for rejuvenation, while foodies have access to an array of casual and fine-dining options on-site. World-class entertainment, a luxurious spa, and exceptional nightlife options complete the extensive amenities.
This off-Strip hotel, casino, and spa includes 800 spacious guest rooms and suites, each fully equipped with modern furnishings, floor-to-ceiling windows, and private balconies. The hotel also has a 3-acre pool complex, complete with 19 private cabanas and an interactive fountain.
The on-site casino features a gaming floor, and guests have access to a range of dining options comprising everything from a gourmet steakhouse to a casual and trendy noodle bar. Further amenities include a luxurious spa environment encompassing a fitness center, steam rooms, and various treatment rooms.
Wynn Las Vegas features an impressive array of amenities, including a world-class casino, an 18-hole golf course, chic designer boutiques, two spas, multiple high-end dining options, and an aquatic show at no additional cost to guests. The resort's distinct, curved exterior showcases floor-to-ceiling windows, offering views of the Las Vegas skyline in each guest room.
Accommodations at this resort range from spacious deluxe rooms to palatial suites, all with comfortable furnishings and state-of-the-art technology. Each room comes equipped with a plush king or double queen bed, a sitting area, Wi-Fi access, and flat-screen TVs. Guests can enjoy a variety of dining experiences on-site, from casual eateries to Michelin-starred venues.
Featuring 424 luxurious rooms and suites, each with floor-to-ceiling windows, this is an elegant, non-gaming sanctuary. Fine dining is easily accessible with the hotel's award-winning Italian restaurant, as well as a poolside cafe that serves light fare. The on-site spa and wellness center offers a variety of treatments ranging from classic massages to revitalizing facials, and a fitness center and outdoor pools are also available.
This all-suite property offers over 3,000 spacious suites designed with Italian-inspired decor. Its large suites come with sunken living rooms and marble bathrooms, while its two-story loft suites provide an excellent option for celebrating special occasions or hosting a VIP experience.
Food options range from Italian dishes to steakhouses to sophisticated Asian fusion. Additionally, the property offers a host of exceptional amenities, including a premier shopping mall featuring more than 160 luxury boutiques, a casino, a fitness center, a Renaissance-inspired spa, and an impressive aquatic theater based on an Italian opera house.
Sign up for Safara
Want 10% back towards all future hotel bookings?
Sign Up