The Best Hotels in New Orleans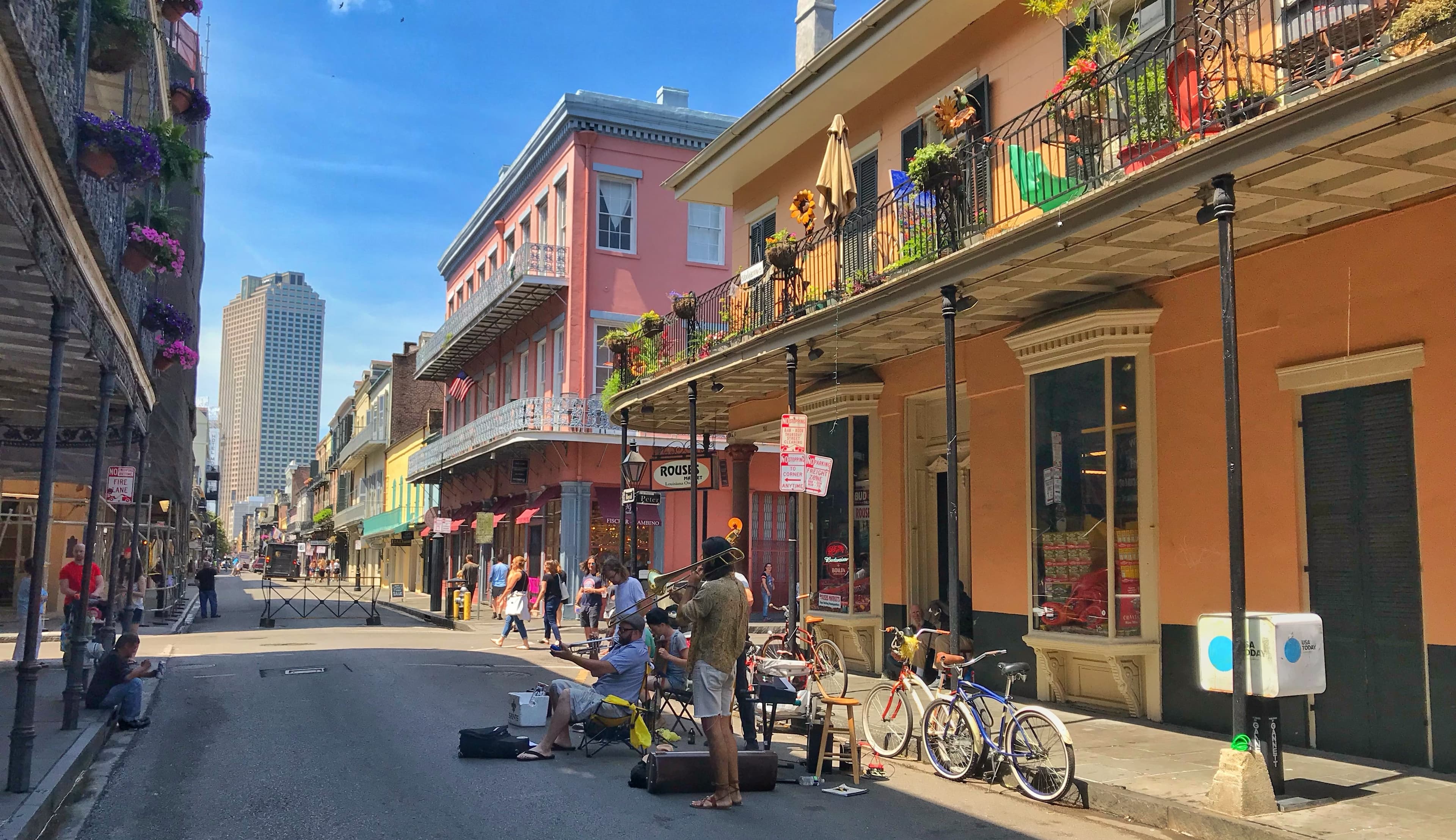 New Orleans is a vibrant city that offers a unique blend of Southern charm, music, and culinary delights. It's a destination that attracts travelers seeking a diverse cultural experience, with an abundance of art, design, and historic architecture. For those who appreciate the finer things in life, exploring these neighborhoods: Bywater is a colorful and artsy neighborhood known for its bohemian vibe, vibrant street murals, and eclectic mix of eateries; the Garden District is famous for its well-preserved antebellum mansions, lush gardens, and the historic Lafayette Cemetery; Marigny, a vibrant and artistic neighborhood, is renowned for its live music scene, especially along Frenchmen Street, and Creole cottages; Faubourg Saint John, often associated with the broader Mid-City area, boasts a mix of residential charm, scenic bayou views, and local food spots famous for Creole cuisine.
Each of these areas has its own distinct character, offering a range of experiences from trendy boutiques and art galleries to innovative restaurants and luxurious accommodations. Whether you're seeking a cultural immersion or a relaxing urban escape, New Orleans has something for everyone.
The Best Hotels in New Orleans
Located in New Orleans' Warehouse District within walking distance of the French Quarter, this property is housed within a restored 1920s Art Deco building. The hotel features elegant rooms showcasing local artwork, as well as the amenities and dedicated service.
This property offers a range of on-site facilities including a fitness center, a trendy rooftop pool with city views, and flexible meeting spaces. For dining experiences, guests can enjoy a fusion of Southern and international flavors and later unwind at the intimate, jazz-inspired bar.
Situated in New Orleans' Central Business District, this hotel's design is inspired by a 19th-century publishing house and features several chic amenities. Spacious accommodations feature a combination of contemporary décor and antique touches just steps away from the French Quarter and the Warehouse District
Amenities include an on-site fitness center, a lounge serving specialty cocktails, a cozy café, and an on-site restaurant specializing in Southern-inspired cuisine. The hotel also has event spaces for meetings, weddings, and other special occasions.
This hotel offers classically-designed rooms and suites, with a majority offering private balconies. Amenities include a rooftop heated pool and observation deck and an on-site fitness center
The hotel is conveniently situated just steps away from popular attractions such as Jackson Square and Bourbon Street. There is an in-house restaurant serving an irresistible blend of regional flavors and contemporary fare, while the dedicated staff is available for event planning.
Along the banks of the Mississippi River, this five-star property offers river and city views with features that include a spa, a fitness center, and a rooftop pool. The in-house restaurant showcases local and international dishes, alongside an array of handcrafted cocktails
Offering a range of accommodations, each of the 341 guest rooms and suites features tasteful decor and a serene atmosphere with amenities like plush bedding and entertainment systems.
Within the Marigny neighborhood of New Orleans, this hotel is housed in a restored 19th-century church and schoolhouse complex. Its modern amenities include spacious guest rooms with custom-designed furnishings, complimentary Wi-Fi, and curated mini-bars. The hotel also has comfortable courtyards and common areas and is within easy walking distance of nearby attractions
Guests can try the on-site restaurant that features a curated menu of locally-sourced Southern favorites with a contemporary influence. There is also a cocktail bar which offers a selection of handcrafted cocktails and regional wines and an on-site café providing an assortment of pastries, sandwiches, and coffees.
This hotel offers a fusion of historic and contemporary design with close proximity to Bourbon Street, Jackson Square, and jazz clubs. Featuring sophisticated accommodations with modern amenities, the hotel ensures that every guest can enjoy a comfortable and relaxing stay. Try Creole cuisine at the on-site restaurant for an authentic taste of the region, unwind at the rooftop pool, or treat yourself at the full-service spa.
Just a short walk from the vibrant nightlife of Bourbon Street, this 4-star hotel offers a rooftop pool with courtyard views, an elegant lounge, and an on-site restaurant serving Creole and Cajun dishes
The property offers 97 rooms and suites that include signature bedding, Wi-Fi access, flat-screen TVs, and minibars. Additional amenities include a 24-hour fitness center and a collection of artwork that showcases the city's diverse heritage.
A five-star hotel in the heart of the French Quarter, the Ritz-Carlton New Orleans offers guest rooms and suites, each with premium linens, original artwork, and spa-inspired marble bathrooms. With its prime location near Bourbon Street, shopping, and restaurants, guests have endless opportunities to explore the city.
Known for its exceptional Southern hospitality, this hotel's amenities include a spa, fitness center, rooftop lounge, and a collection of on-site dining venues featuring local flavors and handcrafted cocktails.
This distinctive boutique hotel offers 67 guest rooms and suites, each with bespoke furnishings, curated amenities, and attention to detail. Situated in the Warehouse District, the property is ideally situated just steps away from popular attractions
During your stay, try dishes at the hotel's on-site restaurant which features contemporary Creole dishes inspired by local flavors and traditions, unwind in the lounge, or head to the speakeasy-style cocktail bar for handcrafted drinks.
With its sophisticated Art Deco design, the Higgins Hotel is part of the Curio Collection by Hilton and blends modern comforts with historical elegance.
The on-site restaurant showcases the best of Creole and French cuisine with a contemporary twist, and the rooftop bar is the perfect place to enjoy after-dinner drinks. Additional amenities include a full-service spa, a 24-hour fitness center, and numerous meeting spaces.
This contemporary boutique hotel offers convenient access to the French Quarter, Business District, and the iconic Superdome, and features 196 guest rooms and suites designed with an industrial-chic aesthetic. The on-site bar and restaurant use locally-sourced ingredients to create dishes with a distinctly NOLA flair, while the lounge area is perfect for pre-dinner drinks and post-event gatherings.
A historic landmark built in the 1920s, this hotel combines classic architecture and contemporary comforts near the famous St. Charles Avenue and New Orleans' historic streetcar. The hotel's 106 guest rooms and suites each reflect the rich history and character of New Orleans with a mix of décor and vintage accents. The property also houses a rooftop bar offering views of the city skyline, a Southern restaurant, and a relaxed café.
Featuring 75 guest rooms and suites, Hotel Saint Vincent is housed in a restored 19th-century building that was formerly an orphanage, seamlessly integrating original architectural elements with contemporary furnishings. The hotel is centrally located and its facilities include a pool and courtyard, an on-site restaurant and bar, and a courtyard that's perfect for enjoying craft cocktails. The restaurant's menu showcases locally-sourced ingredients, and the rooftop bar offers city views.
Housed in the Warehouse District, this property features 238 beautiful guest rooms and suites, all with comfortable bedding, fully-stocked minibars, and workspaces. The rooftop pool and lounge area provides views of the New Orleans skyline, while the on-site fitness center is available for workout sessions. Guests can also enjoy dishes at the in-house restaurant specializing in farm-to-table fare, or try craft cocktails at one of the bars on the property.
The hotel's versatile venues include technology and bespoke service, and it's conveniently located only a short walk from numerous art galleries, shops, and live music venues.
Located steps away from the French Quarter, this property offers oversized bathrooms and plush bedding, as well as a rooftop bar and pool with views of the Crescent City skyline.
The culinary experience offered at the on-site restaurant fuses Creole and Southern flavors with locally-sourced ingredients. The hotel also hosts a range of curated events, ensuring that guests are entertained throughout their stay.
With 316 guest rooms and suites, The Windsor Court showcases classic English design with French-inspired accents. The property's amenities include complimentary Wi-Fi, a heated outdoor pool, and a spa, and the hotel's location also ensures easy access to the city's most popular attractions.
The on-site restaurant offers modern interpretations of classic New Orleans cuisine, while the bar features live music and cocktails. For more casual dining, the property's café serves light bites and afternoon tea with views of the courtyard.
Featuring a blend of classic antiques, luxurious linens, and modern amenities, this 19th-century hotel offers 31 rooms and suites. Complimentary continental breakfast is served each morning in the courtyard, surrounded by greenery and a fountain. Guests can step outside the hotel's doors for easy access to restaurants and music venues and can also take advantage of the on-site concierge.
This property, part of the Tapestry Collection by Hilton, includes a scenic rooftop pool and bar, a fitness center, ultra-comfortable accommodations, and an on-site bistro that celebrates the local culinary scene.
Guests can explore the diverse array of nearby attractions and experience shopping, dining, live music, and art galleries just steps away from the hotel. There is also convenient access to the city's streetcar lines.
At this boutique property, guests are treated to luxurious accommodations and personalized service just a short walk away from the city's famed Bourbon Street and other popular attractions.
Each room is thoughtfully furnished and features amenities like plush bedding, high-end toiletries, and complimentary Wi-Fi. The on-site restaurant features contemporary Louisiana cuisine, while the jazz-themed bar provides crafted cocktails and live entertainment.
This Waldorf Astoria property offers 504 guest rooms and suites with luxe fabrics and modern amenities, including a rooftop pool, indulgent spa, and fitness center. The hotel is also within walking distance of the French Quarter's many attractions.
Dining options at the hotel include an array of restaurants and bars. Try Italian cuisine or seafood and innovative cocktails at the café-bar, or choose from the extensive menu of drinks and live entertainment in a historic setting at the Sazerac Bar.
Located in the Central Business District of New Orleans, this five-star hotel is set in a 1920s-era building that once housed the city's public utility and transport company. The property features 217 guest rooms, including 76 suites, all designed with modern amenities. Guests can enjoy the rooftop pool and lounge, flexible meeting spaces, and convenient access to New Orleans attractions.
On-site dining options include a restaurant serving traditional Southern cuisine with a contemporary influence. In addition, the hotel's lobby bar provides cocktails and wine, while the rooftop terrace offers a casual dining experience with views of the city skyline.
This property showcases artfully-restored architectural details with an array of amenities that include an eclectic on-site restaurant, a chic cocktail bar, and a fitness center.
Each well-appointed accommodation offers plush bedding, complimentary Wi-Fi, flat-screen TVs, and thoughtful touches. The in-house restaurant showcases regional cuisine prepared with locally-sourced ingredients, and the cocktail bar features a unique selection of libations.
At this historic hotel, guests can experience beautifully restored 19th-century architecture paired with modern amenities. The hotel houses 167 rooms and suites which feature comfortable furnishings, unique artwork, and high-speed Wi-Fi.
Utilizing fresh, locally-sourced ingredients, the hotel's restaurant offers updated Creole cuisine complemented by seasonally-inspired cocktails at the bar. The in-house café offers guests freshly brewed coffee, artisan pastries, and light, healthy fare.
Sign up for Safara
Want 10% back towards all future hotel bookings?
Sign Up