The Best Hotels in Warsaw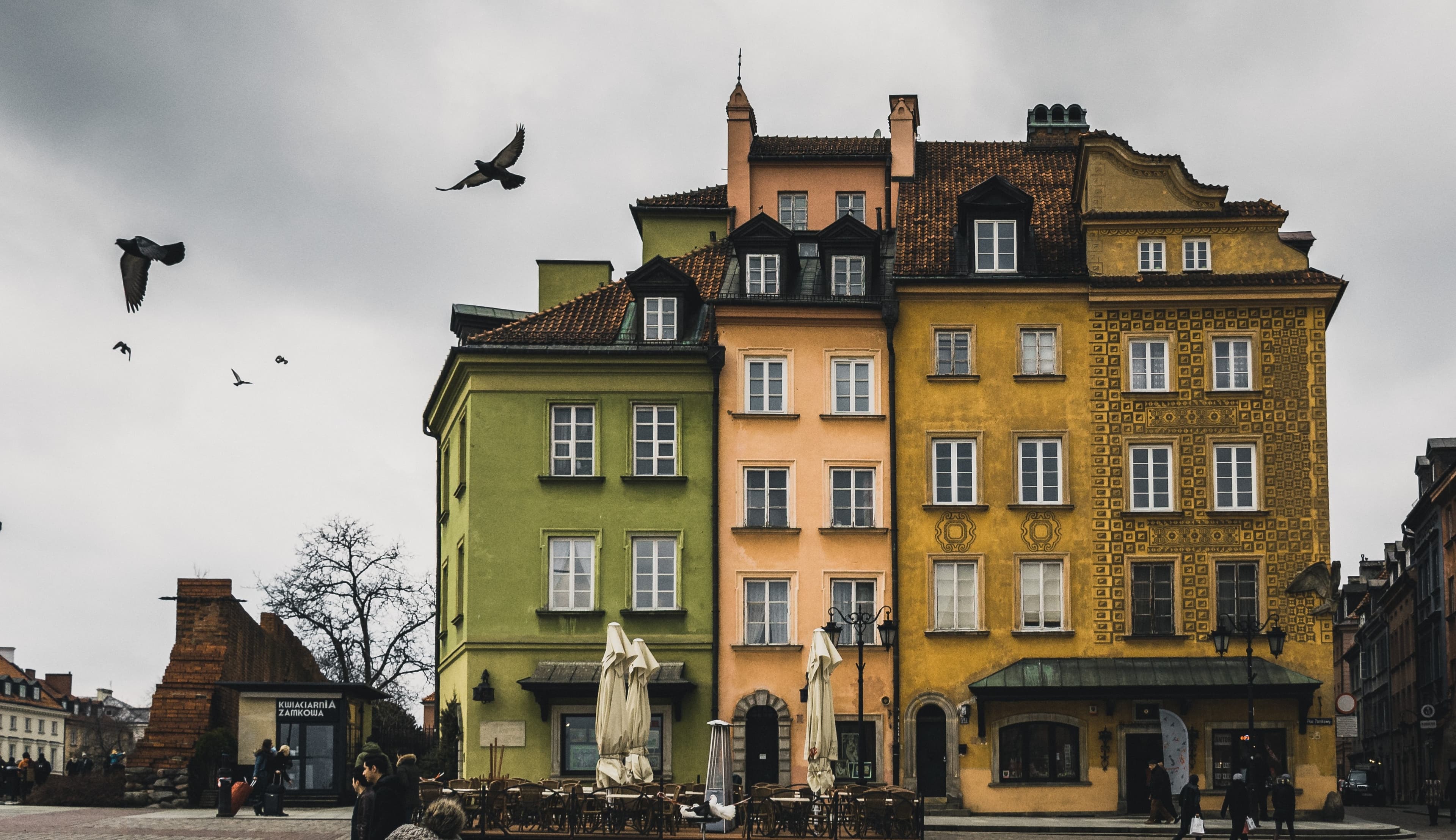 Warsaw, Poland offers a blend of history, culture, and sophistication. For a true feel of the city, we recommend exploring these neighborhoods: Powiśle, a vibrant district known for its lively cultural scene, trendy bars, and restaurants, nestled along the Vistula River; Żoliborz, one of Warsaw's greenest areas and a quiet, residential neighborhood renowned for its modernist architecture and charming squares; Mokotów, a diverse district characterized by its mix of residential, business, and recreational areas, offering everything from skyscrapers to parks; Saska Kępa, known for its pre-war villas and tree-lined streets, a peaceful enclave that has become a hub for artists, creatives, and unique culinary experiences. Each of these areas has its own distinct character, offering a range of experiences from boutiques and art galleries to innovative restaurants and luxurious accommodations.
The Top Hotels in Warsaw
Located near the historic Royal Route and the picturesque Old Town, this hotel combines French contemporary flair with Polish artistry. Amenities include a fine-dining restaurant that fuses Polish and international cuisines, as well as a spa, a modern fitness center, and an indoor heated swimming pool.
Each of the 343 guest rooms and suites is designed with floor-to-ceiling windows and features plush bedding, complimentary Wi-Fi, and spacious workspaces. The hotel's event spaces cater to corporate gatherings and social functions, while its dedicated concierge team is ready to provide tailored recommendations and assistance.
This contemporary five-star hotel offers a sleek glass exterior and striking interior design, with panoramic views of the city. Its prime location places it within walking distance of the Palace of Culture and Science, Warsaw Uprising Museum, and the historic Old Town.
This hotel features a fusion restaurant that combines international flavors with traditional Polish culinary heritage. Additionally, guests can enjoy cocktails and fine wines in the lounge and bar area, unwind with treatments at the spa and fitness center, or take advantage of the event and conference facilities.
Located in central Warsaw, this 5-star hotel offers 523 rooms and suites where guests can enjoy city views and modern amenities. The hotel is in close proximity to key attractions and prime shopping districts, while the hotel itself offers an indoor heated swimming pool, a full fitness center, and spa services.
Offerings at the hotel's six on-site restaurants and bars range from authentic Polish cuisine to contemporary international dishes. The hotel also offers extensive meeting and event spaces, capable of accommodating up to 1,700 attendees.
Offering city views from its 45-story building, this hotel provides guests with comfort and superior service, featuring elegant rooms and suites, extensive business facilities, and an upscale spa and wellness center with a panoramic pool on the 43rd floor.
Each room is decorated with modern furnishings and artwork and features floor-to-ceiling windows. The property offers two on-site restaurants where guests can choose from a selection of international and Polish cuisines. Additional facilities include a fitness center, squash court, indoor golf simulator, and a comprehensive list of treatments at the spa.
Blending contemporary design with Art Deco charm, this hotel features individually-styled rooms and suites equipped with high-end amenities, plush furnishings, and tasteful decor. The strategic location provides guests with easy access to public transportation and popular nearby attractions.
The in-house dining offers a take on Polish cuisine with a modern twist complemented by a curated selection of wines, and the bar offers creative cocktails and a wide array of local and international spirits. The hotel also features a fitness center, a relaxing sauna, and versatile meeting rooms.
This hotel showcases a distinctive blend of Neo-Renaissance architecture and contemporary design elements and a prime location opposite the Presidential Palace. Each accommodation features elegant decor, bespoke furnishings, and modern amenities such as marble bathrooms, Nespresso machines, and entertainment systems.
The on site dining options include a Mediterranean-inspired eatery along with a Polish bakery, abd the on-site bar provides signature cocktails, wines, and locally-sourced charcuterie and cheese platters. The hotel also features a spa and wellness center, complete with an indoor pool, fitness center, and treatment rooms.
This charming boutique B&B has just four rooms, each with private bathrooms, comfortable bedding, air conditioning, and modern amenities, located a short walk from renowned restaurants, museums, and cultural landmarks.
The B&B features an inviting living area complete with Polish art, books, and contemporary design and provides guests with a delicious homemade breakfast each morning using locally-sourced ingredients.
Dating back to 1901, this hotel's rooms and suites offer a blend of stylish decor, luxe furnishings, and modern amenities. The property also features a wellness center with an indoor pool, a fitness center, and spa services.
The hotel's restaurant offers a combination of contemporary international cuisine and traditional Polish dishes using high-quality, locally-sourced ingredients. The cocktail bar, illuminated by crystal chandeliers, offers crafted cocktails and an extensive wine list.
This hotel combines unique Japanese-inspired aesthetics with modern architecture and its 61 rooms and suites feature a minimalist aesthetic inspired by Japanese craftsmanship.
Designed by the acclaimed architecture firm, Medusa Group, and with interiors by the esteemed Studio PCH, this hotel provides an on-site wellness center with an array of treatments, as well as fitness facilities. The dining options include the signature sushi restaurant as well as an all-day café and bar with a selection of light bites and cocktails.
Set within a restored 19th-century building, guests will be steps away from world-class museums, shopping centers, and dining options. The hotel's rooms are fitted with contemporary amenities and luxurious extras, and facilities include a 24-hour fitness center, spa services, and an on-site restaurant serving international cuisine.
Exploring the city from this property is easy with access to nearby attractions such as the Royal Castle and the Łazienki Park. Onsite, guests can unwind at the chic cocktail lounge or take in city views from the hotel's rooftop terrace.
This 5-star property provides 311 sophisticated rooms and suites near the Warsaw Central Railway Station and the iconic Palace of Culture and Science. The hotel's amenities include a spa, a fitness center, and a heated indoor pool.
Guests have a choice of dining options within the hotel, featuring both local and international cuisines. The rooftop bar offers panoramic views of the city, and the lobby lounge provides an intimate atmosphere.
Located in Warsaw's city center, this hotel offers 148 rooms and suites with amenities including a state-of-the-art wellness center, versatile meeting facilities, and an in-house dining experience. The hotel is located near vibrant shopping districts, restaurants, and attractions like the Palace of Culture and Science.
Combining a sleek design with modern comforts, each of the property's rooms features plush bedding, smart TVs, complimentary Wi-Fi, and a user-friendly app to control climate and lighting via touchscreen. The spacious bathrooms feature rainfall showers and premium toiletries. The property also offers a rooftop terrace with panoramic views, a cocktail bar, and an on-site art gallery showcasing local and international talents.
Embracing Warsaw's artistic and cultural heritage, this hotel offers 60 spacious rooms and suites, complete with state-of-the-art amenities. Guests can enjoy the breakfast buffet each morning or sample contemporary interpretations of classic international cuisine at the hotel's in-house restaurant. To unwind, the spa and wellness center features a fitness room as well as relaxation areas.
Once a celebrated pre-war building, the fully restored hotel now provides 142 guest rooms and suites, with amenities including an urban spa, two dining options, an indoor swimming pool, and a fitness center.
On-site dining options include a choice between an innovative international restaurant that's reinterpreting traditional Polish cuisine and a refined Mediterranean eatery serving tapas and seafood, and the rooftop terrace is an ideal spot for an evening cocktail.
This hotel features 58 rooms and 3 spacious suites along with amenities such as an indoor pool, a fitness center, and indulgent spa services. Just a short walk away guests will find Warsaw's Church of the Holy Cross and the Market Square filled with shops, restaurants, and local entertainment.
Each room and suite is complete with plush furnishings, complimentary high-speed Wi-Fi, and flat-screen televisions. For a fine dining experience, the on-site restaurant features Mediterranean and French-inspired cuisine, including seasonal dishes crafted with locally-sourced ingredients.
Nestled in Warsaw's Old Town, this five-star hotel features 20 rooms and suites in a restored 16th-century palace. Guests can expect spacious accommodations with luxe furnishings, bathrooms, and technology. The property is also within walking distance of notable attractions, such as the Royal Castle and Market Square.
The hotel's Michelin-starred restaurant provides an upscale dining experience, merging traditional Polish flavors with contemporary flair. Additionally, the property features a well-equipped fitness center, a spa with a range of rejuvenating treatments, and a bar offering a selection of fine wines and innovative cocktails.
This hotel set in a 19th-century building offers 46 elegant rooms and apartments designed with style and comfort in mind. The property is also home to an upscale restaurant serving a fusion of international and traditional Polish cuisine, a spa that features a sauna and a steam room, and a conference center with modern meeting rooms.
The Regent Warsaw Hotel features 246 contemporary rooms and suites, each with luxe furnishings and state-of-the-art amenities, providing guests with views of Royal Łazienki Park and the Warsaw skyline. This hotel offers easy access to prominent landmarks, as well as business centers and shopping districts within the city.
Setting itself apart with exceptional wellness offerings and personalized service, the property features an ultra-modern fitness center, a heated indoor pool, a day spa, and a health club. Guests have numerous dining options on-site including a chic Mediterranean brasserie, a rooftop bar offering signature cocktails, and an intimate wine lounge.
With its contemporary design and indulgent amenities, guests of this hotel can expect comfort and hospitality just a short walk from Warsaw's key landmarks. Its 331 spacious rooms and suites are equipped with modern essentials, and the property also features an inviting lobby bar and an in-house restaurant offering a selection of international and local Polish cuisine. Guests also have access to a fitness center, a 24-hour business center, and seven event meeting rooms.
Sign up for Safara
Want 10% back towards all future hotel bookings?
Sign Up